The 14 Most Current iOS 11 Speculations Include: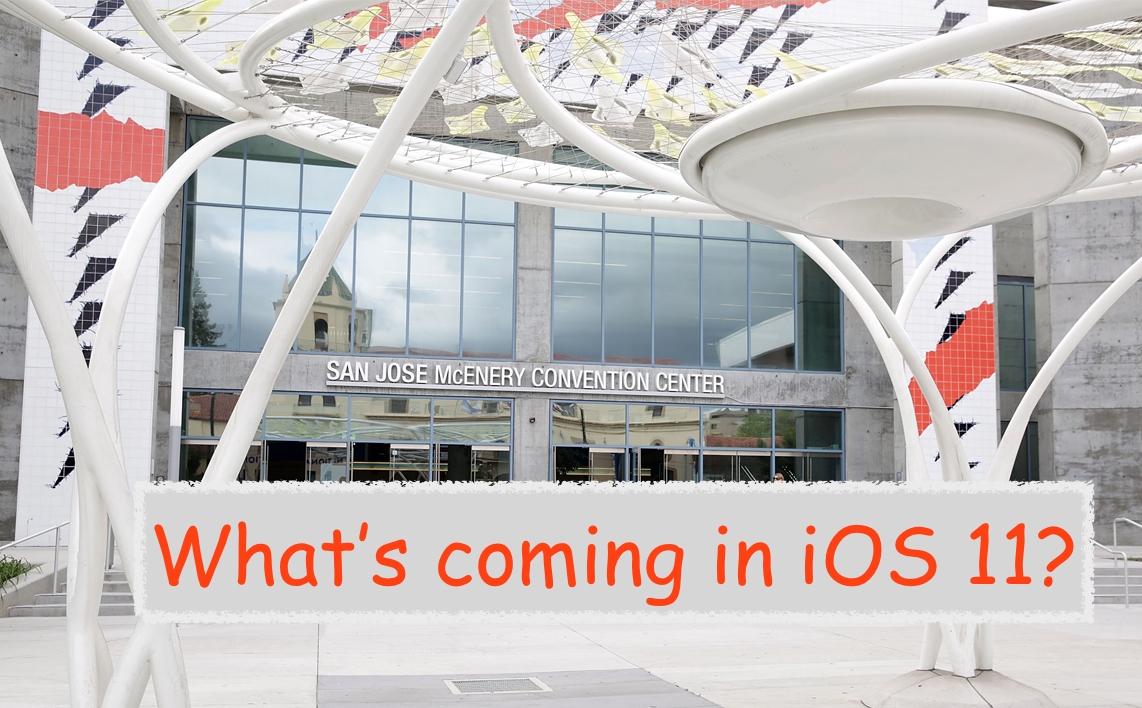 Apple is expected to show us a little of what's inside the next edition iOS 11 at WWDC, held 5-9 June, at the McEnery Convention Centre in San Jose, California. The company has been quietly testing its new iOS since earlier this year, reports have claimed. With this being Apple's tenth anniversary year there's lots of anticipation but little insight into what to expect.
What follows is some of the speculation — some, all, or none of which may turn out to be true.
FaceTime Calls
A couple of recent reports claimed iOS 11 will introduce support for multi-person group FaceTime video chats, and that it will automatically direct calls through FaceTime audio where a stable and reliable mobile signal exists. The move to 4G/LTE means carriers are becoming increasingly less dependent on voice traffic. Migrating users to an all-digital voice call system is much easier to accomplish now carriers want to make money from data.
Siri Getting Smarter
Given Apple's insistence on being a little more open in it's A.I. efforts and continued investment in machine intelligence, Siri seems set to become smarter in iOS 11. This intelligence will likely be built around more contextual ability and deep integration with iCloud, iMessages and Apple's health-focused apps. The assistant is also expected to get better at learning its user's habits and Apple-device configurations, claimed The Verifier.
In tandem with Apple's claimed intention to launch a competitor for Amazon Echo and statements from Apple executives, a smarter Siri seems inevitable. We'll also see a more natural-sounding Siri as the company applies technologies acquired with VocalIQ. Siri co-creator, Apple's Tom Gruber recently discussed some of the potential of Siri at the Our Robotic Overlords conference.
Workflow/Automator
Apple's Workflow acquisition has already seen improvements made to the existing product which is now available for free. Apple is expected to extend the remit of the app in order to make it a replacement for Automator on iOS and Mac. This will enable you to create your own complex actions which you might then choose to initiate by asking Siri.
Apple Music TV
Apple seems to be preparing to combine its original content offerings (such as Planet of the Apps and Carpool Karaoke) with a big push for video on Apple Music. Service head Jimmy Iovine has promised the next version of the app "better showcases video". Apple will certainly want to upgrade its Apple Music service as it works to meet and exceed Spotify market share.
iPad Pro
As it continues attempts to make the iPad a distinctive computing device, there have been claims the company intends new Apple Pencil features, including the capacity to annotate objects in most apps. Apple needs to keep on building a unique identity and purpose for its tablet platform.
Design Changes
Introduction of the much-wanted dark mode and perhaps more sophisticated user interface changes are expected this year. I don't believe Apple will do a redesign for the sake of it, but can imagine the company may want to migrate the interface toward a more 3D experience in preparation for future moves into VR/AR.
Smart Power Mode
In conjunction with machine intelligence, Low Power Mode may develop the ability to figure out user habits and respond independently and contextually to likely battery power needs, some reports claim.
Presence Information
Apple may introduce presence and availability information fields within Contacts. This would enable you to check if friends, family, or colleagues were available to chat similar to existing corporate communications systems.
Maps Enhancements
Hoping to improve Maps, Apple has been capturing additional data for maps and has invested heavily in new mapping research facilities. The company is also working to improve its tools for indoor mapping. Will we see some of the fruits of this work in iOS 11?
64-bit iOS 11
Apple has made no secret that it intends disabling support for 32-bit apps in iOS 11. The company has been asking developers to migrate their apps to 64-bit since summer 2015. If you use 32-bit apps you will already be receiving warning that your apps are about to be turned off. This will make for faster, more powerful, more power-efficient and more capable devices.
Brand New File System
If you use the current version of iOS you are already using the new Apple File System, meaning all your data has already been converted for 64-bit.
P2P Payments
I think person-to-person payments are inevitable but I'm not so convinced these need to be enabled within iOS 11, as it is a logical extension of Apple Pay, which will eventually extend itself to provision of multiple financial services. (As not doing so would be illogical).
Augmented Reality and Artificial Intelligence
Apple seems set to weave some unique implementations of AR and AI within iOS 11.  A Business Insider report has claimed this will use the iPhone's much-improved camera app. I'm very interested in how Apple might apply these technologies. The company recently began selling the unique Lifeprint AR solution in stores. Could this be a sign of what to expect? Bloomberg claims Apple's VR team includes people from Google Earth, 3D animation, camera, and optical lens experts. Apple purchased FlyBy Media last year. Might the need to get developers engaged in its AR plans prompt early announcement of the iPhone 8 at WWDC? Some think it might.
Health
Apple is seriously interested in digital health solutions. Expect improvements in Activity app, along with fresh insights into electronic health records, Research and HealthKit, and potentially news in support for third party external solutions, such as diabetes sensors.
What do you think Apple has planned for iOS 11? Given the company's relatively open statements around AR and AI, how can you see those technologies improving the iPhone, iPad, Apple Watch, TV or (dare I say it) Mac experience?
Dear reader, this is just to let you know that as an Amazon Associate I earn from qualifying purchases.