Apple confirms 85% iOS 11 adoption as iOS 12 upgrade season looms
Apple is preparing to release iOS 12, an important upgrade that will bring stability and performance improvements to millions of older iPhones. No surprise, then, that customers who'd avoided upgrading to iOS 11 are now doing so as they prepare to install iOS 12.
Get ready to upgrade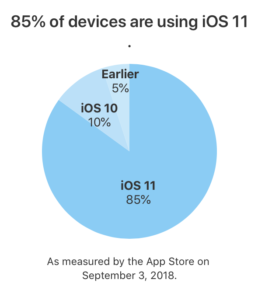 Apple's App Store support pages reveal iOS 11 adoption has reached 85 percent, up from 81 percent in early May.
The data shows 10 percent of users are still on iOS 10 with the remaining 5 percent languishing on older iOS devices. Given there are approximately 700 million iOS devices in active use, this means around 100 million people still use older operating systems, which also implies the longevity of Apple's devices.
Apple's message to these millions seems to be this:
iOS 12 should provide performance and stability improvements on most older iPhones, including iPhone 5S. Recent claims that it intends making its devices a little more accessible with a lower-cost iPhone X model priced at around $700 may help convince more of us to upgrade (even from the phenomenally popular iPhone 6.)
[amazon_link asins='B00YD5400Y' template='ProductCarousel' store='9to5ma-20′ marketplace='US' link_id='dac5d8d6-b0f7-11e8-a1e7-e3ade10a1b9f']
The following devices are compatible with iOS 12:
The new operating system provides lots of improvements, including better Maps,ARKit 2, Siri Shortcuts, performance, battery life and digital health enhancements. There's also smaller improvements, including a new Thesaurus.
[Also read: 23+ iOS features you probably didn't know]
The snag? In order to upgrade those older iPhones to iOS 12, customers must upgrade their device to the current iOS 11.4 release. Look below for instructions of how to prepare your device to upgrade to iOS 12, and how the upgrade process works if you have never done it before.
In comparison
It is interesting to compare Apple's iOS market share with the other mobile platform, Android. Eighty-five percent of Apple's users are running an OS that's only just one year old, while the main part of the Android population is running operating systems that are around three years old. This means that while Apple users get to use all the latest features Apple and people like myself talk about, all Android users get is last year's hype.
That difference between assumed promise and reality drives huge dissatisfaction across the Android population. That's why up to 20 percentof new iPhone purchases are going to Android to iOS switchers – almost halfof Android users switching to iPhone cite "better user experience" as the reason.
Prepare for upgrade
#1 Backup
If your device is compatible with iOS 12, then you should backup your data (and make sure you know your device passcode and Apple ID information.
Use iCloud
Either connect to Wi-Fi and open Settings>[Your name]>iCloud (or Settings>iCloud on iOS 10 or earlier). Then tap iCloud Backup to enable this feature and tap Back Up Now. It is important to stay on the Wi-Fi network until the process completes.
Use iTunes
Alternatively, you can use iTunes to backup. Connect your device to your computer, open iTunes and select your device. If you want to save Health and Activity data you'll be asked to encrypt your backup and will need to choose a passcode you will remember. Click Backup now and your device will soon be archived on your computer.
#2 Upgrade to iOS 11
Connect your device to power and tap Settings>General>Software Update.
Tap Download and Install – your iPad or iPhone may need to offload some apps to make space for the upgrade, but these will be reinstalled after the upgrade happens.
Once you've downloaded the new iOS, tap Install. You can also choose to install at a later point, just tap Later and then choose Install Tonight or Remind me Later.
You'll be asked for your passcode.
You can also use iTunes to upgrade your device – just connect it to your PC, boot up iTunes, select the iPhone, iPad or iPod touch you want upgraded and then open Summary>Check for Update. You'll be asked to download and install the update.
If anything goes wrong during an update you should refer to this tech note.
[amazon_link asins='149198757X' template='ProductCarousel' store='9to5ma-20′ marketplace='US' link_id='f3651a32-b0f7-11e8-a947-934cb32cf954′]
How to upgrade to iOS 12
Now you've got iOS 11.4 installed on your device, you're all set to upgrade to iOS 12 when it ships.
I will point out that what traditionally happens is that tens of millions of Apple users try to download and install the new software at the same time when a new iOS ships, which can make the process slower than it would be if you just wait until the next day.
You get to decide if you're an early adopter or a late follower, but once iOS 12 is available the iOS installation instructions above will get your device to the new iOS.
When will you upgrade?
Dear reader, this is just to let you know that as an Amazon Associate I earn from qualifying purchases.