Apple's Everyone Can Create guides ship in Europe
Apple's Everyone Can Create curriculum is now available in German, French, Spanish and Italian on Apple Books. They will also be available in Swedish and Dutch this spring.
What is Everyone Can Create?
Since the launch of Everyone Can Create, teachers and parents across Europe have downloaded its resources nearly 100,000 times. The free guides are designed to help students develop and communicate ideas through music, video, drawing and photos.
Everyone Can Create builds on the success of Apple's intuitive Everyone Can Code curriculum, which is already being taught in schools around the world, including hundreds of European institutions. This uses Apple's Swift programming language and enables students to learn and prepare for the workforce.
"Creativity is at the heart of everything we do at Anson Primary and Everyone Can Create has helped us push those boundaries even further, said Simon Pile, Assistant Head, Anson Primary School, London.
"Using a combination of the project guides we've created richer and deeper learning experiences for students in subjects across the curriculum, bringing better understanding of the concepts being taught."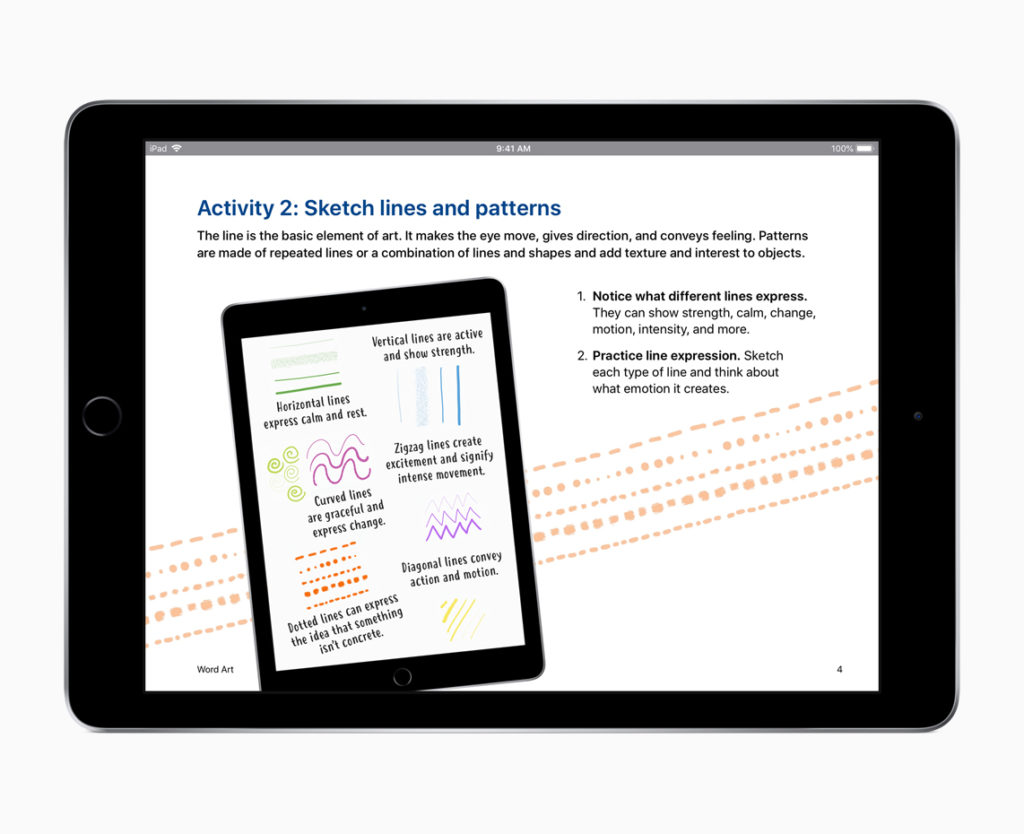 Add Creativity to Every Subject
The Everyone Can Create curriculum was developed in collaboration with educators and artists to allow teachers to easily incorporate creativity into their existing lesson plans in any subject, including literature, math, science, history, humanities and coding.
"Everyone Can Create has given me confidence in front of my students in areas of teaching, such as drawing, which I would not otherwise have had," said Zainab Patel, Assistant Headteacher, Olive Tree Primary School, Manchester.
Education and the Apple DNA
With a 40 year legacy in education, Apple has transformed the way teachers teach and students learn.
Everyone Can Create includes four new project guides for drawing, music, video and photos available for free in Apple Books. Each guide provides a series of projects that help students build foundational to advanced vocabulary and techniques in each medium.
A new teacher guide helps bring these projects to life in the classroom with 300 lesson ideas across media, projects and subjects. For example, a math teacher might get students to use the iPad camera and burst mode to capture the arc of a basketball being tossed through a hoop and measure its parabola.
Apple Teacher is now used by over 63,000 teachers across Europe to build skills on iPad and Mac that directly apply to activities with their students. Starting today, Apple Teacher is available to even more educators including those speaking Italian, Spanish and Swedish, alongside English, French and German.
Availability
Everyone Can Create is now available for anyone to download everywhere Apple Books is available.
Everyone Can Create is available in English, German, French, Spanish and Italian. It will also be available in Swedish and Dutch this spring.
[amazon_link asins='1944648437′ template='ProductCarousel' store='playlistclub-21′ marketplace='UK' link_id='f1b8cedf-78b6-4c74-961c-c02c38786dd0′]
Apple Teacher is now available in  Italian, Spanish, Swedish, English, French and German.
Apple Stores are using Everyone Can Create in Today at Apple sessions. In 2018 across Europe, more than 40,000 students and teachers attended sessions including tutorials on art and design, photo and video and music.
Becoming an Apple Teacher is fun and easy. By signing up using a personal Apple ID, teachers gain access to the Apple Teacher Learning Center to build skills, collect badges and earn recognition as an Apple Teacher.
Dear reader, this is just to let you know that as an Amazon Associate I earn from qualifying purchases.