Apple is becoming a loan shark (not really)
Apple and its partner Goldman Sachs have apparently decided to offer a 'Buy Now, Pay Later' service via Apple Pay. This will let users spread payments on their purchase in several different ways, across weeks or months.
Pay in 4 or pay later
When making a purchase you'll be given the chance to pay for it in one of two ways. How you choose to pay makes a difference as you'll pay interest for longer payment plans. You'll be able to choose to pay for things in four interest-free payments made every two weeks ('Apple Pay in 4'), or across several months if you pay interest (Apple Pay Monthly Instalments).
You'll be able to make payments to Apple Pay using your choice of credit card, and interest will only be charged against longer term payments. You'll also be able to pay off balances early to exit the plan.
I do think these deals will deliver big results in emerging economies as they come back online. The arrangement may also help those having problems raising their credit rating to get an Apple Card become more credit worthy within Apple's Path scheme.
More about pay later deals
Buy Now Pay Later deals offer up the convenience of instalment payments, and usually max out at around $2,000. The idea is that arranging the payment via Apple Pay will be more convenient than using a credit card and less onerous than arranging a new credit card agreement. You will need to be approved for the loan using an application form submitted through your iPhone's Wallet app. You'll also need a local ID to join the scheme.
Sanjay Sakhrani at analyst firm KBW told Internet Retailing: "The entry into the Buy Now, Pay Later space by Apple is one that is likely negative for the existing players given the company's reach and placement in the checkout process."
Apple's scheme comes as research finds most users of such schemes take longer to repay their debts, but that these schemes are more attractive than conventional credit cards. Consumers are at present more concerned about their mental than their financial health. However, the research shows that one-in-six shoppers (16%) admitted to using BNPL to fund their purchases because they got carried away and purchased more than they could afford.
James Andrews, senior personal finance editor at money.co.uk, warns: "As with any forms of debt, it's important to fully understand the risks associated before committing yourself to any kind of contract or agreement. A failure to do so could easily spiral into a cycle of debt you cannot get out of."
In related news, Apple also seems to be looking at creating a system that lets users create virtual, temporary digital Apple Pay Later credit cards for single payments.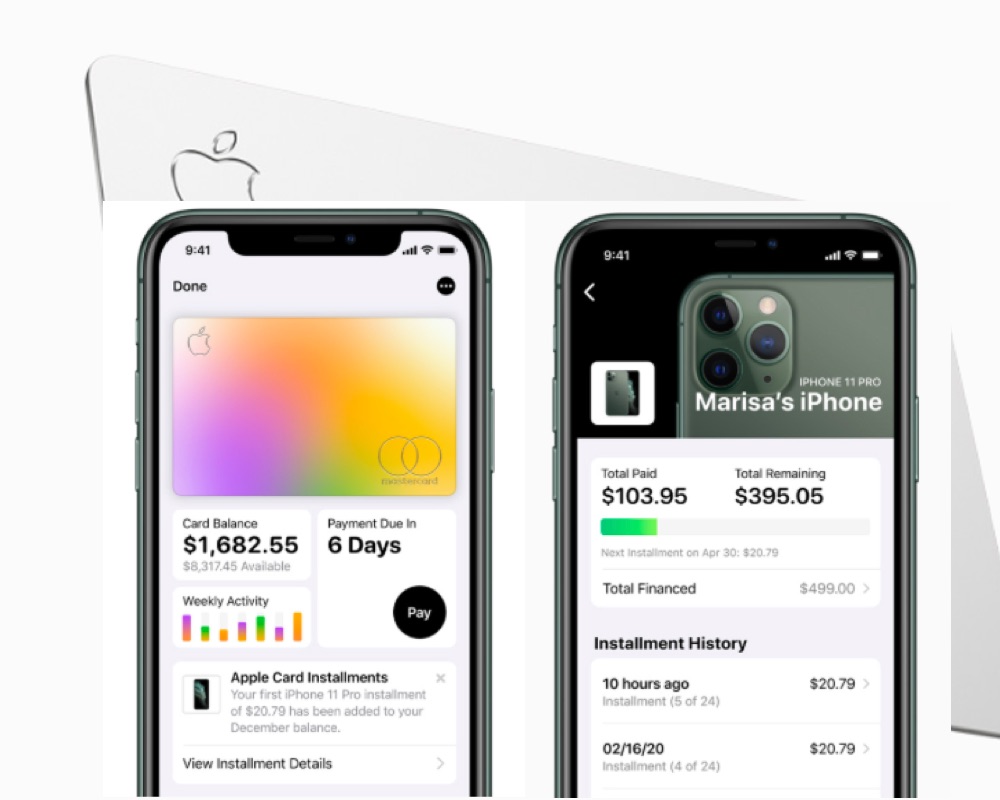 Apple and Goldman Sachs
Apple and Goldman Sachs recently introduced the Apple Pay Family Card. Speaking during the fiscal call, Goldman CEO, David Solomon said he believes there are "more opportunities to be had with Apple."
His full statement (thanks to SeekingAlpha), follows [italics mine]:
"… let's start with Apple Card. The press around creating the family plan was frankly speaking to achieve a greater and more positive user experience. So that people across a family were treated equally in the context of the underwriting, broadly speaking. I think that move will accelerate share.
"But I think more importantly, and its objective was to create just a better overall user experience. On Apple Card generally, I would tell you that while we pull back in terms of rate of growth during the course of COVID, we've seen the credit profile of Apple Card customers to prove positive, perhaps even more positive than we thought."
"And we've now opened up the aperture and are now accelerating that rate of growth consistent with the tone of the consumer market that we are seeing. And I think there is more opportunities to be had with Apple using the card as a medium for engagement with the client set. So, you'll start to see forward growth and I suspect balances will be a fast follower from the increase in originations and underwriting in Apple Card and the family plan will only serve to help that."
The point on Apple Card customer credit profile may prove telling as Apple continues to reinvent financial services.
Please follow me on Twitter, or join me in the AppleHolic's bar & grill and Apple Discussions groups on MeWe.
Dear reader, this is just to let you know that as an Amazon Associate I earn from qualifying purchases.