How to enable Fast User Switching in Control Center & Menu Bar
If you share your Mac with family members or colleagues, you can make it much easier to switch between users in as friction free a way as possible using this tip, which lets you enable Fast User Switching in either your Control Center or your Menu Bar.
Fast User Switching lets you slip between users with a password and a click. It's a must for any shared Mac and making the process easy is what this little tip tells you about. Without this tip the only ways to switch users are to shut your Mac down, restart, and login as the new user.
How to enable Fast User Switching in Control Center
Open System Preferences and select Dock & Menu Bar.
In the left-hand column scroll down to Other Modules and select Fast User Switching.
On the right you get to choose how to enable Fast User Switching:

You can Show in Menu Bar, and you'll see a small icon in the Menu.
You can check Show in Control Center, and you'll have a user switch item there.

You can check both options if you want to use them both.
In future you'll be able to switch users by using the Menu bar tool, or by using the all-new user switching tool you will find at the bottom of your Control Center.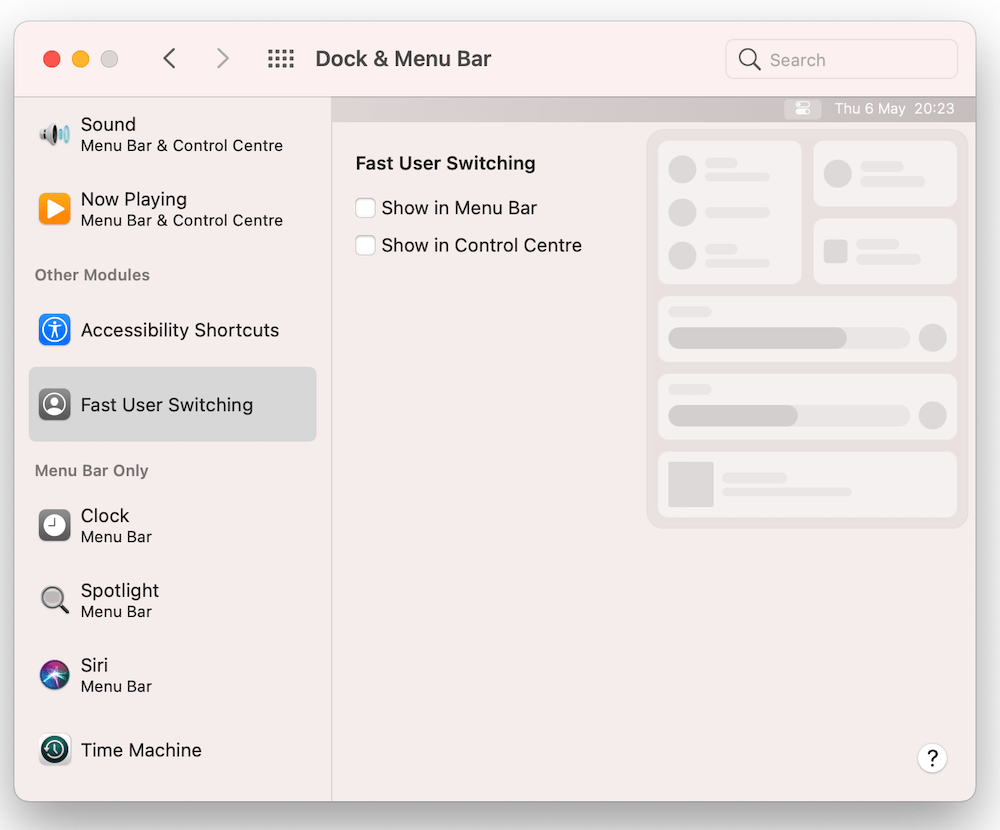 How to enable Fast User Switching in Menu bar
There's a second way to put user switching into the menu bar other than making use of the Dock & Menu Bar item. Open (and unlock) System Preferences>Users and Groups and check the Show fast user switching menu as item. Here you can choose to show the current user by names or using an icon.
And that's it, that's how to set up fast user switching in either your Menu bar or Control Center. Hope it helps. Here are some more tips.
Please follow me on Twitter, or join me in the AppleHolic's bar & grill and Apple Discussions groups on MeWe.
Dear reader, this is just to let you know that as an Amazon Associate I earn from qualifying purchases.