Locked-down and lonely, Europe had a Tinder Christmas
SensorTower data shows that lonely locked-down Europeans downloaded Tinder this Christmas season, even as iOS dominated app downloads globally by a country mile.
Europe needs a hug
While the UK disappears up its old Etonians, European users spent $54.6 million on apps on Christmas Day alone, SensorTower claims, mostly on games and entertainment.
But what's also interesting about this is that Tinder became the most downloaded non-gaming app in Europe this year.
Across Europe, the Apple App Store accounted for approximately 60 percent, or close to $32.7 million, of mobile app spending in Europe on Christmas day 2020,
Apple also dominated on a global basis, SensorTower shows.
More apps and smarter smartphones
In 2020, Apple's iPhone accounted for nine of the top ten slots in terms of Christmas Day activations of new devices. The iOS platform also accounted for in excess of two-thirds of app downloads that same day, proving that not only do people who have a choice choose an iPhone, but that those that do so feel confident enough to download apps to their devices.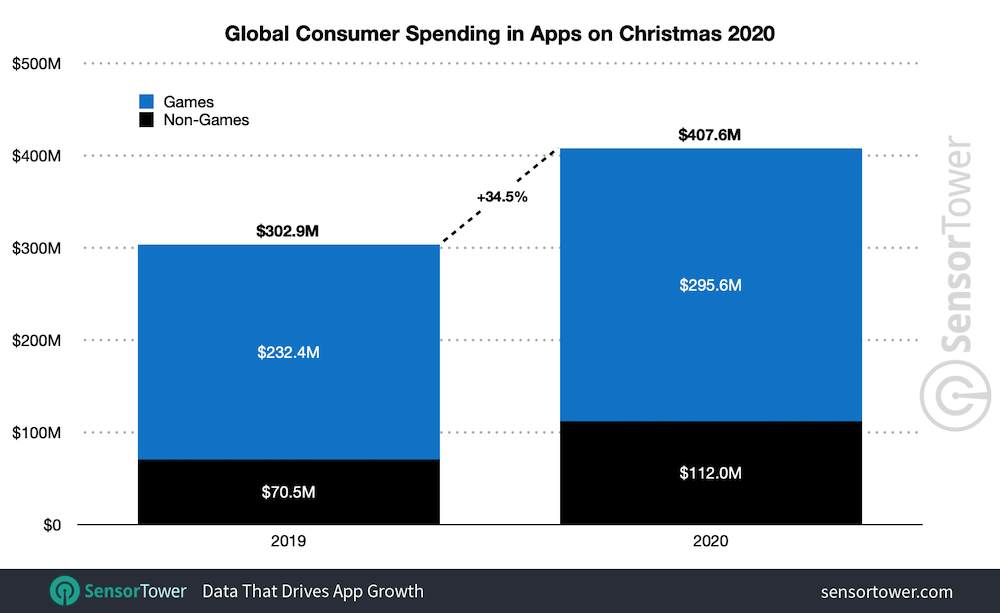 "Apple's App Store captured the bulk of the spending between the two platforms. It saw 68.4 percent of the spending, or $278.6 million, up 35.2 percent Y/Y. Google Play saw $129 million in revenue, up more than 33 percent Y/Y."
The data shows we spent over $100 billion on mobile apps and games in 2020 and this trend maintained itself into Christmas, when we spent $407.6 million globally on apps on a single day, 68.4% of which on iOS.
That's up 34.5% on 2019.
It's also interesting to note that games accounted for the majority of this spend, followed by spending on entertainment. "On the App Store, Entertainment apps reached $19.3 million or 21.8 percent of all non-game spending. On Google Play, the category generated $4.3 million or 18.5 percent of all revenue generated."
It's worth pondering how much more ghastly the times we're enduring might have been in the absence of these digital escapes.
Please follow me on Twitter, or join me in the AppleHolic's bar & grill and Apple Discussions groups on MeWe.
Dear reader, this is just to let you know that as an Amazon Associate I earn from qualifying purchases.