iPhone 'supercycle' sees Q1 sales climb 41%, Canalys shows
Consumers are swiftly adopting high-end smartphones in preference to lower powered devices, pushing Apple to become the world's second biggest global smartphone maker as reflected in its record fiscal results.
Apple takes second place with world's best phones
Apple, whose Q1 21 iPhone sales climbed 41 percent annually, according to Canalys, is certainly benefitting from this behavior. Samsung, while ahead, manufacturers smartphones across a much wider range of prices and features, which makes Apple's second place position more remarkable, given it makes premium devices.
Samsung shipped 76.5 million to take a 22% share. Apple shipped 52.4 million iPhones, to take a 15% share of the global market.
"iPhone 12 Mini has sold below expectations, but strength in other iPhone 12 models, as well as stronger demand for the older iPhone 11, helped it maintain strong momentum," said Canalys. The analysis certainly reflects global consensus.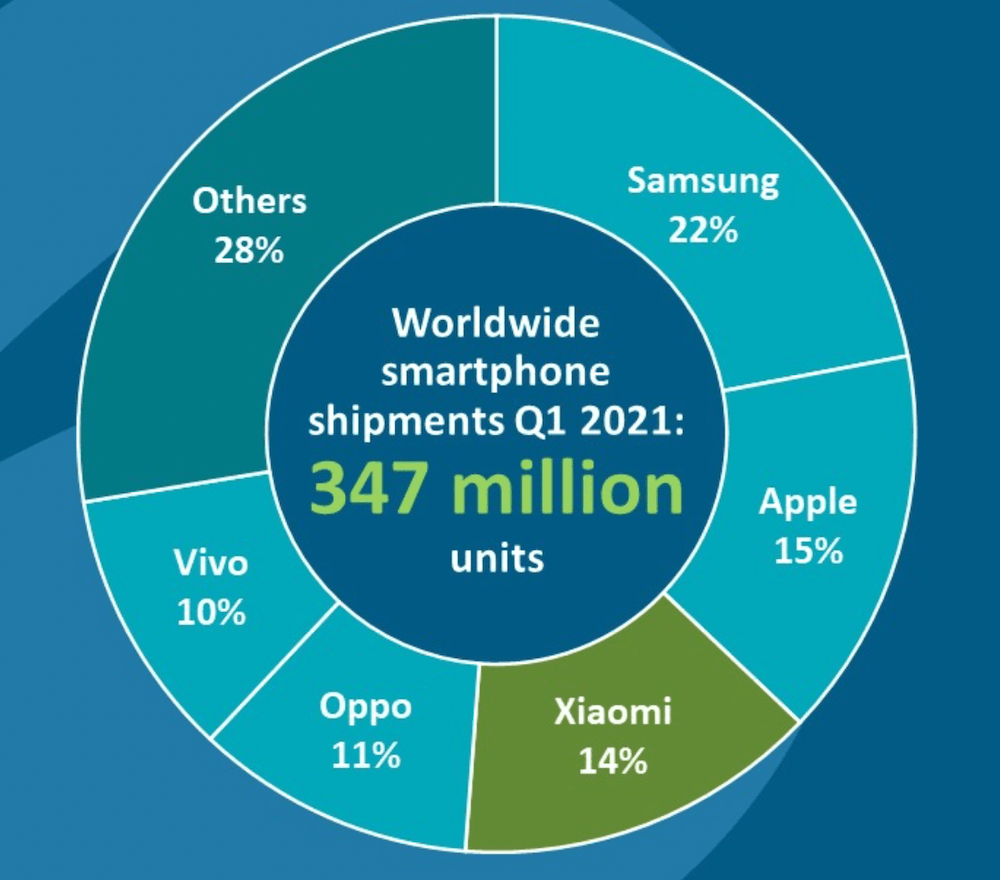 Pandemic changes industry focus
"COVID-19 is still a major consideration, but it is no longer the main bottleneck," said Canalys Research Manager Ben Stanton.
"Supply of critical components, such as chipsets, has quickly become a major concern, and will hinder smartphone shipments in the coming quarters. And it will drive global brands to rethink regional strategies. Some brands, for example, have de-prioritized device shipments in India, amid the new COVID-19 wave, and instead are focusing efforts on recovering regions, such as Europe.
"And while the shortages persist, it will grant larger companies a unique advantage, as the global brands have more power to negotiate allocation. This will put further pressure on smaller brands and could force many to follow LG out of the door."
More industry data
Xiaomi grew 62% and shipped 49.0 million units.
Oppo and Vivo completed the top five, shipping 37.6 million units and 36.0 million units respectively.
Also read: Delta takes off with 19,000 iPhone 12s for its flight crews
Huawei, which no longer includes Honor, is now in seventh place with 18.6 million units.
"In addition to great product value, Xiaomi is now also making strides to recruit local talent, become more channel-friendly and lead in high-end innovation, as seen with the Mi 11 Ultra and its recent foldable, the Mi Mix Fold, said Canalys Research Manager Ben Stanton.
"Its competitors offer superior channel margin, but Xiaomi's sheer volume actually gives distributors a better opportunity to make money than rival brands. But the race is not over. Oppo and Vivo are hot on its heels, and are positioning in the mid-range in many regions to box Xiaomi in at the low end.
"Honor is also a looming threat. It has already struck supply chain deals and is now signing distribution agreements to re-enter several markets in the second half of 2021. Xiaomi is leading the pack, but the race has only just started.
Farewell LG
"LG, a stalwart of the smartphone industry, is quitting this year," said Canalys Analyst Sanyam Chaurasia.
"It is symbolic of a new era in the smartphone market. It proves that aggressive pricing and channel strategy are more important than hardware differentiation in the modern day. LG holds the majority of its share in the Americas, at 80% of its total in 2020, which presents new opportunities for the likes of Motorola, TCL, Nokia and ZTE, particularly at price points below US$200.
"As the smartphone market continues to consolidate, this will not be the last time the incumbent vendors fight over the remains of a defeated brand."
Please follow me on Twitter, or join me in the AppleHolic's bar & grill and Apple Discussions groups on MeWe.
Dear reader, this is just to let you know that as an Amazon Associate I earn from qualifying purchases.