iOS Seizes 56% of Mobile Gaming Market, Claims SEGA, Sensor Tower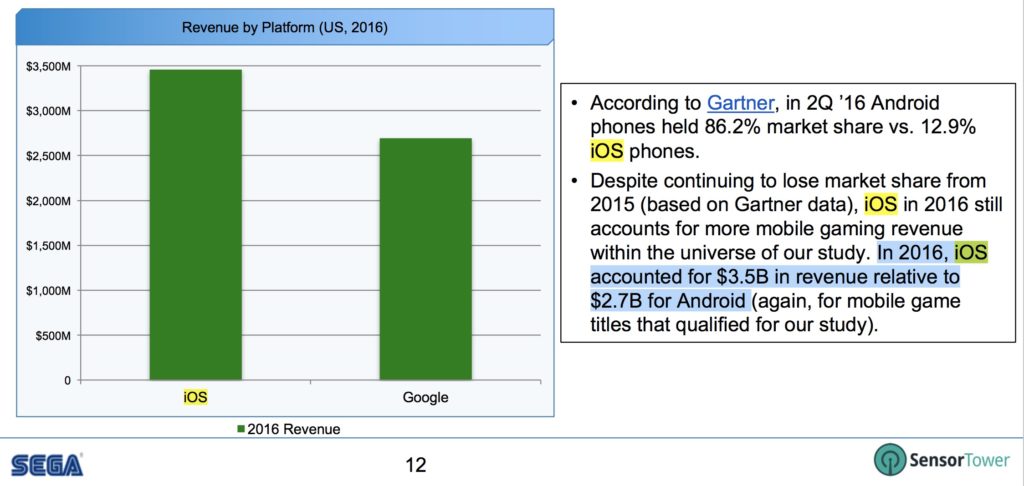 If you're an Android user and you're wondering why developers just aren't bringing games to your platform, the answers are very simple:
— Fragmentation and usage
You see, even though iOS accounts for just 12.9 percent of the mobile installed base in contrast to Android's 86.2 percent, iOS accounts for around 56 percent of mobile gaming revenue.
"In 2016, iOS accounted for $3.5B in revenue relative to $2.7B for Android," explains the latest SEGA Networks and Sensor Tower on US Mobile Gaming Trends 2016 report.
No wonder that when it comes to struggling to make a sale, developers are far more likely to reach an IOS user than an Android user.
The Animals Are Not Equal
Developers wishing to introduce good titles for the non-Apple platform suffer the complexity of the fragmented ecosystem, which is likely a big driver between the anomalistic comparisons in market share. It means developing for the platform requires way too much quality control testing and makes it very hard to guarantee a good experience.
This actually underlines the big chasm between the way Android is reported as an amorphous mass, and the truth of the platform which is that most devices simply aren't high-end enough to match the flagship Android features. Even today only a tiny number of Android users get to use the latest OS, in contrast to 70 percent. plus of iPhone users.
I believe that the truth of the Android v iPhone debate is that only a very small number of non-Apple smartphones can be seen as sufficiently capable to really be called an iPhone competitor.
The difference between high-end Android and ordinary Android is vast, in terms of features, power, capability and more.  I think media and analysts should be much more honest about this. It's why iOS users are more likely to play games, or do anything else, than those poor souls trapped on the alternative.
More data:
Annual revenue of mobile games grew by 7% from $5.75B in 2015 to $6.15B in 2016.
For 2016, the Top 5 Grossing mobile games generated only 28% of total market revenue compared with 40% for 2015, indicating significant revenue distribution away from the top of the charts.
Strategy, Casino, and Puzzle games accounted for $4.3B in combined revenue and 70.2% of the overall market.
All revenue and download data used in this report was sourced using the Sensor Tower Store Intelligence platform, which aggregates data points from the Apple App Store and Google Play. Primary inclusion criteria for titles in this report is a single month of combined iOS & Google Play revenue greater than $250K, between January 1, 2016 and December 31, 2016. A total of 362 titles were matched and analyzed in the report.
Dear reader, this is just to let you know that as an Amazon Associate I earn from qualifying purchases.