What Are Apple Maps Cars Doing? (Updated)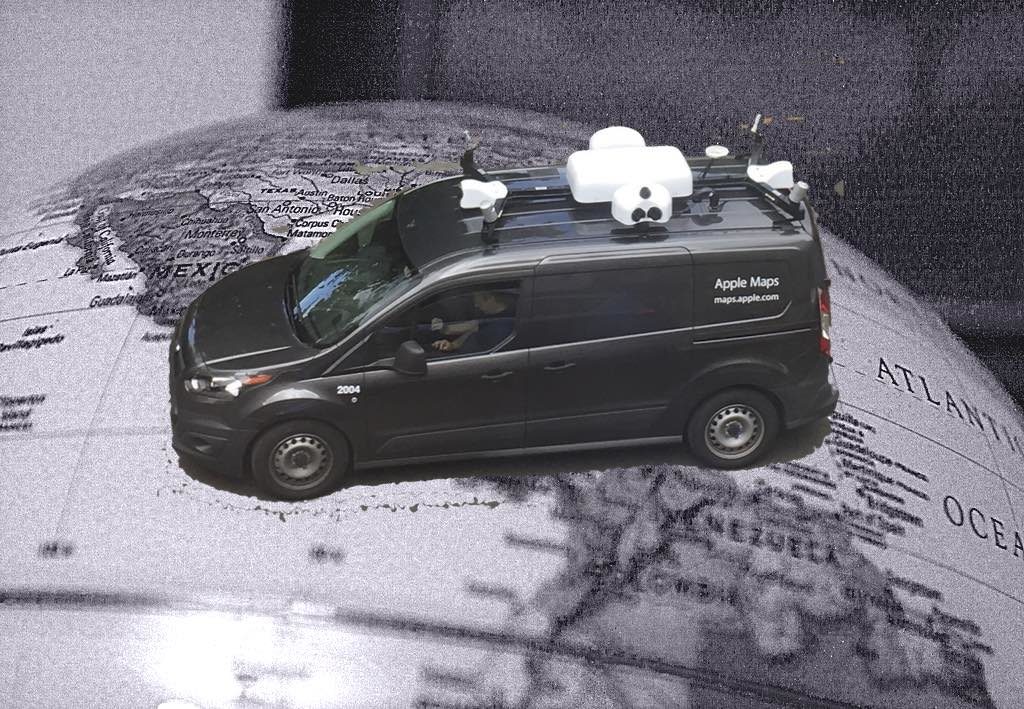 I happened to catch sight of an Apple Maps Car passing by my office window this morning. I Tweeted an image of the vehicle and this attracted lots of interest, so I had a little look to see what I could find. One thing stand outs: A Twitter search could be seen as suggesting these vehicles may be being spotted more frequently across the last few weeks….
UPDATE: 29/06/2018 –– Apple has now told us lots more about what it has been doing with Apple Maps Cars — this broadly reflects many of the predictions made in this report. Read about what Apple is saying here.
What's up?
Now, we know Apple has been investing heavily in Maps since it launched the service. We also know it wants to make sure its service is way better than others. Only last year it announced a new Maps development hub in Hyderabad, India. "Apple is focused on making the best products and services in the world and we are thrilled to open this new office in Hyderabad which will focus on Maps development," said Apple CEO Tim Cook at that time.
In India (at least), Apple works in partnership with India's RMSI on Maps. The smaller company offers one of the world's largest databases of 3D building data, and also combines Maps information with a range of other useful data sets. At the time, I speculated the company hoped to extend Flyover support in Maps as a result of the deal, which it later did when it introduced support for even more locations. You can read a relatively recent list of cities supported by Flyover here.
Fake news
To be fair, Apple Car reports aren't new. Way back in 2015 Apple began publishing a website page that told us where its cars were scheduled to travel every month.
"Apple is driving vehicles around the world to collect data which will be used to improve Apple Maps. Some of this data will be published in future Apple Maps updates," the company said.
Speculation the company intended some form or StreetView competitor was inevitably sparked by the company's promise that, "We are committed to protecting your privacy while collecting this data. For example, we will blur faces and license plates on collected images prior to publication."
Apple hasn't yet published any such images, so what could that mean?
Why? Why? Why?
A 2015 9to5Mac report claimed: "The current plan is to revamp the foundation of the Maps application, shifting to the in-house base map database by 2017."
The report also said Apple's existing mapping data suppliers (including TomTom) may be cut out the loop once it made its move to use its own data for maps, but common sense and TomTom's stock price don't seem to reflect that threat. The world's a big place, so Apple may want to use more of its own data as well as data from partners.
Neil Cybart of Above Avalon recently speculated that the vehicles are gathering information as part of the company's Project Titan car development. "I don't think these Apple Maps vehicles are just meant to improve Apple Maps. Instead, my suspicion is they are part of Project Titan. Specifically, the vehicles are likely playing a role in building the groundwork for Apple's autonomous driving technology," he said.
I don't think we'll be not driving our Apple Car just yet, however. I don't think we've reached that point. All the same I do think it possible we've reached another big moment in Apple history: AR.
A 2016 Cult of Mac report claimed the cars to be equipped with equipment "capable of capturing VR-style, 360-degree street photos", alongside precise GPS coordinates. Apple's recently disclosed decision to hire a pair of experts in satellites may also have bearing on what it is doing.
Just like being there
It is interesting to note that when you look through Apple's list of places it is driving its car is that these include almost every state in the U.S., as well as London, UK; Paris, France, and Rome, Italy. This makes it likely the company is focusing on key places to gather the data it needs. (They've previously been spotted in Ireland, Sweden, and Birmingham, UK).
However, two years since these vehicles first began hitting the street, it sure is interesting that they seem to be ramping up activity just before WWDC 2017. Could significant improvements in Maps be part of iOS 11? Just how might Apple want to use years of investment in street photography inside future products and services? How can the company make a difference, (dare I say, "augment"?) your life?
And I guess the most important question:
How can developers harness these technologies in interesting and profitable new ways?
Dear reader, this is just to let you know that as an Amazon Associate I earn from qualifying purchases.