The latest Apple smartphone data means everything must change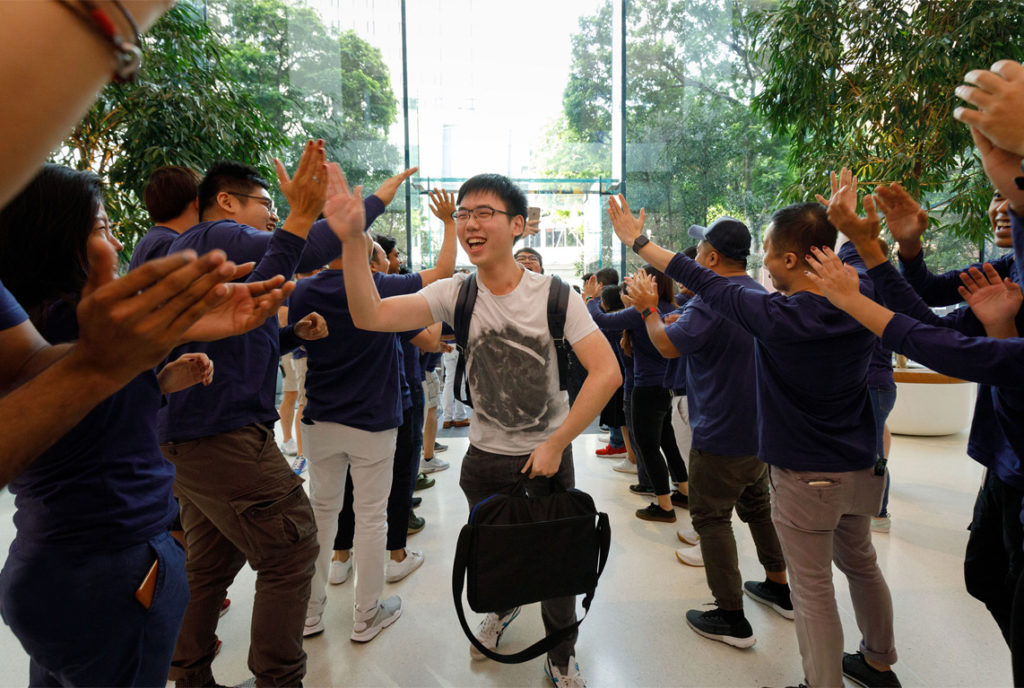 The missing link in the latest claims around iPhone sales in the U.S. is that while the rest of the industry is collapsing, Apple's move to throw a thousand-dollar iPhone into the fray still delivered the company dominant marketshare across the U.S.
Market shrinks, but Apple don't follow
I've lost track of how many analysts have thrown the term "saturation" around when discussing smartphone sales. The inference they always seem to make is that when the market becomes saturated, people like you and I will gravitate to low cost smartphones rather than navigate their way to the high-end. The only problem with this theory is that it isn't actually what is happening, and the latest Counterpointdata goes some way toward proving this.
You see, it shows that U.S. smartphone sales declined 11 percent in Q1 2018, with 38.7 million sold in contrast to the year-ago quarter when 43.7 million sold. That's the lowest sales for three years – and Apple completely bucked this trend. It saw a 16 percent increase in iPhone sales year-on-year, meaning the decline in sales is due entirely to softness across the Android market.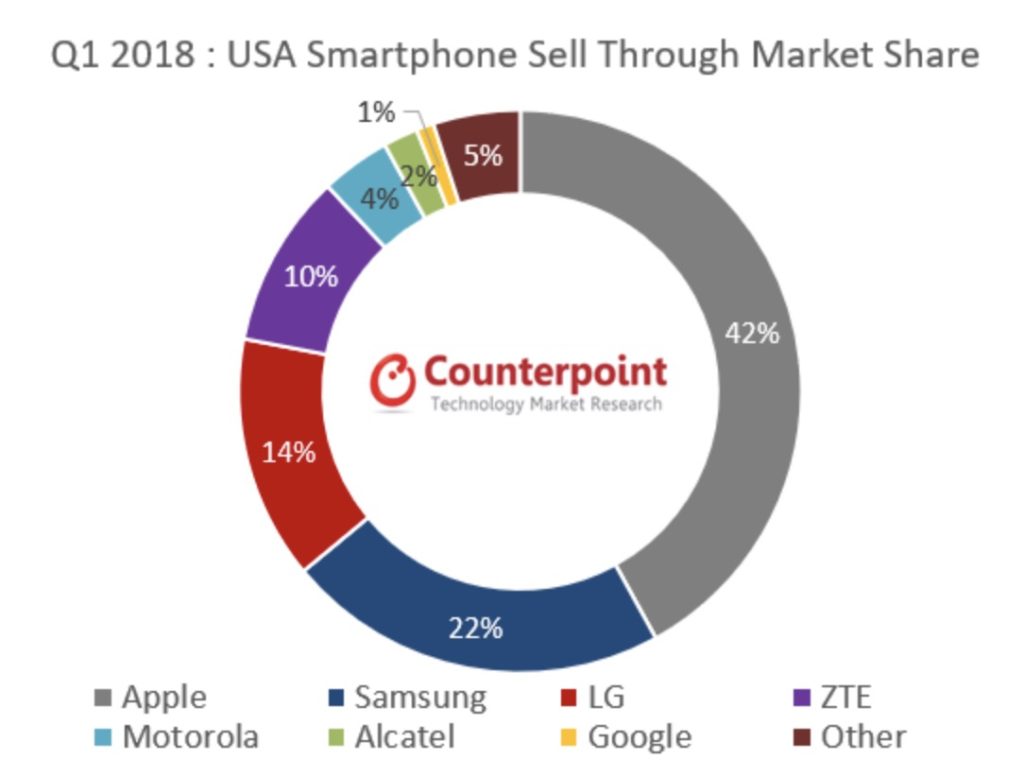 The incredibly shrinking myth of marketshare
That's the big picture. And it means the Android market is far from healthy – just look at the data: Apple took 42 percent of total smartphone sales, Samsung another 22 percent, meaning every other vendor in the market is squabbling for a share of the remaining 36 percent of the total smartphone business.
Cutting the data down still further, we find that 14 percent of U.S. smartphone sales went to LG with another 10 percent grabbed by ZTE. What does this mean? It means that every other vendor in the U.S. market is fighting to grab a sliver of just 14 percent of total sales (there were 43.7 million total sales).
With that kind of market reward, is it any surprise that the devices they are selling just don't deliver the kind of high-end tech you get at the other end? This means competition at the lower end of the market must therefore be completely dominated by considerations of price, which puts even more pressure across every other Android vendor.
How is this sustainable?
I don't think it is sustainable.
Neither do many vendors — look at the ones leaving the market.
You can't blame them. On the one hand you see consolidation all across the smartphone biz, and on the other you see many vendors beginning to try to charge Apple-based prices for their products, even though they really don't (usually) offer the same unique selling proposition. None of the processors match the current A-series chips, for example – and Apple will likely be introducing even more powerful devices in the next four months.
So you have a market that's increasingly defined by Apple, and it shows.
The top ten selling smartphones in the U.S. should reflect the diversity of vendors, if the hype around its competitors had legs. Except, they don't, Apple makes the top five smartphone models sold in the U.S., and its iPhone 7 is the seventh most popular device. Samsung gets three slots in the line-up and the only other vendor with a happy story to tell might be Motorola, which scraped tenth place with the Moto E4 – which costs just over $100 on Amazon, so really isn't going to save the company.
Given the idea that low-cost smartphones are going to take over the planet (according to the same analysts who gave us everything else average, reactionary and ordinary that vexes our world and underestimates the wonderful aspirational power of humanity), you'd expect the top ten smartphones sold in the U.S. to include some low-cost items.
You'd be wrong.
The cheapest model is the Moto in tenth place. Samsung Galaxy S8 64GB sets you back just over $500 on Amazon; Samsung Galaxy S8 Plus 64GB costs around $600. Even the Samsung Galaxy Note 8 64GB sets you back c.$700. Do you really think five hundred bucks is cheap? Think about this and the meaning should be clear:
We demand better
The smartphone industry is deeply aspirational.
Smartphone users are sick of second-rate and when it comes to the only metric that matters (buying stuff) they vote with their wallets, and their conclusion (at least in Q1 2018) seems to be that if the devices don't offer the very best they can find, they won't buy them.
That's why Apple's focus on actually trying to do its best means it still has such a huge advantage over everyone else. Because this kind of robust market positioning depends on something far more powerful than marketing – it demands word of mouth, customer satisfaction and, you know, actually doing interesting stuff.
I will add that I think this pattern of smartphone purchasing behaviour will be increasingly reflected across wider public life as consumers move to reject the old ideas that seem to be making everything worse, and demand better. We don't want the future to be better tomorrow, we want it to be better today. We want better products, better futures and better leadership.
Is it too early to say "Tim Cook for President?"
Dear reader, this is just to let you know that as an Amazon Associate I earn from qualifying purchases.