Strategy Analytics: China down 11%, Apple iPhone down 22%
The latest Strategy Analytics data makes grim reading to anyone who still likes to think everything is perfectly fine, confirming a dramatic slow down in growth in China even while other economies are held afloat by a one-time tax break.
Apple down for 8 of 12 quarters
S.A. claim Chinese smartphone shipments tumbled 11 percent annually to reach 108 million units in the fourth quarter of 2018.
Yiwen Wu, Senior Analyst at Strategy Analytics, said, "China smartphone shipments declined 11 percent annually from 121.3 million units in Q4 2017 to 107.9 million in Q4 2018. The Chinese smartphone market is in recession and has declined for five consecutive quarters. The smartphone market is suffering from longer replacement cycles and weak consumer spending.
"Smartphone shipments declined 11 percent annually to hit 408.5 million during full-year 2018. The past year has been exceptionally tough and one the smartphone industry will want to forget."
That's all true, but it is worth pointing out that over 100 million phone sales is still a pretty big number — and even if Apple's share slips, it does at least make a few dollars on each sale — others are not so lucky.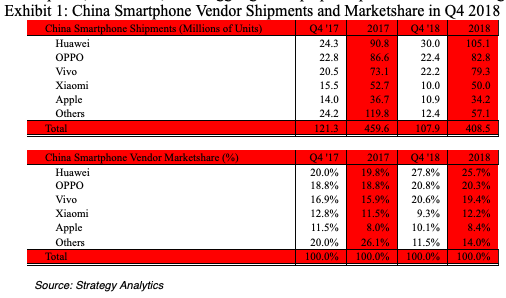 Apple under pressure (but still makes return)
Linda Sui, Director at Strategy Analytics, confirmed Apple's China crisis, "Apple overtook Xiaomi and nudged up to fourth position with 10 percent smartphone marketshare in China in Q42018. However, iPhone shipments dropped 22 percent annually and this was the firm's worst performance since early 2017.
"Apple iPhone has now fallen on a year-over-year basis in China for 8 of the past 12 quarters. Apple has been under pressure in China for the past three years. Ongoing patent battles with Qualcomm are a distraction, while Apple is being heavily criticized for its expensive retail prices. Apple is in danger of pricing the iPhone out of China."
Neil Mawston, Executive Director at Strategy Analytics, said, "Huawei shipped 30.0 million smartphones and captured a record 28 percent marketshare in China during Q4 2018. Huawei's growth soared 23 percent annually and it is now the clear market leader. A strong product portfolio, famous brand and extensive retail channels were among the main success factors."
What about the others?
Woody Oh, Director at Strategy Analytics, added, "OPPO clung on to second place with 21 percent smartphone marketshare in China during Q4 2018. OPPO's shipments fell 2 percent annually, but still grew faster than average. Huawei is piling pressure on OPPO in mid-tier and offline retail channels across major cities such as Shanghai. OPPO is trying to fight back, by targeting more online channels with improved models such as the K series.
[amazon_link asins='067443000X' template='ProductCarousel' store='playlistclub-21′ marketplace='UK' link_id='4e8ad724-8af3-45ae-b198-bdfc63f7d9d0′]
Vivo sits in third position with 21 percent marketshare and is very close to overtaking OPPO. Vivo's 8 percent annual growth rate is bettered only by Huawei. Vivo is growing online with the Z series, and launching more premium models from its NEX range that aim to differentiate by tech innovation."
Yiwen Wu, Senior Analyst at Strategy Analytics, added, "Xiaomi slipped to fifth place and captured 9 percent marketshare in China during Q4 2018. Xiaomi's strong growth in its home market has been halted and it slumped 35 percent annually. Xiaomi suffered from overstocked channel inventories, plus intensified competition from rivals Huawei and Vivo.
The shake down
While Apple may be under pressure, many of the pressures it faces are very different from those being handled by its competitors, who are struggling to make money on more or less similar devices they are bringing to an intensively price competitive market. Apple is not competing on price.
The effect? As I've predicted in the past, the struggle in the low- and mid-tier brackets is driving what looks like some form of market consolidation. Strategy Analytics:
"The top five brands now account for an impressive 9 in 10 of all smartphones shipped in China. Many smaller vendors below the top five, like Meizu, are struggling to keep up and profits are diminishing."
For this industry, the beatings will continue until morale improves. And I think Apple could expedite that process by shipping a lower-cost 4-inch iPhone SE 2, which would put the mid-tier vendors under a brand new hammer of pricing pressure.
One can only imagine where such a device might be made (the iPhone SE was manufactured by Wistron in India, I believe).
Dear reader, this is just to let you know that as an Amazon Associate I earn from qualifying purchases.