So, You Want to Install iOS 11 beta on Your Main iPhone?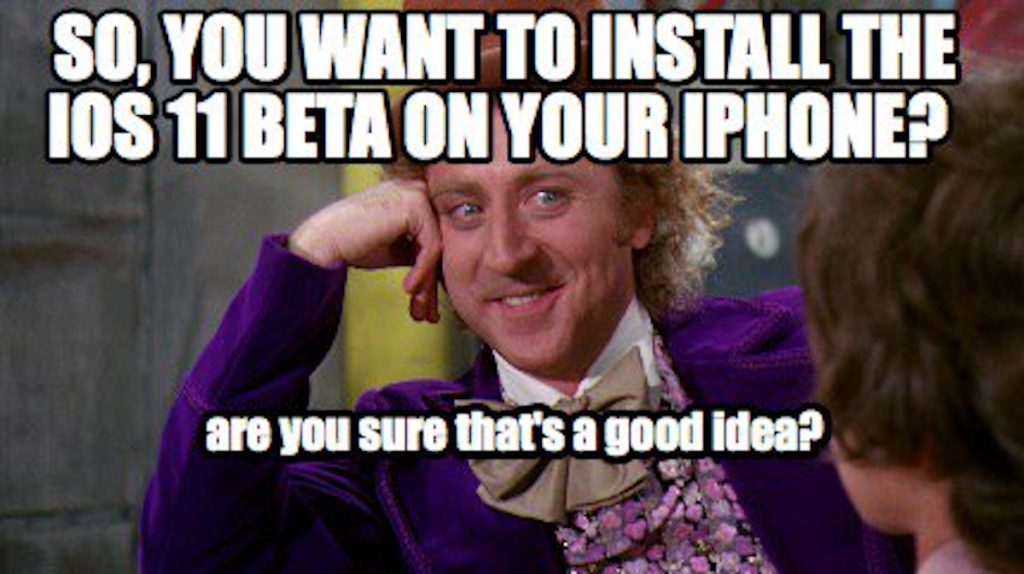 Apple has published its iOS 11, High Sierra and tvOS public betas, meaning that anyone willing to join its Beta Software Program can now download it to their device. But should you? Here's what to think about before you decide:
Don't use your main systems
Mac, iPhone or Apple TV, please think about the risk. This is beta software, and while Apple evidently thinks its stable enough for some public use it is still a beta, things do go wrong, and if you value your data you won't use beta software on a system you rely on.
Sign up for the scheme
So, if you have a spare Mac, iPad, Apple TV, and/or an iPhone you can sign up to download the beta software to one or all of those devices. Just head over to this page on the Apple website and sign up. As a member of the scheme you'll be able to put the beta OS on your device and will be able to send feedback to Apple to help make the final release more stable.
Keep your mouth shut
The only rule of Apple beta club is we don't talk about Apple beta club.
Here's what Apple says about confidentiality:
"Don't blog, post screen shots, tweet, or publicly post information about the public beta software, and don't discuss the public beta software with or demonstrate it to others who are not in the Apple Beta Software Program. If Apple has publicly disclosed technical information about the public beta software, it is no longer considered confidential."
If you can keep a secret you can sign up. But don't if you can't.
Back up first
Before you decide to download and install the beta software, Please, PLEASE, PLEASE make a backup of your device. Take a look at either of these articles for some help and advice on this:
Spring cleaning
Whenever you upgrade your system it makes a lot of sense to spend a little time cleaning it up first. You should go through the apps and data stored on your system, deleting apps and media you don't use. You may want to store some things on external drives or additional cloud-based backup services to make sure you don't lose anything in the event something goes wrong.
Note down your passwords
Don't just install the software, please take a note of any important passwords first. You can't guarantee these will be remembered by your system if something goes wrong and you need to return the Apple product to factory settings. Those Apple ID, VPN, Wi-Fi and website passwords are important. Take a note of them.
How beta works
Once you download the software to your device you need to install it. Once you have installed it the beta all future beta builds will be made available to you automatically. You can cease to receive updates or return your device to a previous stable (non-beta) OS following these instructions.
How to install
Once you've signed up to the beta scheme installing the beta is a piece of cake.
Open Settings>General>Software Update and you should see the beta listed there. Tap on Download and install and then tap Install now.
Once you install
So, you've backed up your device and know how to return it to a good working state if things go wrong. You install the software. Before you do, make sure to put aside the time to deal with any problems.
Be ready for a performance hit
Once you install the beta you Mac, iPhone, or iPad will then reindex itself while completing the installation – this may have an impact on battery life and performance. Your system will seem slower than normal until this process completes – depending on how much data you have installed on it the process may take quite a long time. Are you sure installing the beta software on a system you rely on is a good idea?
Some things don't work
Not only this but because you are installing beta software you may find some things don't work, or don't work well. So, iOS 11 beta testers are claiming that some third-party apps don't work, graphics are laggy and the App Switcher isn't stable yet.
An essential troubleshooting tip
If something goes wrong, your system seems sluggish or the update fails to complete, don't panic – leave it a few minutes, and then force restart your system.
On an iOS device you need to press and hold the Sleep/Wake and Home button for 10 seconds;
On a Mac you need to press the power button until the machine shuts down and press again to restart it.
While this won't solve everything, a force restart after installing a new system can make a big difference to overall stability. Don't forget that your system may need time to reindex itself. Be patient. It is hard to be patient when you upgrade a device you rely on….
What about your apps?
Before you move to install beta software on your device, take a moment to think about your apps. Do you have some that you absolutely rely on? Are some apps provided by your company for your use? If so, then you must urgently check to ensure those apps support the iOS 11 beta, because many (particularly proprietary offerings) just won't – and if you upgrade your main device they won't work. You really don't want that to happen. If there is an app you rely on then don't install the beta.
What about bugs?
The reason Apple provides beta software for testing is that every major new release can contain flaws. These tests take place in order to identify and repair those flaws. With this in mind if you install the new OS' you should do so in full expectation that you may encounter unexpected problems which could impact your system. You may lose data, time, or capabilities on the system. Of course, you don't need to install the beta straight away – I always recommend users delay installing even final release OS upgrades until the .1 upgrade that usually ships a week or so later.
Should you use your primary Apple device?
If you have an Apple device you rely on, I strongly urge you not to use it to test beta software. However, if you do install the beta on your critical Apple device and something does go wrong, don't say I didn't try to warn you.
Hope this helps.
Dear reader, this is just to let you know that as an Amazon Associate I earn from qualifying purchases.