10 AirPod tips for the rest of us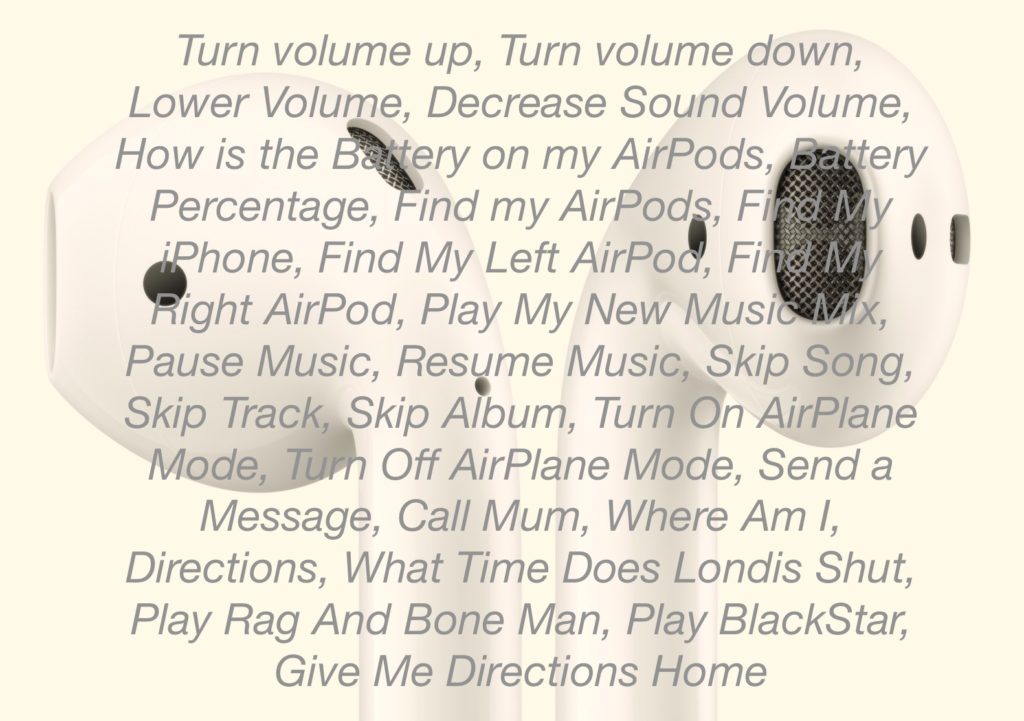 It looks like Apple sold a heap of AirPods in the last few months, as I'm suddenly spotting them worn in the ears of perfectly normal people as well as the wealthy hipsters who managed to get there in the first wave. So, now AirPods are crossing critical mass, I thought I'd share a few handy tips on how to use them.
Say what you see
See those phrases in the picture up above? You can use all of these with Siri to control what your AirPods do.
Make AirPods work for you
AirPod users with an iOS 12 device can change the default controls of their smart earbuds. A double tap on your right earbud can activate Siri, while the same double tap on the left can activate another function, here's how it's done:
Open Bluetooth Settingson your iPhone while your AirPods are connected.
Look for the AirPods in the list of Bluetoothdevices and tap the encircled blue i icon beside their name
In the "Double-Tap on AirPod"section you must set what you want the taps to accomplish on each of your right and left buds.
Choose between: Siri, Play/Pause, Next Track, Previous, Off.
Check your power
If Siri is enabled the easiest way to check how much power you have left in your AirPod case is to double tap an AirPod (to activate Siri) and say "battery percentage".
Who is calling?
It's great that you can answer calls using your AirPods, but you might want to know who is calling before you do. Here's how to make it so: On your paired iPhone, open Settings>Phone>Announce Calls and choose Headphones Only. In future, Siri will tell you who is calling you if it recognizes the number from your Contacts book.
Name them
Name your AirPods: Open Settings>Bluetooth and tap the I icon beside your AirPods in the My Devices section. Tap on the Name field and it will become editable and you'l be able to christen your pans.
Switcheroo
Don't forget that every Apple device you own that is logged into your iCloud account can work with your AirPods – so if you want to watch something on your Mac without disturbing everyone else in the room with you, just head over to Bluetooth settings and choose your them there. On Apple TV, just hold down the Play/Pause button on the Siri remote, and select your AirPods in the on-screen menu that should appear; or, on Apple Watch, with the AirPods in your ear just swipe up to invoke Control Center, tap the AirPlay icon and choose the AirPods. Great with a Series 3 when you want to leave your iPhone behind.
Automatic ears
AirPods can figure out when they are being worn. You can turn automatic ear detection off in Settings>Bluetooth and tap AirPods there. In this dialog you'll also be able to assign the microphone to a specific ear, which is useful if you are sharing them with a chum to listen to music.
Find the AirPods
So long as you've done the smart thing and set up Find My iPhone in iCloud, then finding lost AirPods could be a little easier. First of all, you can access Find my iPhone using the app or a web browser to see the last known location of your earbuds, and if they are nearby you can make them chime an SOS sound to help you find them. That way this won't happen….
Get an accessory
One relatively inexpensive ($13.99) accessory I think makes a lot of sense to use with AirPods is the elago AirPods stand. When you want to charge up your buds, just pop them inside their case and slot the case into the stand, which you can leave connected to power in a convenient place, such as at your desk or by the bed.
Try not to lose them
If you're the sort of person who loses things you might want to invest in one of these handy keychain sleeves so you can attach the AirPod cover to you.
Got any more AirPod tips? Please let me know as I want to share them.