Microsoft Office keeps post-PC iPad mouse and trackpad promise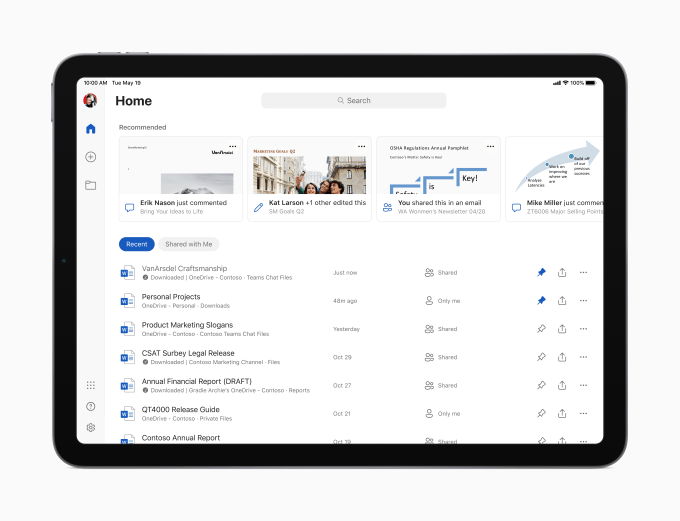 Microsoft continues its fall campaign of improving Office products on Apple's platforms, with new PowerPoint features for the Mac and support at last for an external mouse when using Office apps on an iPad.
Office for iPad
The biggest deal is the introduction of support for a mouse and trackpad support on iPad in the latest iteration of Office for iPad, it also makes a smattering of design improvements.
The company introduced multiple windows support for Word and PowerPoint earlier on this year, when it also promised mice would be supported. Apple, of course, introduced the feature way back, but it took MSFT a little time to catch up.
(Enable this by pairing your mouse with your iPad – and that's it. Control setings, such as pointer size, in Pointer Settings. Easy-peasy).
In future, you can use the mouse across Office apps, which is frankly deadly useful when you're working in spreadsheets or editing a document in Word, and means you don't need to manically press the arrow keys (if using a keyboard) or reach dramatically at your iPad display. Use it with a display and you've pretty much got a PC.
The user interface has also been improved with a new start page and much brighter toolbar colors. There are other improvements coming soon, including multiple document support in Excel, contextual menus and offline support for cloud files.
What's new in PowerPoint?
For Mac users, new PowerPoint features make it much easier to augment boring presentation slides with audio, and also lets you export these things as animated GIFs, which makes it easier to distribute presentations via websites and social media.
It's also possible to record your presentation as you go through your slides, making it a little easier to share presentations, webinars and more asynchronously, as does a new feature that lets you record your virtual laser pointer while working through a presentation.
You can also now share links to a specific slide, so long as it is hosted in OneDrive.
That post PC promise is being realized
Remember that Apple ad in which a small child asked "What's a computer?"
Apple was pilloried for it at that time, three years ago.
Today, as over a billion people on earth use an iPhone and people turning into teenagers cannot recall a life without them, it may be worth revisiting that claim. Because as iPad tech improves and the apps come to the platform, and as the capabilities expand, that future is being realized in real time right before our eyes.
Please follow me on Twitter, or join me in the AppleHolic's bar & grill and Apple Discussions groups on MeWe.
Dear reader, this is just to let you know that as an Amazon Associate I earn from qualifying purchases.