Mac Users: Do You Use This Dock Trick?
I was happy to see so many people take a look at this earlier post about how to get a little more out of using Mission Control, I find it really helps me stay productive. I have another little tip today, one I think may help Mac users who often find themselves with multiple windows open in multiple apps.
Minimize Minimilization
So — when you have a lot going on on your Desktop you can divide things into Spaces, and you can minimize windows/documents/whatever that you don't currently need by tapping the yellow minimize 'traffic light' at the top left of the app window. I think most Mac users know this.
The problem is that all those minimized windows end up crowding out the right hand side of your Dock, with the effect (particularly if you have a lot of open items) of making it a real pain in the **** finding the item you need, when you next need it.
That's where this tip comes in. It lets you place those windows inside their relevant application icon in the Dock. Why is this helpful? Because it makes it easier to find the item you seek — just remember what application it belongs to, and tap and hold the application icon in the dock.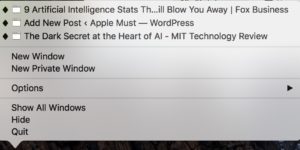 When you do, a list will appear above the icon and this will include all the items belonging to that particular icon you have open (like the picture above). I find it makes it a little easier to find items when I need them.
How do you do this?
Open System Preferences
Open Dock Preferences
And tick the "Minimize windows into application icon" check box (which is off by default).
In future when you minimise the window in any application you'll find it stored neatly with the application's icon in the Dock.
While this isn't a particularly Earth-shattering tip, I do find it makes life a little easier. What's your favorite tip?
Dear reader, this is just to let you know that as an Amazon Associate I earn from qualifying purchases.