Jamf just made it super-easy to securely share iPhones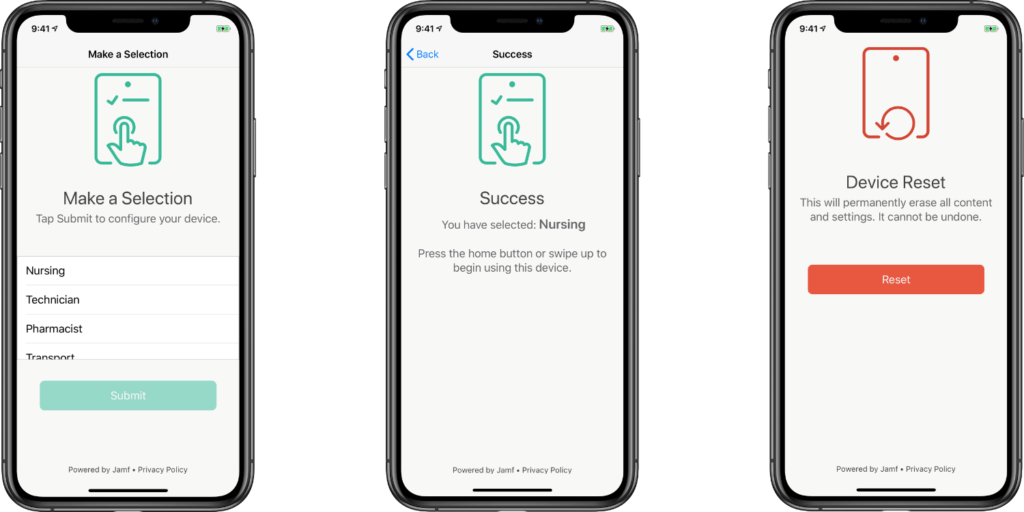 Yet more big news for Mac-wielding enterprises, Jamf has announced a pair of new apps that make it even easier to deploy Macs and other Apple products in the enterprise, Jamf Setup and Jamf Reset.
What are Jamf Setup and Jamf Reset?
Jamf Setup and Jamf Reset are a pair of apps that run on an Apple system like any other app. The first app makes is super-easy to set a device up, including apps and passwords, while the second solution works really well when sharing a device between multiple people.
Together, the apps make it possible and simple to use a single device for different tasks. The idea is that much of the actual procedure is passed over to end users, but simplified to become as friction-free as possible.
For example, a student can be given an iPhone and Jamf's systems can provision it with all the apps, wallpaper, Home screen layouts, Wi-Fi passwords, restrictions and other items, configured for a particular user. User's get the device shrink-wrapped with a code to enter during set-up.
Jamf Setup empowers:
"Jamf Setup allows us to get more out of our existing device pool by uniquely serving the needs of each different type of user, while empowering our end users to control their experience – all while lightening the burden placed on our IT team," said Joost van der Zwaan, ICT solutions architect, Rituals.
"For example, our retail supervisors are easily able to get access to different apps than our shift employees, letting us use our devices seamlessly for different roles and different needs."
A shared device for any workflow – Jamf Setup gives a new option between generic configurations and Apple's Shared iPad. A single device supports multiple customized use cases, and therefore creates a more flexible shared device.
User-selected configuration – Jamf Setup creates an intuitive way for end users to receive relevant apps and settings – no IT involvement required.
No cart or login needed – Jamf Setup allows for an over-the-air workflow with no need for additional hardware. Users do not need a username or password, software or another directory service. This enables one-time guest use.
Jamf Reset provides
"Jamf Setup and Jamf Reset introduce a new workflow that puts the power in the hands of the end user, a workflow our organization didn't know we needed until we tried these apps," said Marc Sylwestrzak, director, IS experience and development, UC San Diego Health Sciences. "Jamf Setup can empower nurses and hospital staff to select their role and share devices easily. These apps open a lot of doors for healthcare organizations."
[amazon_link asins='B07D6WP5QJ' template='ProductCarousel' store='9to5ma-20′ marketplace='US' link_id='b438a7bc-d799-11e8-b2f8-b76b77a1cc9b']
The Jamf Reset solution lets users initiate a complete wipe and be confident their data is securely erased. Instead of going deep in the settings menu, users just select the Jamf Reset app from the Home screen – this is incredibly useful in shared device environments. The device will then be completely reset.
Reset does not need additional integrations or warehouse re-provisioning. This workflow is repeatable and reliable. Troubleshooting can be done with one tap by resetting the device.
This creates a scalable re-provisioning process.
#Sewanhaka Central High School – No tethering to support 9,000 devices using @jamfsoftware #JNUC2018 #JNUC #K12 #education #GeoGebra #Schoolwork pic.twitter.com/7OgrDw7K4g

— Marco Nielsen (@marconielsen) October 24, 2018
What Jamf says
"These apps introduce a new paradigm in a shared-device deployment model," said Dean Hager, CEO, Jamf. "Whether an employee seeking temporary mobility, a shift worker on rotation serving customers, or a guest needing to engage with his host, end users can now receive a customized experience designed specifically for their needs. And, IT administrators have a scalable re-provisioning workflow allowing them to get the most from a smaller pool of devices."
Got a story? Please follow me on Twitter and join me in testing my MeWe group, AppleHolic's bar & grill.
Dear reader, this is just to let you know that as an Amazon Associate I earn from qualifying purchases.