How to ¯\_(ツ)_/¯ (shrug) without tears on iOS, Mac… and Android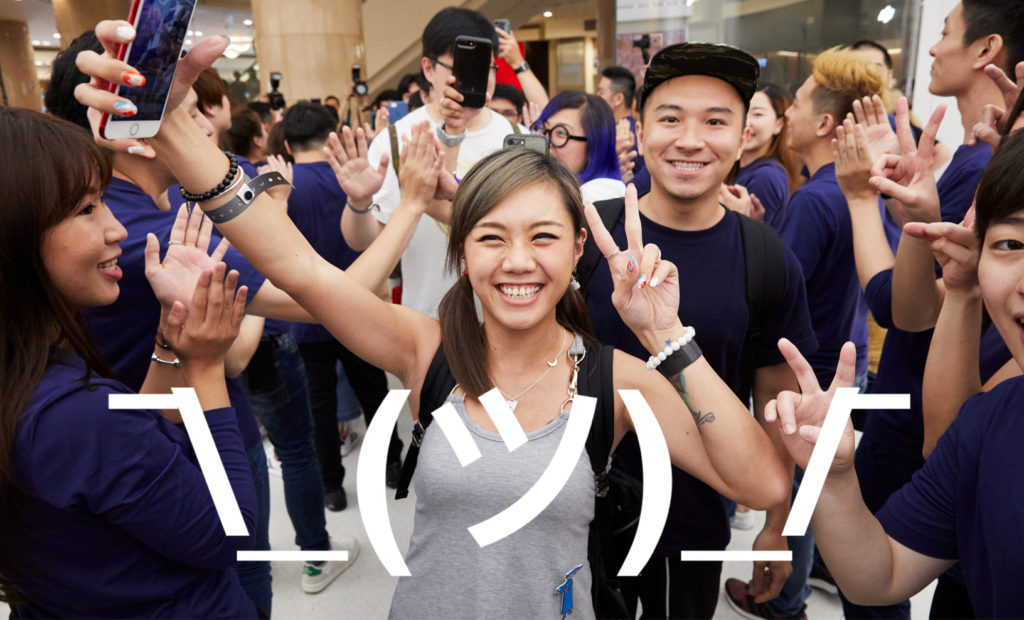 How often would you use ¯\_(ツ)_/¯ button if it wasn't so fiddly to type? Here is how to make a shrug shortcut that will work on a Mac or iOS device:
¯\_(ツ)_/¯
Don't know the answer? Don't know the place? Unsure if something is wonderful, grotty, or ace? ¯\_(ツ)_/¯ is your friend. ¯\_(ツ)_/¯ is your pal. ¯\_(ツ)_/¯ helps you say more than words sometimes shall. Get the picture?
So, you want to automate your Shrug. Here's how it's done:
¯\_(ツ)_/¯ on a Mac:
The Mac has a handy text replacement function. You can use this to create your very own shortcut that will automatically type ¯\_(ツ)_/¯ whenever you need it to. The one caveat with this is that it only works in applications that fully support your Mac's text features, so not Word. It will work in Messages, Mail, Pages and so on.
Open System Preferences>Keyboard
Now choose the Text pane and tap the + button at the bottom left
You'll see a new text entry field appear in the Replace column
Type a shortcut you want to use, such as /shrug (With thanks to this Quartz post from Dave Gershgorn).
Then type (or copy and paste) ¯\_(ツ)_/¯ into the With box beside it.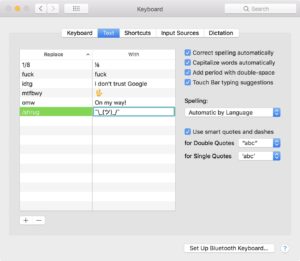 (You can create other shortcuts if you like, as illustrated here. One of them solves that annoying habit Apple has of censoring Anglo-Saxon prose).
When you finish, exit System Preferences, open a Message and send someone a /shrug.
Congratulations, by the way: You also just learned how to create a keyboard shortcut on your Mac. Use these for all sorts of things, such as sending a little love to my Bitcoin address (scan here).
¯\_(ツ)_/¯ on an iOS device
Text replacements you create on your Mac should eventually propagate using iCloud across to all your iOS devices, however sometimes it takes a little time to sync. Alternatively, you may be using an iOS device right now and want to be able to ¯\_(ツ)_/¯ like a pro without waiting to get back to your Mac. That's OK – you can create your shruggy shortcut on an iOS device:
Open Settings
Choose General>Keyboard
Tap Text replacement
Tap the Plus button in the top right corner
In the Phrase field type ¯\_(ツ)_/¯
And in the Shortcut field type /shrug
Tap Save in the top right
Got it? Cool.
Shrug-related video because we all love video, right?
¯\_(ツ)_/¯ on an Android
If you're still stuck on one of those Android devices while you wait to upgrade to a smarter smartphone, here's how to ¯\_(ツ)_/¯ your way through your wait:
Tap Settings>Language and Input
Select Google Keyboard (if it's called that on your thing, I despair)
Now choose Personal dictionary
Tap the plus icon at the top right
Now you get to enter ¯\_(ツ)_/¯ and your shortcut, I'd recommend /fragmented
Hit the Back button.
See you on the other side.
Finally, I just want to thank Dave Gershgorn once again for his post.
¯\_(ツ)_/¯
Dear reader, this is just to let you know that as an Amazon Associate I earn from qualifying purchases.