Apple's U.S. iPhone sales grow as smartphone market shrinks
As we prepare for the introduction of iPhone 12, Apple set a new U.S. iPhone sales record across Q2 2020, shifting around 15 million iPhones and generating 10% growth in a slightly shrunken smartphone market, Canalys says.
The one that we want…
The news reflects the success of Apple's current crop of smartphones and likely also reflects the wide adoption of the affordable iPhone SE noted by the company during its recent fiscal call. iPhone 11 sales also exceeded those of last year's XR model.
The result?
Apple took 47.1 percent of the U.S. Q2 smartphone market. As a whole, the market comprised 31.9 million units, which was down 5 percent.
We've seen this kind of pattern before. When the PC market slowed Apple was notable in that its sales actually increased. Now that we're seeing the same impact on smartphones, it once again looks like Apple's platform message remains strong. The iPhone SE proves that if they can afford them, people will opt for an iPhone.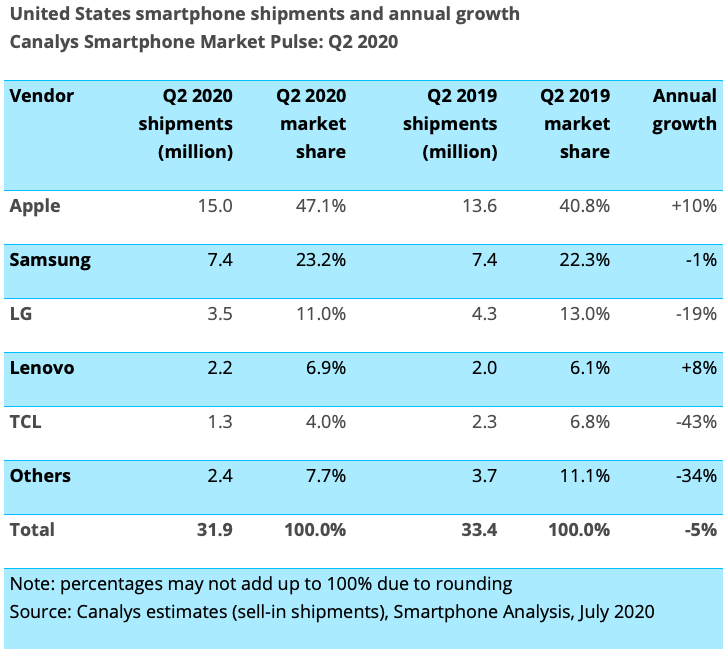 What about 5G?
As I predicted, 5G remains a big draw for website clicks far more than it exists as an attraction for consumers. Lack of true 5G networks in most places and a shortage of compelling 5G services means it's a tech for tech first adopters – which has little impact on mass market device sales.
This situation is going to change, of course, but not fast.
Canalys Analyst Vincent Thielke said: "As the coronavirus pandemic forced consumers to stay at home, 5G adoption in the US failed to take off. Store closures and virus fears limited interaction with demonstration models, tight consumer budgets further constrained spending power, and with scarce 5G network coverage in American suburbia, consumers saw plenty of reasons to buy a 4G device instead.
"Despite the lackluster 5G roll-out so far, strong carrier marketing in coming quarters will be instrumental in catalyzing a multi-year transition period from LTE to 5G."
Maybe. But at the moment 5G is the least of most consumer concerns. Hence significant growth in demand for low cost low-end smartphones, a space Apple currently reaches the top of with the iPhone SE.
The China thing
The world's reactionary descent into envy and denial continues with trade tensions between the U.S. and China generating little reward for most of us.
Interestingly, around 70% of smartphones shipped in the US in Q2 2020 were made in China, up from 60% the quarter before.
"Tensions between the US and China have escalated in recent years, creating a perpetual state of uncertainty for all smartphone vendors except Samsung and LG. The worsening relationship has resulted in extreme instability that has global onlookers eagerly awaiting November's presidential election," said Thielke.
"This may guide the US-China trade war into a new phase of détente – or reignite flare-ups," he added.
Indeed.
Please follow me on Twitter, or join me in the AppleHolic's bar & grill and Apple Discussions groups on MeWe.