Apple's 2016 iPhones are the World's Most Popular Smartphones — Strategy Analytics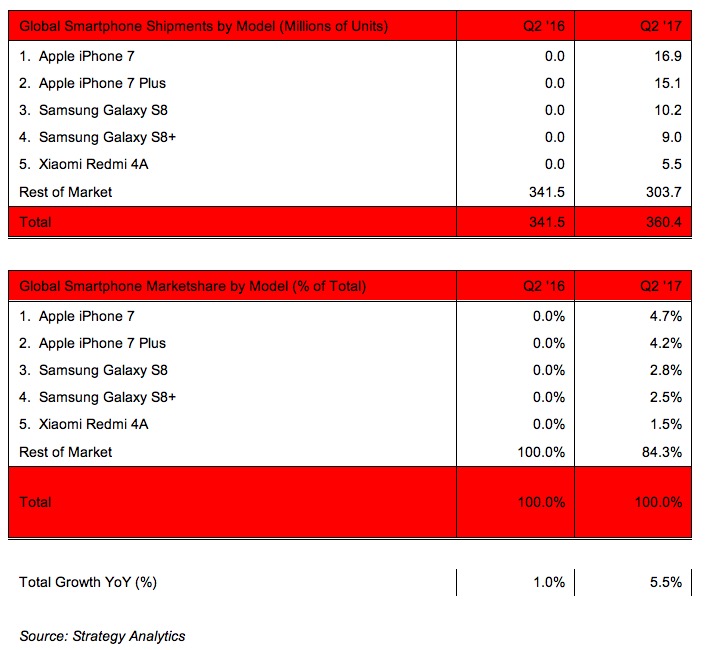 They may be last year's models, but Apple's iPhone 7 series devices are still the world's most popular smartphones according to Strategy Analytics – the analysts estimate both models together sold almost 14 million more units than their closest competing devices in Q2 2017.
Dominance by any name
You see, while the iPhone 7 led the market with 16.9 million sales and the iPhone 7 Plus saw 15.1 million additional sales, the world's biggest-selling Android smartphone series – the Galaxy S8 and S8+ (plus, how original) shifted just 19.2 million products – 12.8 million less, overall. (Still, not so shabby, I guess).
Apple today accounts for two of the world's top five smartphone models. Apple's two current smartphones gave the company 8.9 percent of the overall smartphone market, in contrast to Samsung's 5.3 percent. No one else has such a big slice of the industry – even fifth place Xiaomi took just 1.5 percent.
The rest of the industry is characterised by various Android vendors who are in a war to extinction as they fight over the crumbs – while between them they account for 84 percent of the market, not one of them has anything more than a maximum 1.5 percent market share.
This means most manufacturers are selling (at best) around one million units, and squeezing profit from doing so — there can't be that much to be made in this. That's why I doubt those third tier makers are spending a great deal of money on investing in things like, for example, eradicating conflict minerals from their manufacturing supply lines.
"The iPhone 7 remains the world's most popular smartphone model overall, due to a compelling blend of user-friendly design, extensive supporting apps, and widespread retail presence for the device," said Juha Winter, Senior Analyst at Strategy Analytics.
Down at the low end
Apple faces competition in China. Linda Sui, Director at Strategy Analytics, points out, "We estimate Xiaomi Redmi 4A shipped 5.5 million units for fifth place and 2 percent marketshare worldwide in Q2 2017.
"Xiaomi is becoming wildly popular across Asia. Xiaomi is now the fourth largest smartphone vendor in China and the second biggest across India. Xiaomi is selling a large volume of smartphones through online channels, with key distribution partners such as Flipkart and JD."
It will be interesting to see how Apple chooses to counter the impact of these small, local Android vendors come 2018 and the next-generation locally-made Apple product, the iPhone SE2 (or whatever it happens to be called).
Dear reader, this is just to let you know that as an Amazon Associate I earn from qualifying purchases.