Apple's 12-series iPhones accounted for 61% of its U.S. Q2 phone sales
While I understand that record iPhone sales news seems so last week following the recent Apple event, I thought some readers may be interested to learn that Apple's 12-series iPhones accoujnted for 61% of all U.S. iPhone sales in the first three months of this year, claims Consumer Intelligence Research Partners in its latest report.
People like big phones — who knew?
The report also seems to confirm that the market for smaller devices sits at around 10 percent of the overall set, with iPhone SE and iPhone 12 mini consistently striking in that region. All those good carrier deals mean the iPhone 11 had the largest share for a single model, at 24%, they said.
"In the first full quarter of availability, we now see how consumers prefer the full-size iPhone 12 and 12 Pro models, and legacy iPhone 11, avoiding iPhone mini and SE," said Josh Lowitz, CIRP Partner and Co-Founder.
(Now, I don't really agree with this take as it seems to me that smaller iPhones remain very popular, and if Apple does sell 85 million iPhones this year and IF around 10% of them are smaller, then that's still a market in excess of 8 million.
I simply think Apple stumbled a little when it introduced two smaller devices within months of each other, and rather think the iPhone 12 mini will shrink to fill the space occupied by the SE, as well as it's own. Though I know that the 'small phones have failed' argument is a popular discussion.)
Back to CIRP:
"The iPhone 12 models, including the base, Pro, and Pro Max, all garnered decent share, divided relatively equally among them, including the highest-priced iPhone 12 Pro Max with 20% of sales," said Josh Lowitz.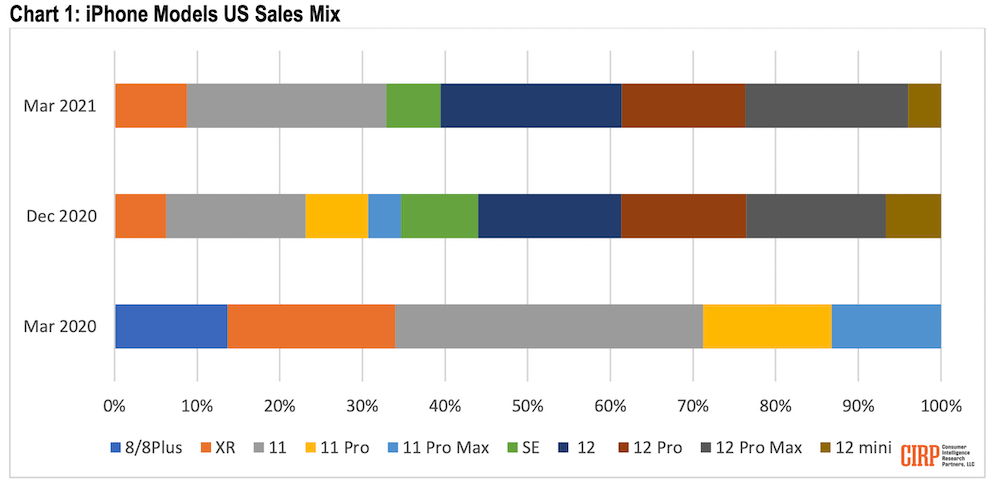 Also read: Apple squeezes record iPhone 12 sales with new purple model
"This improved on how the iPhone 11 Pro Max models performed a year ago, when it accounted for 13% of sales. Still, iPhone 11 actually had the largest share of any single model, suggesting consumers find its price point and form factor attractive. iPhone 12 mini and SE had the smallest shares of all models, and both decreased share relative to the December 2020 quarter." (Don't forget SE had been available for longer though).
Apple's wide and deep product range
Mike Levin, CIRP Partner and Co-Founder noted: "Comparisons to the December 2020 quarter are difficult, with COVID-19, holiday sales, and the mix of old and new models introduced in that quarter. The decrease reflects the shift back to the year-old iPhone 11, and residual popularity of the older iPhone XR.
"That decrease was mitigated by continuing strength in the higher priced iPhone 12 models, and the $100 price increase for the core iPhone 12, contributing to the increase in US-WARP relative to the year-ago quarter."
So, what's the takeaway? The iPhone 12 family has scooped up sales, and Apple's seven strong range reaches a broad bandwidth of consumers across multiple price bands.
Please follow me on Twitter, or join me in the AppleHolic's bar & grill and Apple Discussions groups on MeWe.
Dear reader, this is just to let you know that as an Amazon Associate I earn from qualifying purchases.