Apple Watch to be used to treat U.S. hip and knee patients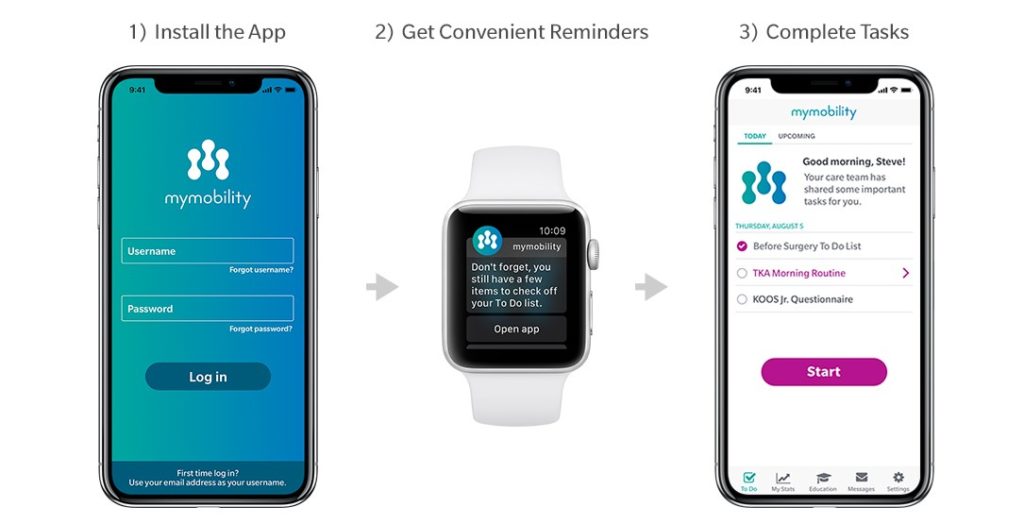 Apple Watch just found yet another way to be useful, with prosthetic limb specialist Zimmer Biomet providing 10,000 knee or hip replacement patients with the providers mymobility app designed to capture data about their problems.
How the Apple Watch helps
This is part of a multi-year study across people waiting for hip or knee replacement surgery, a report on Reuters said.
Apple Watches will gather a patient's health data including heart rate, steps taken and standing hours and share it with the Zimmer Biomet app.
The specialists will then be able to use this information to monitor a patient's condition and to figure out how well patients are doing – are they following prescribed medical, diet of physiotherapy regimes ahead of or post-surgery?
There are three big problems the tech may help solve:
Preparing patients for surgery
Helping post-operative patients
Enabling care-givers and patients to communicate better across the process.
Better care for better outcomes
There are over a million of these operations that take place each year in the U.S., but patients are poorly served in terms of guidance and help.
"Standardization of care and recovery for the procedures is still lacking and costs to the U.S. healthcare system continue to rise," Zimmer observes in a statement.
The research aims to create a new support ecosystem to help patients through the process, while also giving surgeons deeper insights into what is going on.
It is understood Zimmer has been working "behind the scenes" with Apple for two years – it is also quite clear that Apple has been spending a lot of time figuring out how to create useful solutions for the medical market. Also this week the company donated 1,000 Apple Watches for a study in binge eating.
What Apple says
"We believe one of the best ways to empower consumers is by giving them the ability to use their health and activity information to improve their own care," said Jeff Williams, Chief Operating Officer, Apple, in a press release.

"We are proud to enable knee and hip replacement patients to use their own data and share it with their doctors seamlessly, so that they can participate in their care and recovery in a way not previously possible through traditional in-person visits. This solution will connect consumers with their doctors continuously, before and after surgery."
Where is this being tested?
Currently only in the U.S. the following facilities are taking part in the study:
Academic centers: University of Utah Health; Rush University Medical Center; University of Pennsylvania Health System; Emory University Orthopaedics & Spine Hospital/Emory Healthcare
[amazon_link asins='B075TDXYCS' template='ProductCarousel' store='9to5ma-20′ marketplace='US' link_id='9141bd4a-d091-11e8-9d2e-39356303e0fe']
Hospitals: Hoag Orthopedic Institute in Southern California; Newton-Wellesley Hospital, member of Partners HealthCare founded by Massachusetts General Hospital and Brigham and Women's Hospital; Centura Health, Porter Hospital – Colorado Joint Replacement (CJR)
Group practices/ambulatory surgery centers: ROC Orthopedics, affiliated with Legacy Meridian Park Medical Center; OrthoBethesda; OrthoArizona; Midwest Center for Joint Replacement; Hartzband Center for Hip & Knee Replacement; New Mexico Orthopaedic Associates; The DeClaire LaMacchia Orthopaedic Institute, affiliated with Michigan Institute for Advanced Surgery; Joint Implant Surgeons; Orthopedic and Fracture Clinic; Panorama Orthopedic and Spine Center.
Got a story? Please drop me a line via Twitter and let me know. I'd be very pleased if you choose to follow me on Twitter so I can tell you about new articles I publish and reports I find.
Google+? Hopefully you are already part of AppleHolic's Kool Aid Corner community, but as Google is closing its social network soon, please also follow me on Twitter and join me in testing the all-new MeWe group, AppleHolic's bar & grill.
Dear reader, this is just to let you know that as an Amazon Associate I earn from qualifying purchases.