Apple may have a growing iPhone loyalty problem…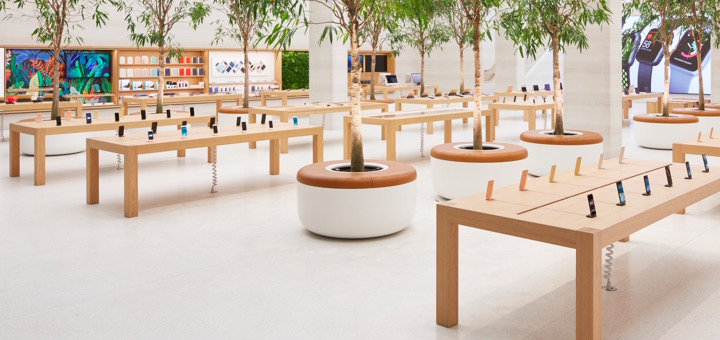 It's beginning to look as if Apple's decision to make iPhones more expensive has broken one of its most valuable customer metrics: brand loyalty. That's how I see the data in this report.
iPhone retention down 15.2%
BankMyCell.com claims Apple's iPhone brand retention may be at its lowest point since 2011.
They argue that this suggests people are switching to different platforms, rather than sticking with iPhones.
I can't help but imagine that when so many of the new jobs people have these days are low paid, insecure, gig economy jobs, this reflects a truth that most people just don't feel like they have money to burn.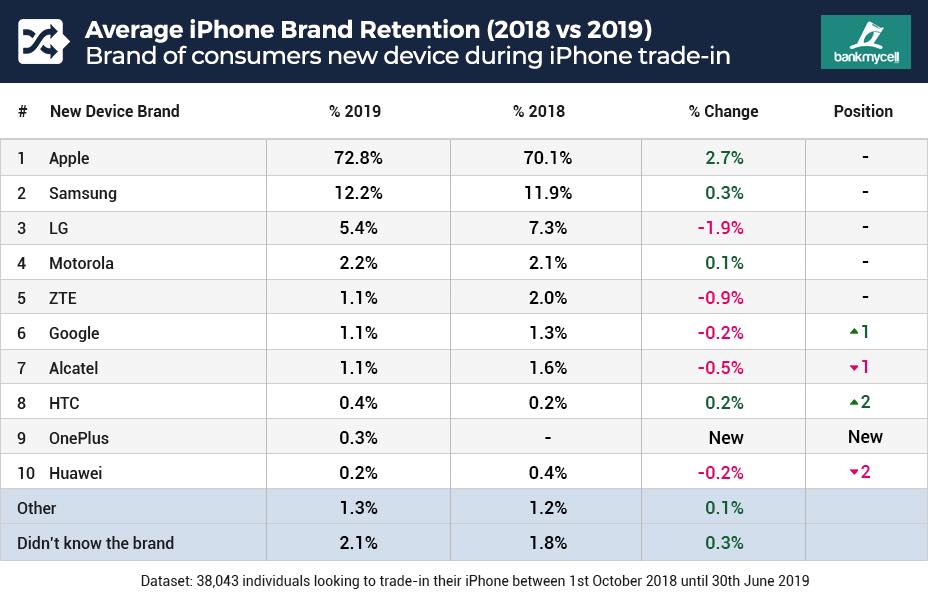 Let's take a look at the data:
On average, 8%of iOS user's remained with Apple during an iPhone trade-in from Q4'18 to Q2'19.
Only 4%of iOS users trading in stayed with Apple during Q4 of 2018, following the release of the iPhone XR / XS range
In June 2019, 18.08% of people trading in iPhones had a Samsung device, the highest figure recorded in our study.
24.5% of individuals trading in iPhones during Q4 2018 had moved to a new brand; Samsung (13.8%), LG (8.2%) or Motorola (2.5%).
On average, 12.4% of iPhone users jumped ship to Samsung, and 6.4% to LG smartphones from Q4'18 to Q2'19.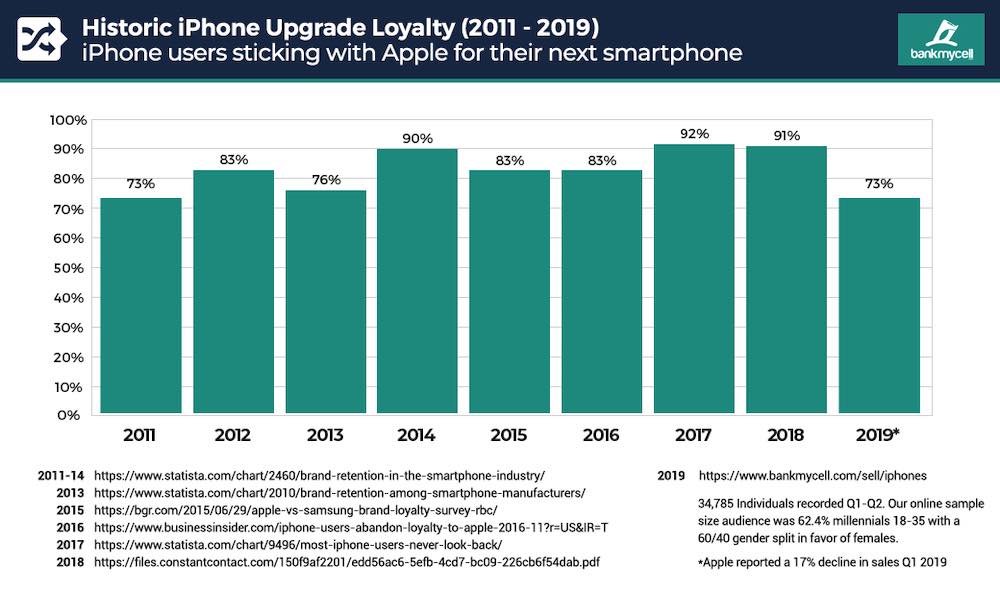 18.5% of people selling an iPhone XS had moved to Samsung – the most significant Apple to Samsung brand switch out of 16 phones.
26.2% of individuals trading in their iPhone X moved to another brand compared to only 7.7% of Galaxy S9 users switched to an iPhone, leaving 92.3% predominantly on Android.
There's lots more information in the report, which you can explore here.
Apple Must thinks…
I saw the light with Apple years ago and my actions show I believe it to be the best platform, for dozens of reasons.
At the same time, maintaining an Apple habit seems expensive. Anecdotally, at least, I seem to have far more conversations with existing iPhone users planning to migrate to other platforms than I once did, and in most cases,  they cite price as cause.
[amazon_link asins='B01EGW9EOU' template='ProductCarousel' store='9to5ma-20′ marketplace='US' link_id='b6e87c17-24ab-48ad-97d4-2d997b51b218′]
That's understandable, given so many of the people I speak with are staring at bills they can't afford even while being in full time employment. They aren't unique.
I think it would be helpful if Apple recognizes that the aspirational age that gave it such success is changing and found some way to widen its reach – though I fear this is a lesson Apple isn't yet ready to learn.
We shall see…
Please follow me on Twitter, or join me in the AppleHolic's bar & grill and Apple Discussions groups on MeWe.
Dear reader, this is just to let you know that as an Amazon Associate I earn from qualifying purchases.