Smartphone industry 'a mess', mobile market analysis looks grim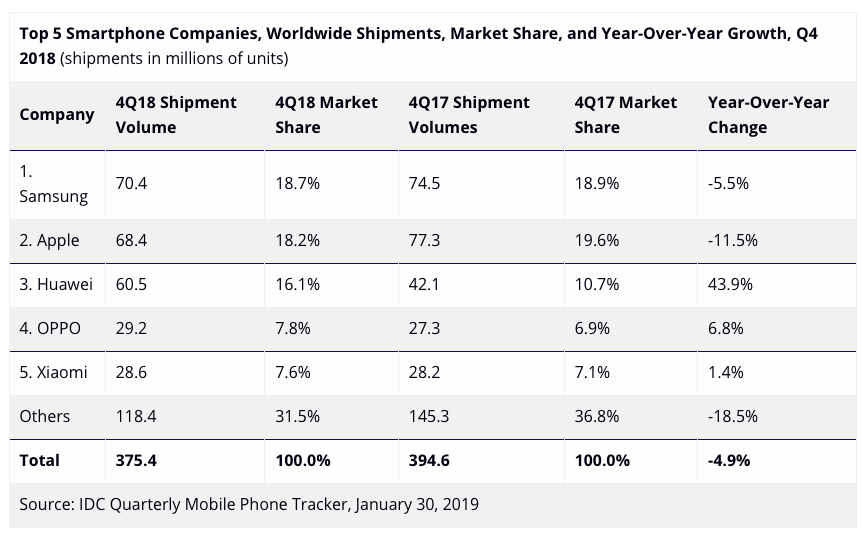 All the big mobile analysts seem to agree: Global smartphone shipments have declined, and while the extent of that decline differs it seems pretty clear that a wave of industry consolidation is going to take place, with larger players investing increasingly deeply in ways to carve out unique component and feature advantages.
What the analysts say
Strategy Analytics: "A landmark event"
Global smartphone shipments fell 6 percent annually in Q4 2018 and 5 percent across the year. That's the first time this has ever happened, making it a "landmark" event.
Samsung leads the industry with 16% share (though much of this is low and medium end), while Huawei is predicted to knock Apple into third place at some point this year (Apple shipped 65.9 million iPhones in Q1 2019, the analysts have claimed). 376 million smartphones sold in Q4 2018, down from 400.7 million units the year before.
Linda Sui, Director at Strategy Analytics, said, "The global smartphone market has now declined for five consecutive quarters, due to longer replacement rates, a lack of wow models, and economic headwinds. Global smartphone shipments fell 5 percent from 1.51 billion in full-year 2017 to 1.43 billion in full-year 2018. This was the first time ever in history the global smartphone market has declined on a full-year basis. It is a landmark event."
Neil Mawston, Executive Director at Strategy Analytics, added, "Samsung shipped 69.3 million smartphones worldwide in Q4 2018, dipping 7 percent annually from 74.4 million units in Q4 2017. Samsung remains the world's number one smartphone vendor, despite intense competition from Apple, Huawei and others across core markets of India, Europe and the US. Apple slipped 15 percent annually from 77.3 million iPhones shipped worldwide during Q4 2017 to 65.9 million in Q4 2018. The iPhone captured 18 percent global smartphone marketshare in Q4 2018, slipping from 19 percent a year ago. Apple suffered big losses in China and this dragged down its global performance. Demand for the new XR, XS and XS Max models fell below expectations."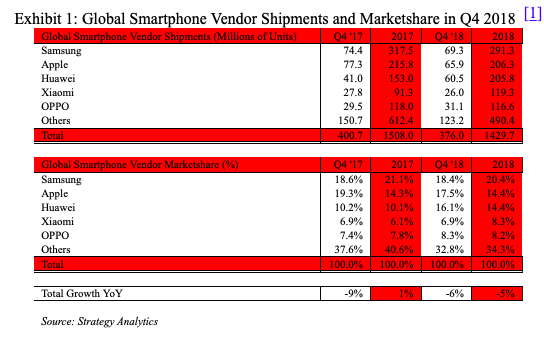 IDC: "Smartphone market in a mess"
IDChas similarly tough news. "Globally the smartphone market is a mess right now," said Ryan Reith, program vice president with IDC's Worldwide Mobile Device Trackers. "Outside of a handful of high-growth markets like India, Indonesia, Korea, and Vietnam, we did not see a lot of positive activity in 2018. We believe several factors are at play here, including lengthening replacement cycles, increasing penetration levels in many large markets, political and economic uncertainty, and growing consumer frustration around continuously rising price points."
IDC claims shipments reached 375.4 million units during the fourth quarter of 2018 (4Q18), down 4.9% year over year and the fifth consecutive quarter of decline. The challenging holiday quarter closes out the worst year ever for smartphone shipments with global smartphone volumes declining 4.1% in 2018 with a total of 1.4 billion units shipped for the full year. With challenging market conditions continuing into the first quarter of 2019, the likelihood of a declining market this year becomes more of a reality.
What's critical is that on a worldwide basis, the top 5 smartphone companies now account for 69% of smartphone volume, up from 63% a year ago – leaving little room for small players in the field.
Apple saw iPhone volumes drop 11.5% in 4Q18 marking one of the more challenging iPhone quarters in terms of growth, despite the three new models. Total iPhone volumes were down 3.2% for the full year, which is understandable considering its two largest markets (the United States and China) both experienced the worst year for smartphone performance ever.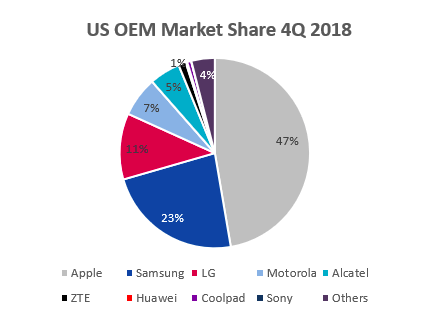 Counterpoint Research: "Samsung, Apple under pressure in China"
"Longer smartphone holding periods, falling upgrade percentages, and an improving refurb/repair ecosystem are responsible for the sell-through decline. US remains an Apple bright spot as iPhone revenues increased 5%," said Counterpoint. The US market sold-through 10% fewer smartphones in the fourth quarter of 2018 than the same quarter in 2017," said Counterpoint.
Research Director, Jeff Fieldhack said: "pgrade percentages during the quarter were down and could be down as much as 3% on the year. Phone churn continues to be impressively low and was under 1% at three of the four major carriers. Lastly, carriers were more disciplined in their marketing spend and focused on EBITDA margins over winning net adds at all costs. These all contributed to lower smartphone sell-through numbers."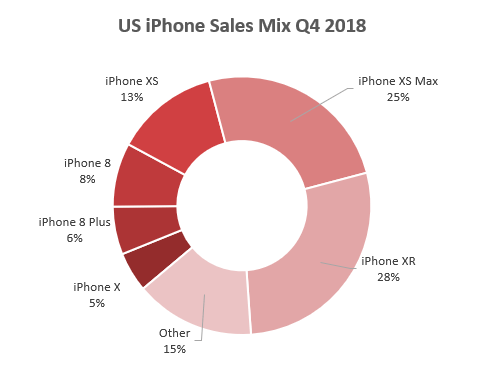 Another interesting insight is that second user smartphones are becoming a more important part of the mix. "We estimate the US absorbed almost 11.5m refurbished smartphones in 2018," they said.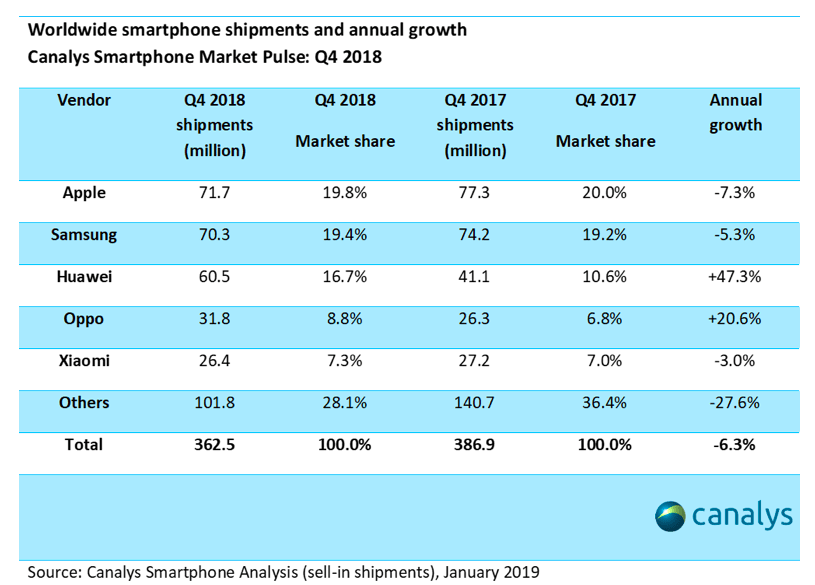 Canalys: "Market has passed its peak"
Canalys agrees the global smartphone market declined for the fifth consecutive quarter, claiming it fell 6% to 362 million in Q4 2018. For the full-year 2018, global smartphone shipments totaled 1.4 billion, down 5% from 1.5 billion in 2017.
Interestingly, this is the only analyst to claim that Apple overtook Samsung to become the largest vendor in Q4, shipping 71.7m units of iPhone. Huawei, Oppo and Xiaomi completed the top five vendors.
"It is no shock to smartphone vendors that the market has passed its peak," said Senior Analyst Ben Stanton, "People are clearly keeping phones for longer as product innovation slows. But the speed and severity of shipment decline has caught many vendors, investors, and other companies in the value chain off guard. International factors like the US-China trade war, weak consumer spending in developed markets, and a buoyant market for refurbished phones, have catalyzed the decline of smartphone shipments."
"Apple
iPhone shipments were down 7% over Q4 2017, falling short of its own expectations, but it still took the number one position in Q4 2018. The iPhone XR with over 22 million shipments was the top shipping iPhone, and has emerged as a model which Apple seems particularly flexible about discounting. This was followed by iPhone XS Max and iPhone XS, which shipped over 14 million and 9 million units respectively. Apple completed the full-year in second place, and it has major challenges ahead in 2019 as its core markets, particularly China, continue to decline. Apple will focus intently on growing its services revenue, relying now on its sticky installed base of users. But with vendors like Samsung and Huawei providing cheaper and competitive alternative devices, Apple may need to launch a cheaper iPhone, or at least become more flexible with channel discounting, to safeguard the same installed base it has bet its future on.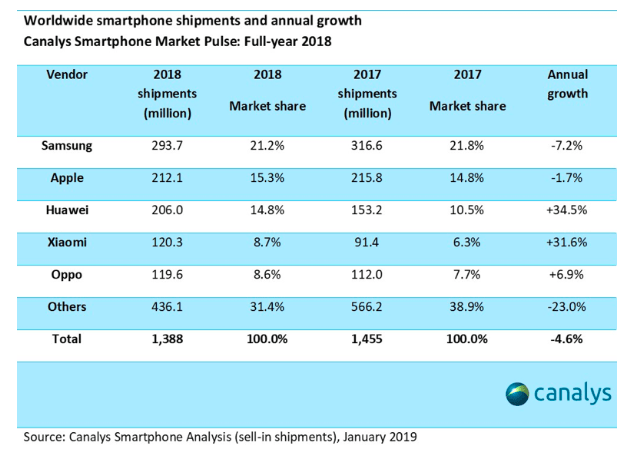 Samsung 
Fell to second position in Q4 2018, after a 5% decline in its shipments to 70.3 million units. It was a humbling year for Samsung in 2018, as it succumbed to hyper-aggressive price competition by Huawei, Xiaomi, Oppo and Vivo, especially in Asia and Europe. It shipped 23 million fewer devices than in 2017, and its full-year total of 294 million units fell significantly short of its 320 million target. But this has roused the Korean vendor, and caused it to overhaul its smartphone strategy, which now focuses on sacrificing hardware margin to pack more technology into low-end and mid-range phones. 2019 will see Samsung fight back and gain lost share from the likes of Huawei, Oppo, Vivo and Xiaomi."
Dear reader, this is just to let you know that as an Amazon Associate I earn from qualifying purchases.