5 useful iPhone gadgets for dog lovers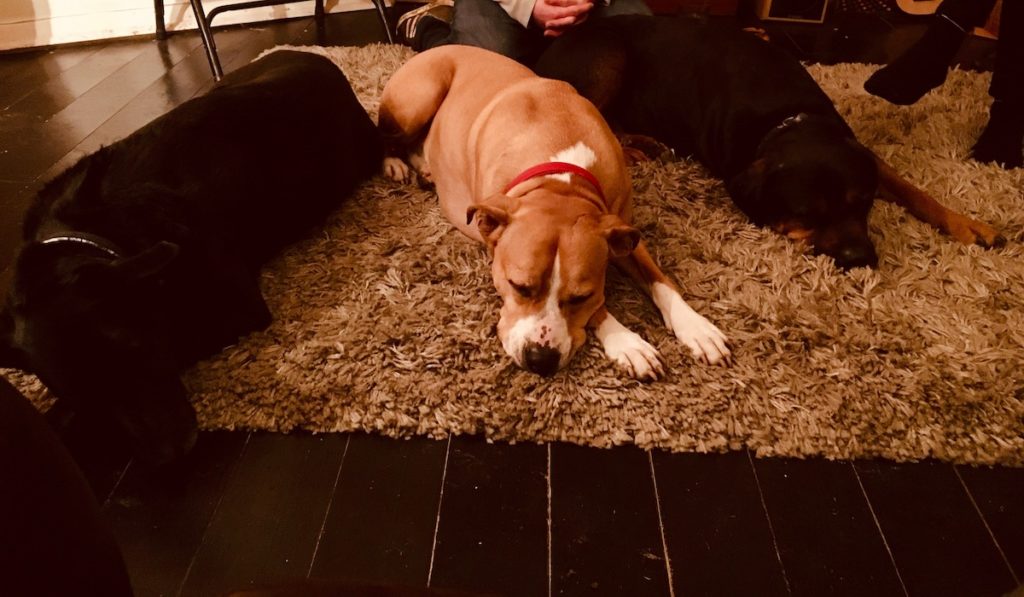 I'm a dog owner.
When they are young, I get to spend endless hours striding through the great outdoors, then, as they grow older, they need less of that kind of attention and more of other kinds of support.
That's why I've been looking around for iOS-compatible gadgets for dog lovers.
Here are five to get things started.
Furbo Dog Camera and treat providing system
Price, $199
This contraption is actually several gadgets in one. It's a dog treat dispenser, 1,080p video camera with night vision and a barking sensor, which means it will let you know if your dog starts barking and you can check what's going on using the accompanying app on your iPhone.
The video camera provides a 160-degree wide angle view, so you should be able to see what your dog is doing – and there's a speaker in the system, which lets you talk to your pet via the app – oh, and it throws those treats so it gives your dog more fun! There are lots of other features, including dog movement detection
This system (as seen on Ellen, apparently) will cost you $199.

Clever Dog 960p
Price, c. $40
You don't get a dog feeder, but at around $35, Clever Dog may be a smart choice if all you need is a motion-sensitive, night vision capable camera to keep an eye on your dog and on your home. You can use the two way speakers to hear and speak to your pet, and you benefit from motion detection, too. The system will photograph three images when movements are found. The captured images are sent to the mobile phone by e-mail for warning by motion detection and you get 360-degree vision – the snag? iOS integration is pretty basic, but you'll be able to watch your pet. $40.
Link AKC Smart Dog Collar
Price, $99.99 ($189 with one-year service plan).
This smart dog collar from Link AKC (from the American Kennel Club) seems sufficiently robust to handle life with a happy Husky, frenetic Dachshund or even an ever-exploring, ever-hungry Labrador cross. That's good, because the tools it provides may come in useful. The iOS integration means you'll be able to find your dog almost anywhere and can use geofencing to alert you if it goes out of the area. You also get a selection of health and activity tracking tools to help you keep your pooch in shape.
You get:
GPS location tracking (though these aren't perfect if your dog is in thick forest or underground).
Activity monitoring, customized for your dog's size abd breed
Sound: You can talk to your dog from a distance using this feature.
Safety features, including temperature alerts when it gets too hot and the capacity to store vet records on the device.
All these features are limited by the system's 3-day battery life: you'll want to use rechargeables and you'll probably only put the collar on when you need to use it. Another catch is the need to purchase a service plan to keep your collar (and your dog) online. This is required to get your GPS component active, and service is provided by AT&T. From $99.99.

FitBark Dog Activity Tracker
Price, $69.95
If you don't need GPS but still want to make certain your dog stays healthy you should take a look at the FitBark. This little device clips to your dog's collar and tries to monitor your hound's daily activity levels. While you don't get location tracking, you do get 6-months battery life and a bunch of useful monitoring tools:
Sleep and sleep quality
Activity
Distance travelled
Calories burned
You can also rank your dog against similar breeds.
[amazon_link asins='B019NECVLO' template='ProductCarousel' store='9to5ma-20′ marketplace='US' link_id='3a24c912-d881-11e8-8bdd-b3c8552061ca']
And Apple Watch integration, which means you and your dog can track activity together.
The iOS app ads a bunch of other insights, giving you tools to monitor mobility changes, such as when looking after an arthritic dog, stress, anxiety and itchiness levels. It's also tough, robust and waterproof. $69.95

Pet Monitor App
This useful app lets you use your old iPhone 4S as a pet monitor you can watch from the sparky new iPhone you carry in your pocket. The system will monitor for movement, barking, and noise, and also lets you speak with your pet using your iPhones. You can also record video and take photos, as well as checking historical activity records.
"Leave an old iPhone or iPad running the app at home as a pet camera. Use your iPhone to receive noise and motion alert notifications from the pet camera. Connect back home and watch live, record videos or take pictures of your pet's funny moments. Soothe him remotely when he misses you," the developers explain. This is pretty useful if you happen to have an old iPhone around and also have a pet that suffers from separation anxiety. $4.99.
Have you come across other useful dog-related iOS gadgets? Let everyone know in comments below.
Got a story? Please follow me on Twitter and join me in testing my MeWe group, AppleHolic's bar & grill.
Dear reader, this is just to let you know that as an Amazon Associate I earn from qualifying purchases.