WWDC: How Apple's Catalyst makes iPad apps far more Mac natural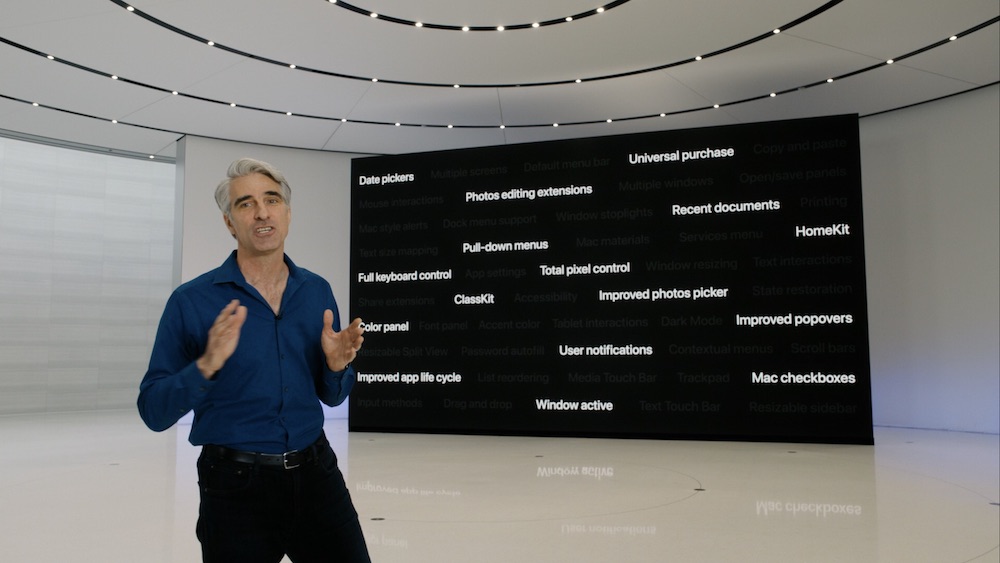 The transition to Apple Silicon in future A-series Macs was quite rightly big news at WWDC 2020, but the many welcome improvements to Mac Catalyst also demand attention.
Here's everything I could find out about how Apple has improved Mac Catalyst so that it makes even better Mac apps.
Catalyst apps are Mac apps
Apple has been working on Catalyst for years.
We first saw evidence for this in 2018 when the company shipped four iPad apps to the Mac (News, Stocks, Home and Voice Memos) as demos of what could be done.
Then, in 2019, it officially introduced Catalyst with macOS Mojave, and while developers are using these tools to port iPad apps to the Mac platform, they noted the absence of some key elements – which is what Apple is trying to fix at WWDC 2020.
How Apple has improved Catalyst
On macOS Big Sur, you can choose "Optimize interface for Mac" to turn iPhone apps into apps that run at native resolution on Mac. This gives you full control of every pixel on the screen and allows your app to adopt Mac-specific controls, such as pull-down menus and checkboxes.
These improvements mean developers can create full screen apps that work far more like Mac apps.  This includes support for resizable windows, keyboard shortcuts and a whole lot more.
These improvements mean applications can be full screen, can open in multiple windows and can be fully controlled using the keyboard. Developers can build detachable popovers, control window tabbing and more.
Here's what Apple's SVP Craig Federighi had to say about the improvements in Catalyst:
 Mac Catalyst apps automatically inherit the new look of macOS Big Sur, while giving developers powerful new APIs and total control over the look and behavior of their apps.
What Apple says
"Debuting alongside macOS Catalina at WWDC 2019, Mac Catalyst made it easy for developers to bring their iPad apps to the Mac. With macOS Big Sur, Mac Catalyst apps automatically inherit the spacious new design, while giving developers powerful new APIs and greater control over the behavior of their apps. And now developers can choose to keep their Mac app scaled at a resolution to match their iPad app, or take total control of their Mac interface to create a truly custom Mac experience."
The (quite) complete list of Mac Catalyst improvements
Apple has published a list showing us all the improvements it has made in Mac Catalyst, which I've put together for you here.
Date pickers
Support for multiple screens
Default Menu bar
Universal purchase
Copy and paste
Mouse interactions
Photo editing extensions
Multiple Windows
Open/Save panels
Mac style alerts
Dock menu support
Window stoplights
Recent documents
Printing
Text size mapping
Pull-down menus
Mac materials
Services menu
HomeKit support means home automation apps can run alongside the Home app on a Mac.
Full keyboard Control
App Settings
Total pixel control
Window resizing
Text interactions
Share extensions
ClassKit, this lets Mac apps track assignments and share progress with teachers and students.
Accessibility
Improved photos picker
State restoration
Color panel
Font panel
Accent color
Tablet interactions
Dark Mode
Improved popovers
Resizable Split view
Password autofill
User notifications
Contextual menus
Scroll bars
Improved app life cycle
List reordering
Media Touch Bar
Trackpad
Mac checkboxes
Input methods
Drag & drop
Window active
Text Touch Bar
Resizable sidebar.
Many existing frameworks in Mac Catalyst have also been updated, including Accounts, Contacts, Core Audio GameKit, MediaPlayer, PassKit and StoreKit.
Where the magic happens
The Catalyst tools are made available within Xcode 12.
"Begin by selecting the "Mac" checkbox in the project settings of your existing iPad app to create a native Mac app that you can enhance further," Apple explains.
Mac and iPad apps share the same project and source code, making it easy to make changes in one place.
Fundamental Mac desktop and windowing features are added, and touch controls are adapted to the keyboard and mouse. By default, your app will scale to match the iPad's resolution.
What's the plan?
Todd Benjamin, Apple's macOS product marketing director in 2019, explained:
"Our vision for Mac Catalyst was always to make it easier for any iPad app developer, big or small, to bring their app to the Mac…. Not only is this great for developers, but it's also great for Mac users, who benefit with access to a whole new selection of great app experiences from iPad's vibrant ecosystem."
With the addition of new frameworks, particularly multiple windows, window resizing and keyboard controls, Apple has answered a huge number of the criticisms people had been making of Mac Catalyst.
Please follow me on Twitter, or join me in the AppleHolic's bar & grill and Apple Discussions groups on MeWe.
Dear reader, this is just to let you know that as an Amazon Associate I earn from qualifying purchases.