WWDC 2017: Analysts and Industry Experts Respond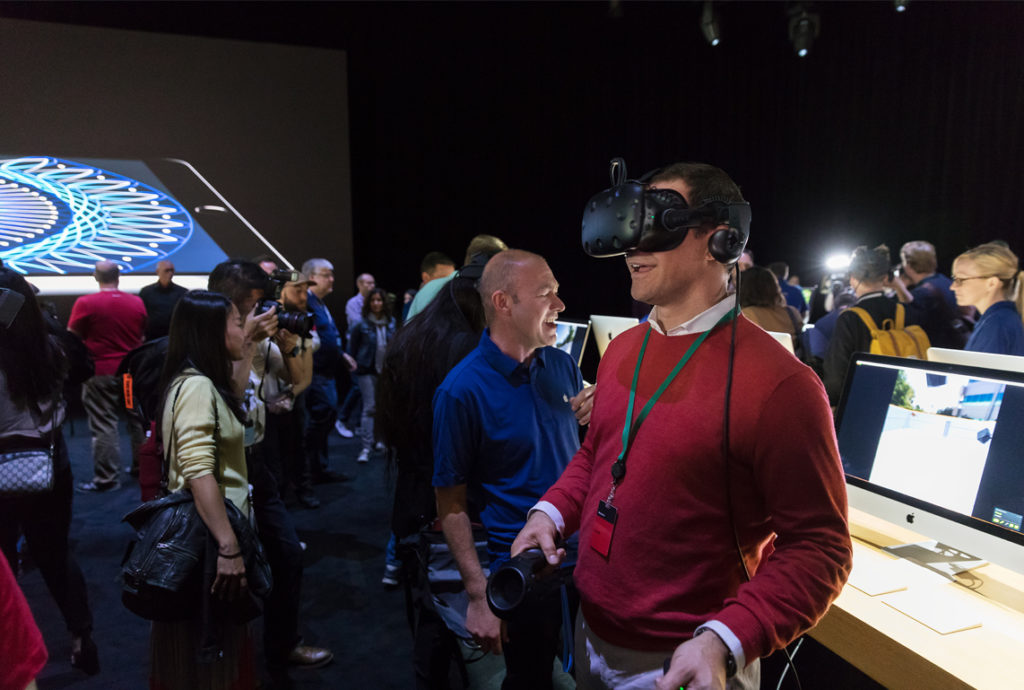 I've been speaking with analysts and industry insiders to gather some reactions to Apple's WWDC 2017 announcements. There's so much to sift through, but – as the TED talks slogan goes – ideas are worth sharing, so I've gathered some interesting insights for you here:
On ARKit
On Machine Intelligence
"Though iOS has included machine learning (ML) functionality for a while, today's announcements include an on-device platform with capabilities to suggest apps/ workflows based on the user's personal browsing history, app usage etc. What is incremental is the ability to run the Core ML framework locally on-device (as opposed to in the cloud), which follows similar announcements from Google (TensorFlowLite announced at I/O last month) and Facebook (Caffe2Go). Outside of this, enhancements to Siri's NLP capabilities include translation functionality into multiple languages (with more to be added later this year). We expect ML capabilities to expand over time driven by hardware/software improvements." Abhey Lamba, Sr. analyst Mizuho Tech.
On Metal 2
"The first version of Metal didn't fail because it wasn't functional, but because there was no ecosystem in place to support it. Today they announced that Steam, as well as the Unreal and Unity engines. For those gaming companies, as well as those that build for high performance video platforms, this will be a welcome addition," said Forrester analyst, Michael Facemire.
On Apple Pay
"For Apple Pay, it makes a lot of sense to leverage the community of Apple users to enable the peer to peer functionality. The more payments disappear in the background and become an afterthought of the user-experience, the better. While banks risk disintermediation in the mobile wallet and payment space, I don't think we are there yet for Apple Pay, especially in Brazil where Android is so dominant," Thomas Husson, Forrester.
On NFC tag support in iOS 11
"[The announcement] changes everything. Apple supporting NFC tags means most people owning a smartphone (over 2 billion in the world) now have an NFC reader available in their pocket to interact with NFC tags anywhere and at any time. This is the moment many have been waiting for and signals a fundamental change in the industry and for consumers." NFC Forum
On person to person Apple Pay payments
For those looking to pay friends small amounts, this is so much more elegant for users than going through another app. This will effectively kill Venmo and other similar third-party apps on iOS. But, in Android, the opportunity remains for Venmo, Square Cash and other similar third party payment services – until Apple introduces an Apple Pay for Android app." Adam Fingerman, Chief Experience Officer and co-founder, ArcTouch.
On HomePod
"I think [APPLE] will progressively add new services powered by Siri. For now, Amazon is ahead of the curve and more advanced with Alexa but this is a marathon and Apple will try to replicate what it did with the iPod starting as a music device and then progressively morphing it into the iPhone with a range of apps and services. Apple could well do that again if it truly enables Siri to make relevant and predictive recommendations in context," Thomas Husson, Forrester.
"While deep integration with Apple Music was announced, there was a notable absence of announcements of any other HomePod-compatible music services. If lock-in to solely Apple Music is another intention of HomePod, this may prove a competitive limitation in smart speakers compared to the competition, and in the audio-only multi-room speaker market against service-agnostic Chromecast built-in-compatible products and stalwarts such as Sonos." Paul Erickson, senior analyst, connected home for IHS Markit.
"Apple has been clever in holding out on its own launch. Consumers have now got used to the idea of smart speakers and Apple now has a captive audience to sell its HomePod to and the power of its brand will ensure it's a successful launch." Adam Scott, country manager UK & Ireland at PriceSpy.
On AirPlay 2
"Apple noted that AirPlay 2 speakers are able to be added as controllable devices in HomeKit households. This implies by extension that the only audio output devices that are going to be available as a common audio resource within the HomeKit smart home, are going to be AirPlay 2 compatible speakers and devices. Apple's long-term lock-in play with the AirPlay 2 standard may run much broader than simply multi-room music playback." IHS Markit connected homes senior analyst, Paul Erickson
On watchOS 4
"The proactive notifications and personalized home screen will help with consumers, but the Watch still needs to get more traction with payments, identity and use of voice. I love the health and fitness updates – wearing an Apple watch will help consumers make better health decisions – but Apple is going to have to do more to move the needle with the broader population," Julie Ask, Forrester.
The big picture
"Apple's WWDC updates offered expected hardware and software iterations like iOS 11, hints of progress on next generation technologies like AI, and a rival to Amazon's Echo that is, well, louder. The news illustrates why Apple's customer satisfaction is at 96%, which is a key part of the bullish thesis around the iPhone 8 launch in September." Jeffrey Kvaal, Nomura.
Something you want to say? Feel free to share your insights in comments below.
Dear reader, this is just to let you know that as an Amazon Associate I earn from qualifying purchases.