Uh-Oh, Looks Like Apple Just Solved The Laptop 'Travel Ban' Problem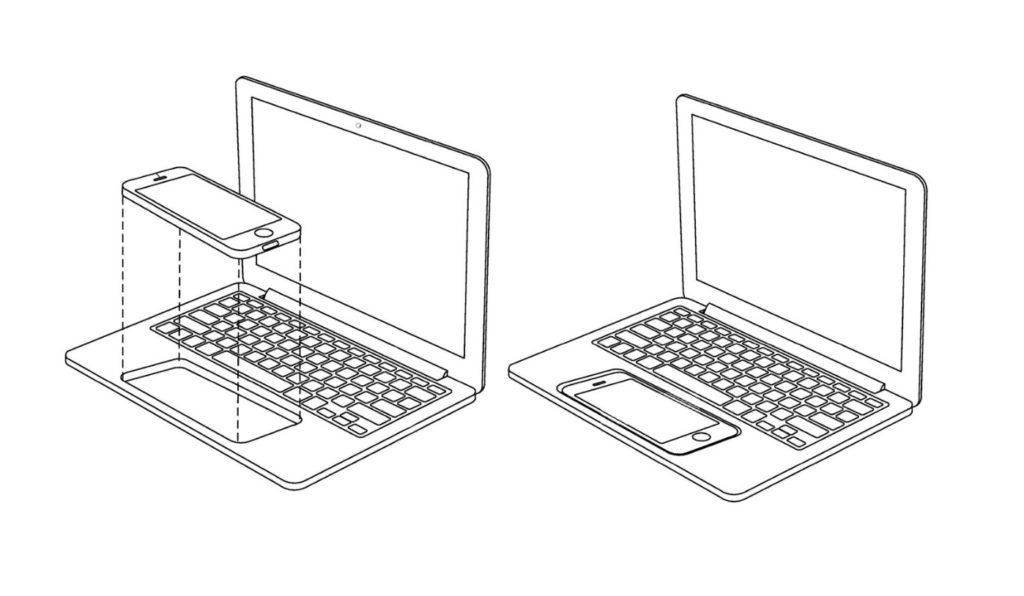 Apple's latest patent filing for some kind of modular, iPhone-driven Macintosh system, may seem a little absurd, but in the context of the laptop ban (and who really thinks the ban will ever end?) for international travellers it may become part of the future of mobile computing.
(Which is bad news for notebooks and tablets, but quite good news for the iPhone).
Dumb Terminals
The latest patent filing that's giving the tech press the horn is for a MacBook like enclosure that hosts an iPhone — that's right: slot the iPhone into the hole where the trackpad sits and – **boom** – you have the iPhone as the trackpad and the MacBook chassis as the Mac….
The iPhone becomes the processor, graphics card, memory, and storage for the laptop while acting as the laptop's trackpad. Kind of an ARM-powered Mac. There's a second patent in which an iPad gets slotted into the display area to act as a display.
Now patents are what patents does — holding the patent isn't necessarily about Apple intending to create the product itself, but about preventing others doing so — but in the context of the laptop ban I can't help but imagine a solution like this as the perfect answer for travellers who no longer want to carry their tech with them.
Travel Light
Imagine this: You travel with your phone, land at the airport, and rent one of these machines. Because it is powered by your iPhone (and you can easily imagine a large dose of iCloud to the idea so your apps and data are just "there",) you then have a Mac to use while you are abroad.
Of course, in future, you'll even be able to rent the 'Phone, as your private data will be secured in the cloud. We really aren't that far away from the dumb terminal idea Apple's Bud Tribble has been pushing for since he was at NeXT.
Now, I know the travel ban only impacts travellers from a few countries at the moment, but as the different layers of semi-harmony that have managed to keep the world together for the last fifty years continue to unravel, it may be that a solution like this will become popular.
What Do You Need?
So — would you use a solution like this? What would you expect from your iPhone? What kind of features would you need in the hybrid device? Would it run both macOS and iOS, or would the Mac OS element sit in the chassis? The patent doesn't tell us this much.
But as a topical approach to solve an all-new problem, this might just have what it takes.
Dear reader, this is just to let you know that as an Amazon Associate I earn from qualifying purchases.