Surprising no one, tests show you shouldn't attack iPhone 11 with a hammer
Multiple reports confirm Apple's claims that the glass used in the iPhone 11 is the "toughest ever in a smartphone, on the front and back."
Please don't hit it with a hammer
It's important to note that none of these tests claim the new iPhones are impervious to pain, and in all cases battering them with a hammer or throwing them onto a sidewalk paving slab from any significant height is still likely to break your device.
Which is why you need to get hold of an iPhone case.
SquareTrade's tests show the iPhone 11 Pro is "the most durable iPhone" SquareTrade has tested in generations, the company said.
They claim the glass to be more resistant to small drops, though it will still shatter if dropped heavily.
In fact, the iPhone 11 Pro was unique among the three new devices in that it turned out to be the first ever smartphone to survive the company's tumbling test.
The iPhone 11 Pro continued to impress as it didn't have any issues after being submerged in five-feet of water for 30-minutes.
The iPhone 11 and iPhone 11 Max both phones suffered audio distortion after the dunk test, SquareTrade said.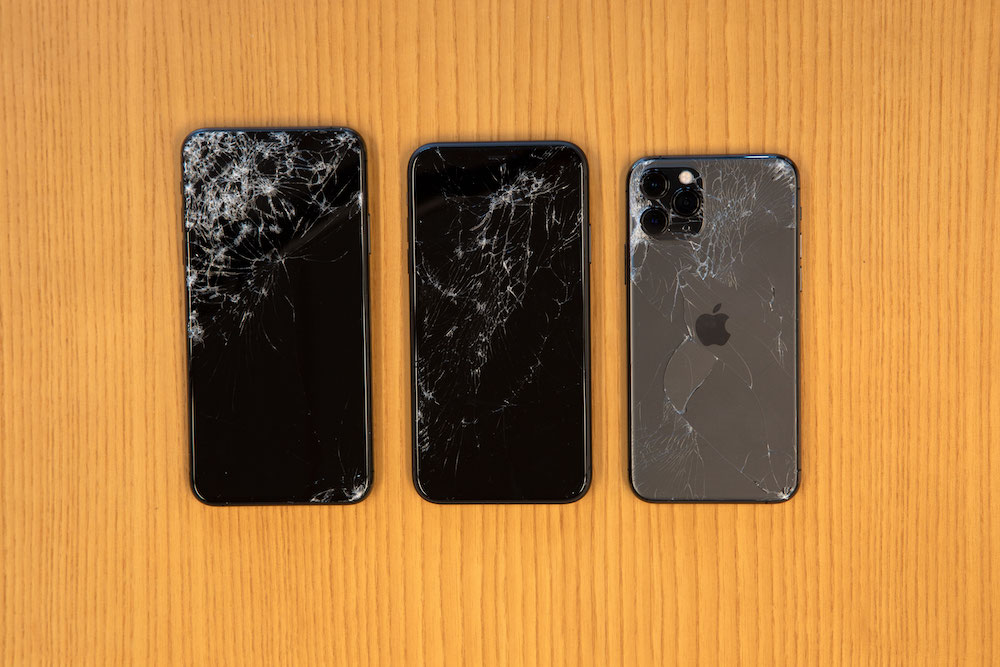 Don't drop it on the sidewalk
"After our robots dropped, dunked, tumbled and bent the devices, we found the new iPhone 11 Pro to be the most durable iPhone we've tested in generations," said Jason Siciliano, vice president and global creative director at SquareTrade in a press release.

"It's the first smartphone to survive our tumble test, which simulates the effects of multiple, random impacts experienced by a smartphone during long-term use. That's a real achievement when it comes to durability.

However, dropping any of the new iPhone 11 models on a sidewalk without a case, face-down or back-down, can still cause serious damage, as we saw with our drop tests."
A series of drop tests from Cnet, in which the new devices were dropped numerous times on hard concrete, also looked good.
"This year's phones can withstand a lot more drops onto concrete than we were expecting," they said, following a series of drop tests, including one from 11-feet.
Video bloggers Everything Apple Pro (above) and TechRax also ran a series of durability tests.
Everything Apple Pro notes that damaging the devices took a great deal of effort, but that even after the glass shattered the devices continued to work. The conclusion? In most cases you won't damage your brand-new Apple iPhone 11 when you drop it a couple of feet, most of the time. But don't abuse it.
Finally, in a not particularly scientific test that seemed to be more about battering an iPhone with a hammer, TechRax also found the device plenty tough enough to handle most daily strains, though a few medium thumps from a 2.5-pound hammer will indeed break it, which shouldn't really surprise anybody.
Conclusions:
What conclusions can we draw?
Apple has made a lot of effort to make these devices more robust and all the feedback supports this attempt, at the same time there's some common sense advice every iPhone owner should make sure to follow:
Don't drop your iPhone 6-feet onto concrete.
Don't abuse it with a hammer.
Do buy a case.
Do invest in AppleCare.
Signing off, feel free to buy some stuff on Amazon. I'm saving up for a Max…
Please follow me on Twitter, or join me in the AppleHolic's bar & grill and Apple Discussions groups on MeWe.
Dear reader, this is just to let you know that as an Amazon Associate I earn from qualifying purchases.