Speed benchmarks claiming to be for iPhone 12 have appeared
We've been here before when it comes to speed benchmarks of unreleased Apple products, but the latest claimed data seems to reveal the new iPhone 12 will deliver around 10% better performance than iPhone 11, though this is only part of the story.
Fast or slow
Apple first discussed its 5nm A14 processor when it introduced the iPad Air this week. At that time, it revealed speed comparisons between the new and previous A12 Bionic processor models of the Air.
It promised a 40% processor speed improvement over the A12 Bionic along with a 30% graphics boost, but hasn't yet shared comparisons between the A14 and 13 chips, though Anandtech has made some shrewd estimates.
The latest leak suggests those estimates may be in the right ballpark. AnTuTu data spotted by MySmartPrice seem to show performance data for a 128GB device running the A14 chip and iOS 14.1. It shows a 9% improvement overall, with graphics performance up by 4% and a processor score around 17% faster.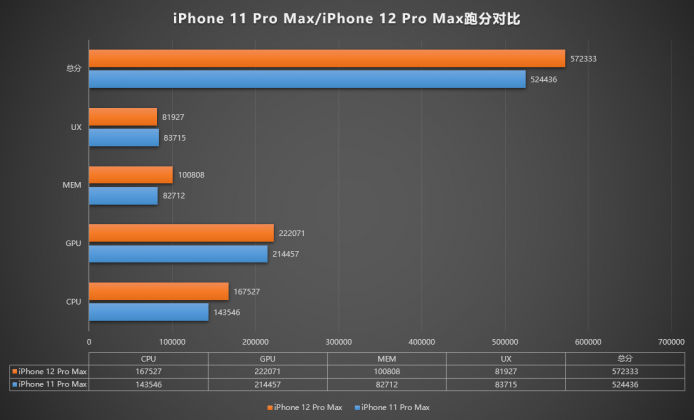 iPhone 11 Pro Max: 524,436
Claimed iPhone 12 Pro Max: 572,333.
Of course, Apple may have chosen to focus the new iPhone on better battery life, rather than optimizing device performance. That's a reasonable trade-off, given how much faster its devices are than anyone else's when it comes to actual use.
There's a one more thing, of course, and that is:
What if Apple didn't design this chip to deliver the maximum possible performance in a mobile device, but in another thing?
What if, for example, these chips are designed to perform at their best in a Mac? And if it is the case that the A14 Bionic Xi (or whatever they'll come up with to call it) turns out to be super-ballistic in a Mac this year, what does this tell us about future Macs?
It's going to be an interesting couple of months, I think.
Please follow me on Twitter, or join me in the AppleHolic's bar & grill and Apple Discussions groups on MeWe.
Dear reader, this is just to let you know that as an Amazon Associate I earn from qualifying purchases.