Read the 5 most popular Tweets from Apple's iPad Pro, Mac event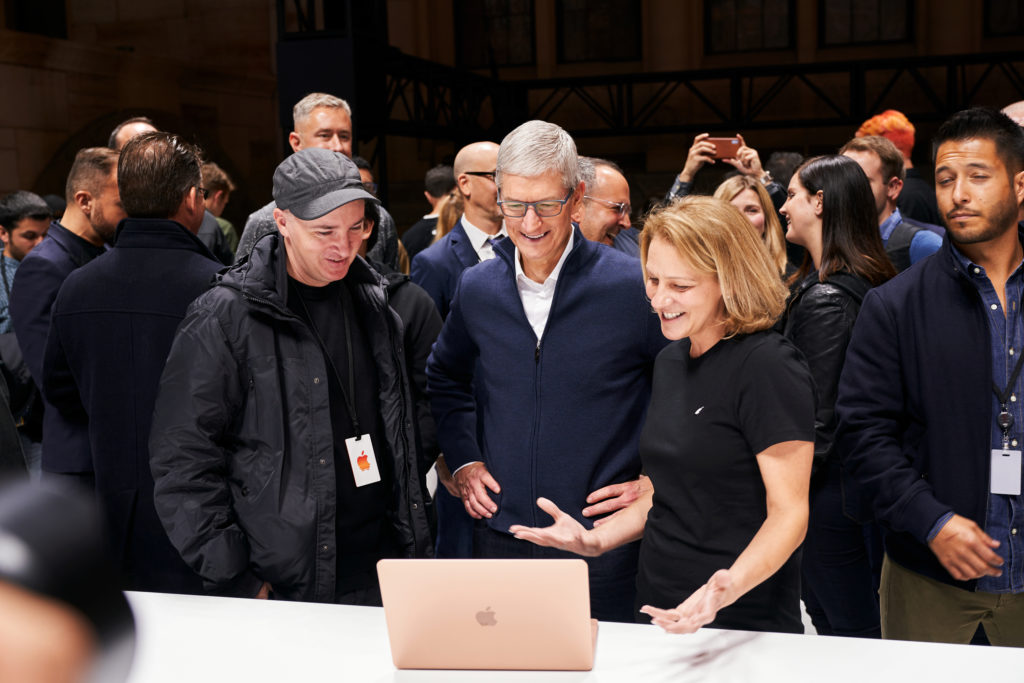 The whole world was watching the Apple event in New York this week, generating over 1.2 million social media mentions while Tim Cook and other executives strolled across the stage.
Who got the most attention?
The event took place in New York. Social media analytics firm Talkwalkerhas provided a list of the top 5 most shared Tweets to emerge as a result of Apple's big event, where it introduced new MacBook Airs, iPad Pros, Mac mini and an Apple Pencil.
We've popped what Talkwalker identified as the five most popular Tweets from individuals below, along with some other interesting insights into how the world reacted to the event: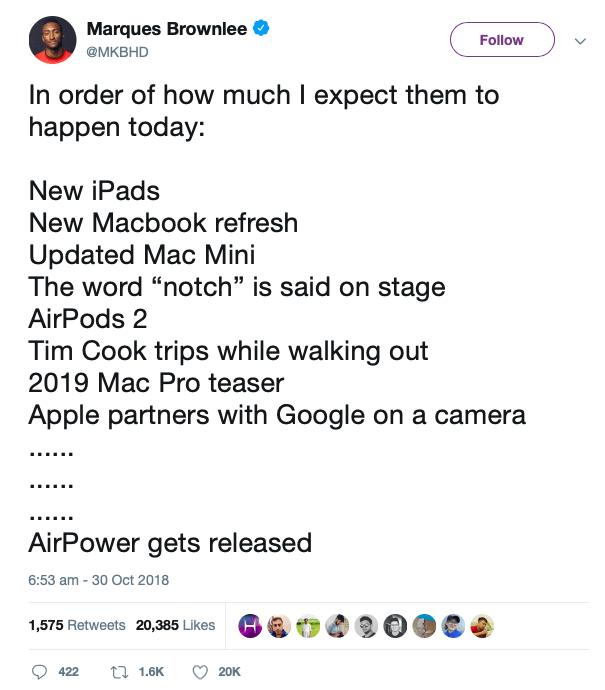 The event attracted plenty of attention – there were over1.2 million social media mentions while the event took place. The event hashtag (#AppleEvent) earned 416,500 mentions alone.
Thank you @LanaDelRey and everyone who helped make today's #AppleEvent unforgettable. We're excited to see what people around the world create with the new iPad Pro, MacBook Air and Mac mini! pic.twitter.com/bELvK5VvlJ

— Tim Cook (@tim_cook) October 30, 2018
The iPad Pro received the most mentions (171,500 mentions) out of the new product announcements, followed by the MacBook Air (82,500) and the Mac Mini (60,300)
The new iPad Pro has USB-C…one small step for Apple, one giant leap to not having to carry multiple, different cords everywhere. Now, waiting for you iPhone.

— SoldierKnowsBest (@SoldierKnowBest) October 30, 2018
Attention seems to have been grabbed by the iPad Pro, at least if you judge interest by the number of social media interactions that took place (likes, retweets, shares and comments).
There were a total of 1.5 million such interactions, just over 700,000 of which related to the products Apple announced:
iPad Pro: 405,000
MacBook Air: 203,900
Mac Mini: 109,900.
The way people who own last-gen model are feeling about the new Ipad Pro. #AppleEvent pic.twitter.com/02mdkRBMMv

— mrstevens (@kreativekow) October 30, 2018
It is very interesting that discussions on social around this topic were dominated by women (68%), as opposed to men (32%), according to Talkwalker.
i absolutely do not need another iPad. also, I will absolutely be getting the new iPad.

— Casey Neistat (@CaseyNeistat) October 30, 2018
While we'd expect the U.S. to be all over the event (it was) it is interesting that there was more interest in Thailand and France than there was in deeply divided U.K.
The top 5 countries discussing the topic were:
United States
Japan
Thailand
[amazon_link asins='B076C2HD7P' template='ProductCarousel' store='9to5ma-20′ marketplace='US' link_id='87ba1478-de02-11e8-ac07-67413c9b1b92′]
France
United Kingdom
And the top five hashtags this time around were (in order): #AppleEvent, #Apple, #iPadPro, #MacBookAir, #iPad.
To keep up with future writings, please follow me on Twitter and join me in testing my MeWe group, AppleHolic's bar & grill.
Dear reader, this is just to let you know that as an Amazon Associate I earn from qualifying purchases.