macOS: How to create an AutoResponder message in Mail
Going on vacation? Heading out of the office for meetings and need to play for time? Whatever the reason, it can be helpful to have Mail send a message automatically from your Mac. You can even create custom messages to be sent out in response to specific events, such as emails from specific people, or containing specific subject lines.
Here's what you need to know.

Make a Mail AutoRespond message
Open Mail on your Mac
Open Mail>Preferences
In the Preferences pane click Rules (It looks like an envelope with arrows flying out.)
Click on 'Add Rule'
Enter a Description for the new rule, such as 'Holiday response' in the first line
You'll see a series of drop-down options. Set 'If' to be any of the following conditions are met in the second line.
In the third line select Every Message in the drop-down list.
In the next set of variables, which should read: 'Perform the following actions' you should select Reply to Message from the drop-down.
You'll see a new item appear, 'Reply Message Text', tap this and then create the appropriate message, such as: "Following an unexpected lottery win I've given up work to devote myself to fighting against hunger, homelessness and racism for six months, I'll get back to you on my return."
You may have a different message you'd like to use. Click OK when you're done.

Congratulations. You just created an auto-response message – now you need to switch it on:
Open Mail>Preferences>Rules and check your newly-created autorespond message to activate it.
Don't forget to switch it off in the same place when you get back.
Doing more with Rules
There are lots of different variables buried in Rules, which means there are lots of ways to use them to make Mac Mail a little efficient.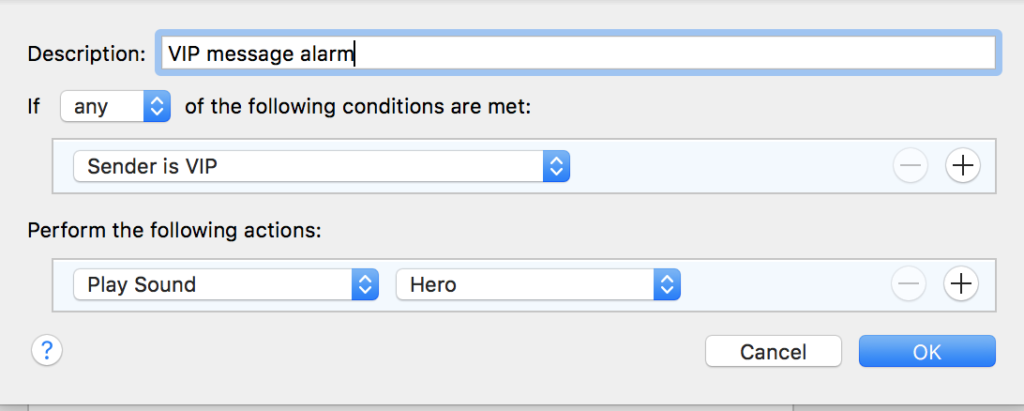 To make your Mac make a sound when you receive a message from a contact you have previously defined as a VIP, set this sequence up.

To make your Mac make a sound when you receive a message that contains a specific word or phrase, use this sequence:
You can even make your Mac shutdown by sending an email to yourself and using a rule and these AppleScript instructions.
Have you created any Mail Rules you think might be useful to other people? Please share what they are and how to build them in comments below:
Dear reader, this is just to let you know that as an Amazon Associate I earn from qualifying purchases.