iPhones better value than Samsung Galaxy, Fluent data hints
Who else has noticed that Samsung Galaxy prices are rapidly catching up with iPhone, even though the devices the Apple competitor makes don't hold onto their value for anything like as long?
iPhones better value than Samsung Galaxy
The truth is, someone has spotted this new phase of fast follower flattery, with Flipsy noting that:
In 2008, the original iPhone sold for $499. Today's iPhone XS goes for $999 – a 100% increase over 10 years, or an average of 10% per year
In 2010, the original Galaxy S sold for $400. Today's Galaxy S10 goes for $900 – a 125% increase over 9 years, or an average of 13.9% per year.
That's a pretty interesting statistic, I thought.
Clearly Apple isn't the only company attempting to reap a little more revenue as the smartphone industry these two names have dominated for so long goes into decline.
It is interesting to consider how much Samsung would charge for a Galaxy if Apple had set its prices lower… who leads the market again?
What about the long-term value?
Smartphones are essential tools for most of us, so surely – with both products costing more or less the same – the second hand market would see prices set at about the same level?
That's not the case.
In fact, the difference in value between a second user iPhone and a second user Galaxy is huge: An old iPhone is worth double (or more) of the value of a Galaxy released the same year, Flipsy said.
Here's a comparison of current buyback offers for Samsung phones versus iPhones (by release year):
2018
iPhone XS: $692
Galaxy S9: $316
2017
iPhone X: $546
Galaxy S8: $269
2016
iPhone 8: $360
Galaxy S7: $110
This is good news (I guess), if you plan to switch from an iPhone to new Galaxy device as you'll make a whole bunch more of the purchase price. However, in my anecdotal experience most everyone I know who dumped an Apple for a Samsung regrets it.
It is interesting to note Flipsy's data around the cost of smartphones in general.
The company estimates you'll spend over $75,000 just on network coverage across 60-years of use.
Add the fact that most people upgrade their iPhone every 2-3 years, and the following chart speaks volumes. Indeed, iPhone (and Galaxy) prices have climbed at a rate that vastly exceeds growth in average wage.
Perhaps that's why sales are stalling?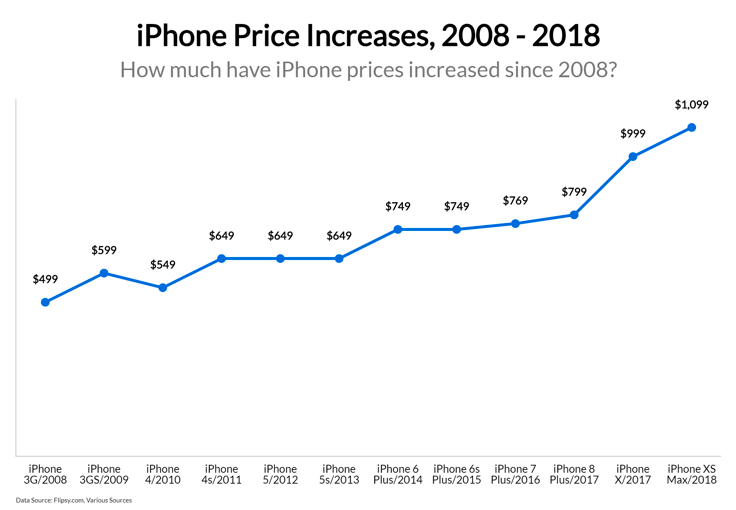 Please follow me on Twitter, or join me in the AppleHolic's bar & grill and Apple Discussions groups on MeWe.
Dear reader, this is just to let you know that as an Amazon Associate I earn from qualifying purchases.