Inside the iPhone SE: An iPhone 8 on steroids…
Not only is iPhone SE (2020) a great value device, but it's one of the easiest to repair iPhones iFixit have seen in quite some time, the latest teardown data tells.
What's inside the new iPhone SE?
The latest iFixit report identified that the camera unit inside the SE seems virtually identical to the one used inside iPhone 8 – though what that camera can do its dramatically improved by the A13 chip that also lives inside the phone.
It is worth observing the camera used inside iPhone 8 Plus was also declared to be the "best-performing" camera ever tested at that time by DxOMark. It scored an impressive 94-points in contrast to the 92-point score enjoyed by the camera inside iPhone 8.
iPhone 8 upgraded
The tear down suggests many of the components used inside the device are pretty much identical to the iPhone 8, with the exception of the processor.
These apparently include the display, battery, cameras, Taptic Engine and the SIM tray. That's good, as it means replacement parts should be a little easier to find.
"We're pretty thrilled that Apple Frankensteined this phone together with parts from previous models. Replacement parts should be easier to find—and re-using the existing manufacturing lines produces less waste overall," the report states.
It's not just iPhone 8 – the device also contains some very important components from iPhone 11, principally the Gigabit class LTE and Wi-Fi 6 chip, the powerful A13 processor
Repair-friendly?
iFixit gave iPhone SE a repairability score of 6, which means most of the most common parts can be replaced if you have the tools and the knowledge, though it does warn the glass back (which is necessary in order to support wireless charging) is "impractical" to replace. So, get  case.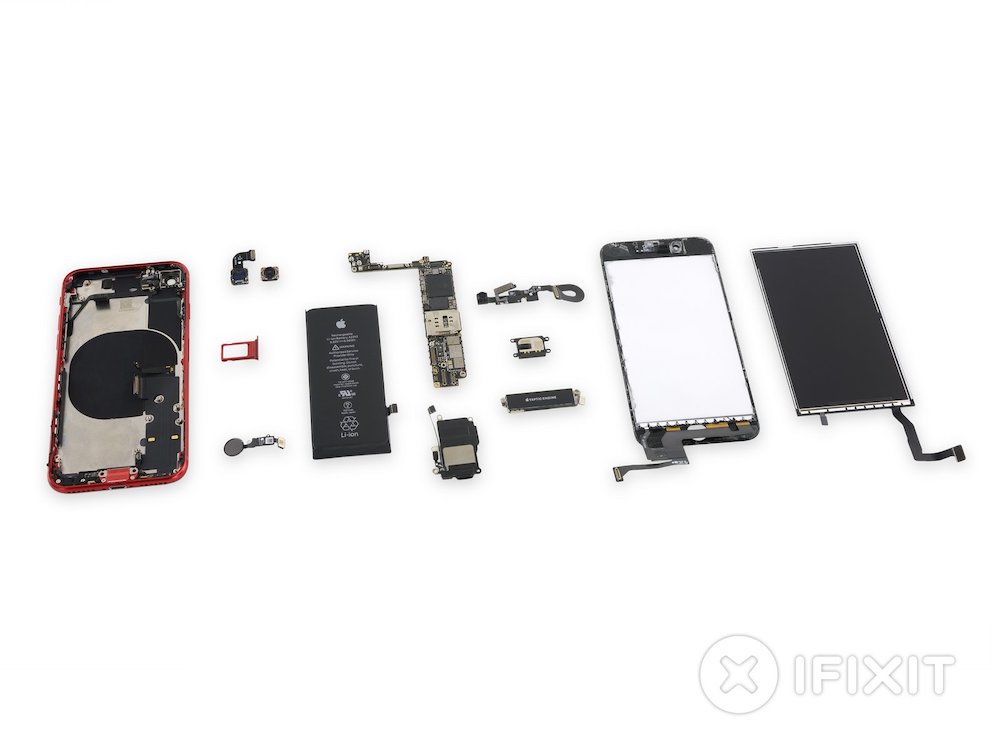 Component supply
So, which companies are making components inside the device? The tear down identifies parts proprietary to Apple, as well as those coming from Intel, Avago, Skyworks, Cypress, Toshiba, USI, and Broadcom. It isn't known who makes the Apple-branded components, beyond the A13 chip.
Phone of the season
As I wrote here, iPhone SE seems set to become the smartphone of the season this year. Not only is Apple likely to delay the next big iPhone iteration (why wouldn't it?), but with prices starting at $399 and a value proposition competitors can't match, the device defines what to expect from mid-range phones.
This is the best smartphone you can get in this price range at this time. It probably will be for a while.
I'd really like a red one.
Images courtesy of iFixit.
Please follow me on Twitter, or join me in the AppleHolic's bar & grill and Apple Discussions groups on MeWe.
Dear reader, this is just to let you know that as an Amazon Associate I earn from qualifying purchases.