Insanely rare handwritten Wozniak Apple II schematics raise $630k
Steve Wozniak's handwritten schematics and programming instructions for a prototype of the Apple II home computer and a fully operational Apple-1 computer sold for over $1.3 million at RR Auction.
When Woz designed the future
The auction raised over $630,000 for an incredibly rare collection of computing history consists of 23-pages of Apple co-founder, Steve Wozniak's work-in-progress notes and diagrams for the Apple II, including:
Five pages of circuit schematics and notes on sheets of graphing paper.
Six photocopied pages headed "Bus Sources," "System Timing," "Display," "Sync Timing & Adr. Gen," and "Timing," featuring several annotations. and
A 12-page handwritten programming instruction guide consisting of 28 detailed steps.
Way back in the early days of the computers that continue to change the world so much, as Wozniak hand-wired the Apple II prototype, he meticulously added notations, circuit changes, and programming notes to these documents.
The work he did then not only helped change computers from building-sized behemoths to friendly desktop devices but also ushered in the personal computer revolution in April 1977.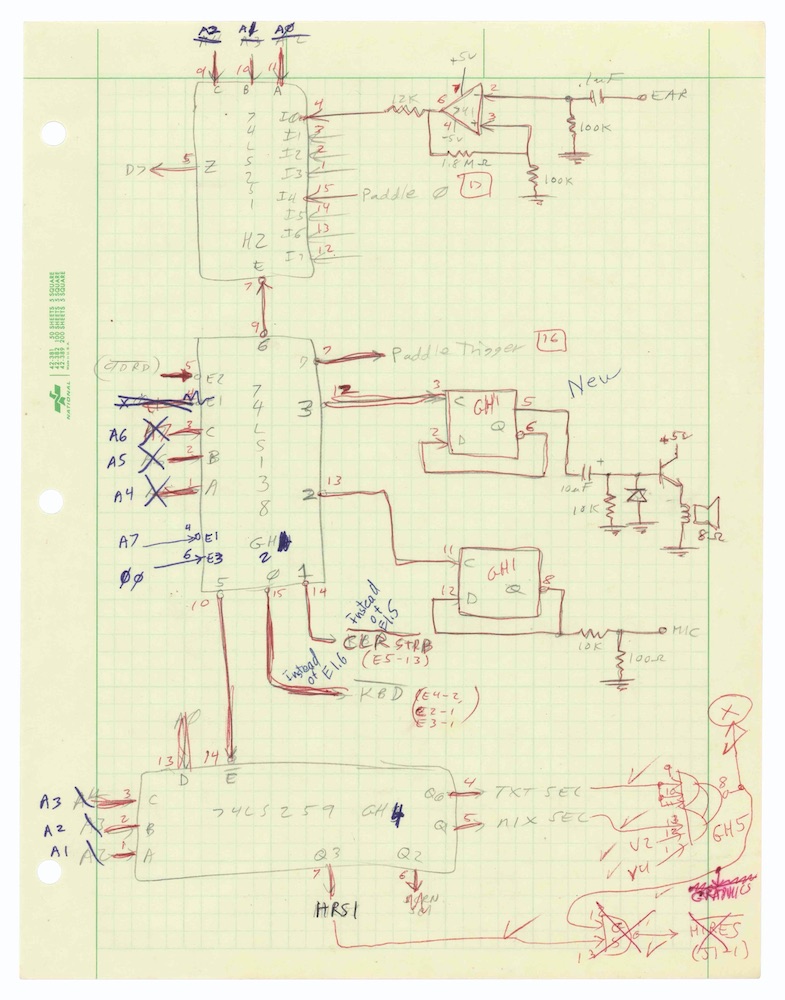 The winning bid for the schematics came from a private collector who wishes to remain anonymous.
What Steve said
In a note, Steve Wozniak writes:
"These documents, circa 1975, are my original Apple II prototype schematics and programming instructions. They are precious. On these work-in-progress diagrams, you can even see my breadboarding technique, where I'd go over drawn connections in red as I soldered the wires in.

"At the time, I favored using a purple felt tip pen for writing, so it's interesting to see these notes decades on.

"The prototype was hand-wired while I was still an engineer at Hewlett-Packard's Advanced Product Division, where I was involved in the design of hand-held calculators."
And an Apple 1 too
Also sold at auction was a fully operational Apple-1 computer with a rare original box, signed by designer Steve Wozniak which sold for $736,862.
The Apple-1 lot included:
original Apple-1 board
original Apple-1 box, signed inside the lid in black felt tip by Steve Wozniak, "Woz"
original Apple Cassette Interface (ACI)
original Apple-1 Operation Manual
original Apple Cassette Interface manual
a vintage Apple-1 power supply
a vintage Datanetics keyboard in a wooden case
a vintage 1976 Sanyo monitor
a vintage Panasonic cassette player
The Apple-1 was originally conceived by Steve Jobs and Wozniak as a bare circuit board to be sold as a kit and completed by electronics hobbyists, their initial market being Palo Alto's Home-brew Computer Club. Wozniak designed the hardware, circuit board designs, and operating system for the computer, and he demonstrated the Apple-1 at a club meeting in July 1976. Altogether, over a span of about ten months, Jobs and Wozniak produced about 200 Apple-1 computers and sold 175 of them.
There was a whole host of things sold in the auction, and you can explore images of many of them in the gallery below. Please click to view in a separate window for best results.
"The market for Steve Jobs and Apple-related memorabilia continues to perform exceedingly well," said Bobby Livingston, Executive VP at RR Auction. "Our consignor is excited that the Apple-1 is going to a good home where it will be well preserved and shared with hundreds of Apple enthusiasts who otherwise would never have the opportunity to own the computer that changed the world," said Livingston.
The Apple-1 was bought by an investment platform for rare collectibles. "We are thrilled to offer our community of investors the opportunity to buy shares of this one-of-a-kind item," said Fitz Tepper, VP of Operations at Rally.
Additional highlights from the sale include:
Steve Jobs and Steve Wozniak Signed 'Battleship' Keyboard sold for $74,535.
Douglas Engelbart Three-Button 'X-Y' Mouse sold for $34,478.
Steve Jobs' 'insanely great' job offer letter to Del Yocam sold for $32,893.
Steve Wozniak's custom-made Apple rainbow glasses sold for $18,972.
Steve Jobs signed Monsters, Inc. cue sheet sold for $12,501.
Please follow me on Twitter, or join me in the AppleHolic's bar & grill and Apple Discussions groups on MeWe.
Dear reader, this is just to let you know that as an Amazon Associate I earn from qualifying purchases.