Four big data points Apple watchers need as Big Sur ships
Apple's Big Sur macOS is available now. It ushers in a huge range of features, not least support for M1 Apple Silicon Macs, but that's only part of it. Also today, we've come across the following huge statistics that show how the company has handled the pandemic.
#1: Apple Pay
With a global population attempting to avoid proximity, contactless payments are on the up. What does this mean for Apple? It means there are now over half a billion Apple Pay users globally, according to the latest Loup Ventures report.
That report also claims over 85% of U.S. retailers accept it as payment, while the number of banks supporting Apple's mobile payment system has hit 5,480.
All we need now is Apple Pay Cash outside the U.S. That might be nice.
#2: iPad and Mac sales are spiking
You can keep your market share data because Apple is in the mind-share business. With this in mind (sic), employee choice schemes tend to veer to iPads and Macs – so, how are sales looking?
Really good, according to Canalys, who claim:
iPad sales up 41%.
Mac sales climbed 47%,
While the overall PC market climbed 23%.
Apple climbed 40.9%.
Apple is now the world's second biggest PC maker, eclipsed only by Lenovo, the report claimed. And the world's biggest tablet maker.
There's even a little chart.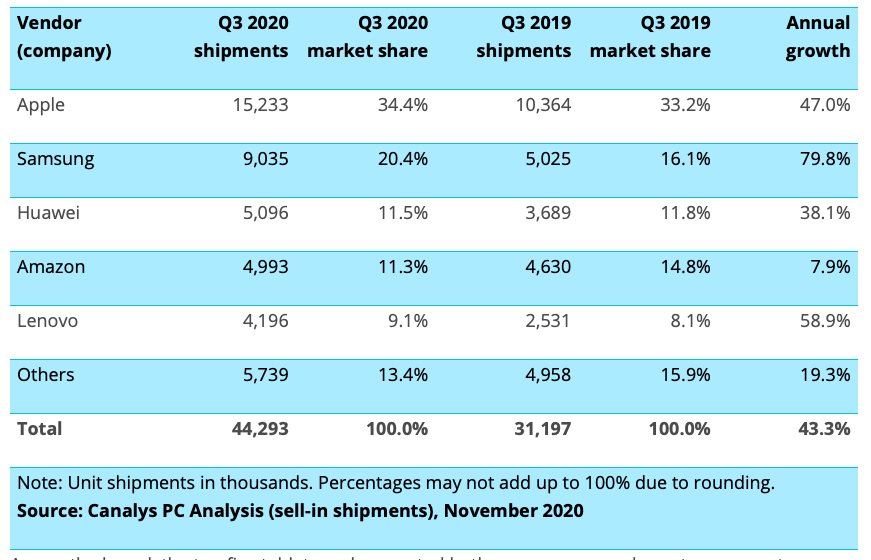 #3: Selling like hot cakes
It is important to consider that Canalys data through a certain lens: That lens being that Apple announced its move to Apple Silicon in June, during a pandemic. That message must surely have meant some may have deferred Mac purchases. The other take away is that Apple's iPhone uses a similar processor (the same family, the same foundry, and the same designer, Apple). These A14 (iPhone, iPad) series and M1 (Mac) chips are getting inside of 'all the things'. With this in mind, consider this: Apple's chip foundry, TSMC, allegedly cannot meet the demand for all the chips that are required. Which makes you think (given how recently the new and shiny Apple things went on sale), how many people are buying this stuff right now? My feeling, based on intuition above anything else, is that for many tech fans, Apple is a piece of good news in a year otherwise defined by fractures and doom.
#4: And they're hot stuff
Speaking of processors, Apple can now lay claim to offering the world's fastest smartphone processor, the fastest tablet processor and (with M1) the fastest – or at least, one of the fastest – personal computer processors.
The performance data for Apple's new chips isn't just impressive, it's amazing: On multi-core performance Apple's new consumer Macs are delivering scores that exceed that of Intel's i9 chips. What's important to note there is that the Macs announced so far are all making some kind of thermal compromise – now imagine how much performance these processors may be able to generate if put inside something with higher thermal capacity…
It's like this. We've not reached the end of the M1 yet. Apple is already planning the successor of the successor of the successor of that chip. And probably has a blueprint for the generation after that as well. This is a whole new game, and the M1 Mac support inside of Big Sur is just a whole new level of Apple's eternal start (up).
Please follow me on Twitter, or join me in the AppleHolic's bar & grill and Apple Discussions groups on MeWe.
Dear reader, this is just to let you know that as an Amazon Associate I earn from qualifying purchases.