Everything we know about Apple's new Health Records solution
Apple will introduce a significant enhancement to the Health app with the iOS 11.3, debuting a feature for customers to see their medical records right on their iPhone. This is something the company has been working towards since at least when it purchased Gliimpse in August 2016.
Why is Apple doing this?
"Our goal is to help consumers live a better day. We've worked closely with the health community to create an experience everyone has wanted for years — to view medical records easily and securely right on your iPhone," said Jeff Williams, Apple's COO.
"By empowering customers to see their overall health, we hope to help consumers better understand their health and help them lead healthier lives."
What problem does this solve?
Until now, patients' medical records were held in multiple locations, requiring patients to log into each care provider's website and piece together the information manually.
That's the lucky ones, of course.
The true situation in terms of electronic health records remains foolishly fragmented. Some nations lack shared standards, and those standards used in some places are incompatible with others.
This has created real friction in creating a safe, secure, and private way in which patients can command and control their own health data. This locks patients out of the chance of exploring their own data, and leaves health providers with the advantage of controlling that data, disincentivising patients from seeking help elsewhere.
Where is it available?
Apple is attempting to mitigate this problem with this product. While only available in the U.S. today, it seems eminently possible we will (slowly) see it appear internationally in future. However, this will not be overnight, but the future of medicine is patient control of their own medical data.
What standard has Apple used for its EHR system?
Apple built Health around the Fast Healthcare Interoperability Resources. This is a good decision, the standard is winning converts across U.S. healthcare, and also seems to be accepted across the UK NHS.
What do the FHIR developers say about what they do?
"Healthcare records are increasingly becoming digitized. As patients move around the healthcare ecosystem, their electronic health records must be available, discoverable, and understandable. Further, to support automated clinical decision support and other machine-based processing, the data must also be structured and standardized."
More information here.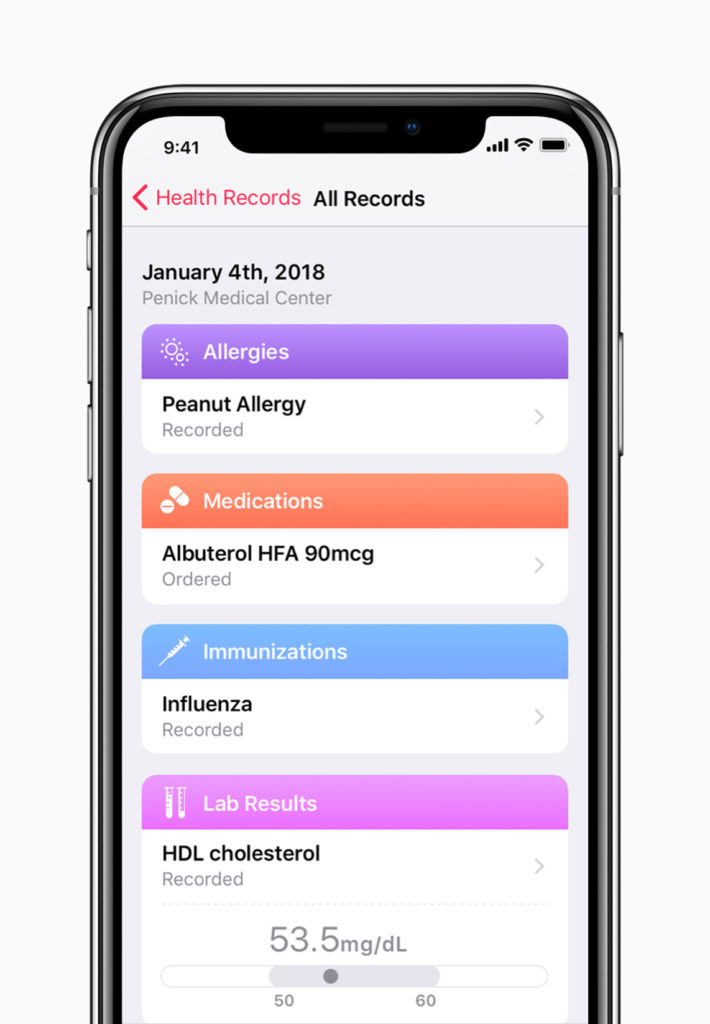 What information will Health's records hold?
Health will include numerous categories, including:
Allergies
Clinical Vitals
Conditions
Immunizations
Lab Results
Medications
Procedures
And more..
Can I add records?
You'll be able to add any file to this menu as long as it's a CDA file (Clinical Document Architecture). Apple wants to automate this.
Can health professionals update these records?
Hospitals and clinics will be able to push this data to your phone directly.
What happens with new data?
When data is updated, patients will receive an alert notification to let them know it is there.
What are "Sources"?
The app also details sources for these records. Sources are places that a patient already works with.
This section lets patients check the medical records from all the health providers they work with that hold data in a form compatible with the Apple app. One published Apple image show sources including the My Patient Portal at Penick Medical Center and Widell Hospital's Patient Chart Pro.
How will this information be made available to me?
Apple's images show that you'll be able to see a really clear screen that describes most of the most salient items of health data. Allergies, what medication you might be on, what immunization jabs you've had, cholesterol levels, vital signs and more. Records are clear, and you can access deeper insights with a single click.
What about security?
Apple says Health Records data is encrypted and protected with the user's iPhone passcode. Apple has no access to this data without a patient's permission.
Which medical institutions support the project?
With more support expected when the feature debuts, at time of writing, supporters include:
Cedars-Sinai – Los Angeles, California
Penn Medicine – Philadelphia, Pennsylvania
Geisinger Health System – Danville, Pennsylvania
UC San Diego Health – San Diego, California
UNC Health Care – Chapel Hill, North Carolina
Rush University Medical Center – Chicago, Illinois
Dignity Health – Arizona, California and Nevada
Ochsner Health System – Jefferson Parish, Louisiana
MedStar Health –  Washington, D.C., Maryland and Virginia
OhioHealth – Columbus, Ohio
Cerner Healthe Clinic – Kansas City, Missouri
Who else is Apple working with?
CNBC reports Apple is working with electronic medical record companies, notably Epic Systems, Cerner and AthenaHealth,
Think of it like this
"With your banking records, you can see every transaction and dollars spent, and yet my health is way more significant and I couldn't put my finger on any of my lab information," said Williams.
Where is this going?
Once records are digital and compatible and anonymized, it's easy to imagine pulling all the information through data analytics systems to identify mass health care patterns.
Dear reader, this is just to let you know that as an Amazon Associate I earn from qualifying purchases.