Apple's Tim Cook tells students, 'be fearless, demand change' (u)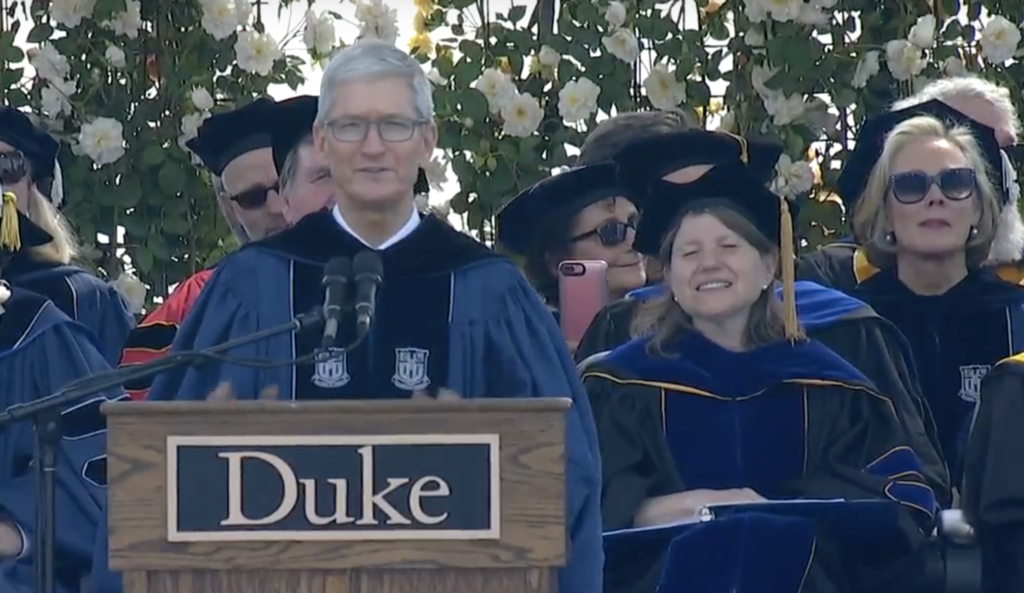 Apple CEO, Tim Cook delivered the commencement address at his old college, Duke University today.
You can watch the complete keynote here (Cook begins at 2:16:50), I've also pulled out a few great statements below.
Citing Steve Jobs, JFK and Martin Luther King, Cook used the speech to address some of the biggest challenges we face in our time and to encourage students to be brave enough to demand better answers than those we're currently getting.
'Our planet is warming'
"Our planet is warming with devastating consequences, and there are some who deny that it's even happening. Our schools and communities suffer from deep inequality. We fail to guarantee every student the right to a good education. And yet, we are not powerless in the face of these problems. You are not powerless to fix them."
On Steve Jobs
"Steve's vision was that the great idea comes from a restless refusal to accept things as they are."
Dare to think different
"I didn't always see life as clearly as I do today. But I've learned that the greatest challenge of life is knowing when to break with conventional wisdom. Don't just accept the world you inherit today. Don't just accept the status quo. No big challenge has ever been solved, and no lasting improvement has ever been achieved, unless people dare to try something different. Dare to think different."
Don't settle
"When you look across this country, and when you see people's lives held back by discrimination and poverty, when you see injustice and inequality… you should be the last people to accept things as they are."
Congratulations and thank you to the @DukeU class of 2018! Graduates, be fearless! pic.twitter.com/XeDV9seX0E

— Tim Cook (@tim_cook) May 13, 2018
On privacy
"We reject the notion that getting the most out of technology means trading away your right to privacy, so we choose a different path — collecting as little of your data as possible, and being thoughtful and respectful when it's in our care,  because we know it belongs to you."
Be fearless
Cook urged that today's young people be fearless in fighting against reactionary forces and in favour of positive change: "If you hope to change the world, you must find your fearlessness. Fearless like the students of Parkland, Florida, who refuse to be silent about the epidemic of gun violence and have rallied millions to their cause. Fearless like the women who say 'Me too' and 'Times up.' Women who cast light into dark places, and move us to a more just and equal future.
On immigration
He continued: "[be] Fearless like those who fight for the rights of immigrants who understand that our only hopeful future is one that embraces all who want to contribute.
"Duke graduates, be fearless. Be the last people to accept things as they are, and the first people to stand up and change them for the better."
On the power we have
"No generation has ever had more power than yours," he said, pointing out that technology is enabling incredibly rapid change. "[This is] the best time in history to be alive."
The time is right
"Martin Luther King stood right here at Duke and said the time is always right to do right. For you, graduates, that time is now. It will always be now. It's time to add your brick to the path of progress. It's time for all of us to move forward, and it's time for you to lead the way."
Update: You can also read the complete transcript at Time.
Dear reader, this is just to let you know that as an Amazon Associate I earn from qualifying purchases.