Apple's rack-mounted Mac Pro is available now
Maintaining its focus on pro users, Apple today made the promised rack mount configuration of the new Mac Pro available on Apple.com.
A beast of a rack system
This beast of a Mac is built for use in racks (obviously). Prices start at £5,999 ($6,499) and the systems deliver all the same performance and configuration options as you'll find in the popular tower version of the Mac.
Apple has designed the rack mount to accommodate the same components and to deliver the same performance.
The rack-mount Mac Pro features the airflow-maximizing 3D lattice (the so-called 'cheese grater'), and has stainless steel handles on the front and side-mounted slide rails instead of feet.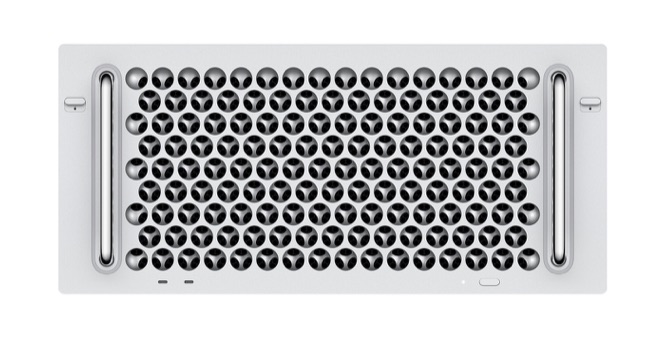 The base model of the rack mount ‌Mac Pro‌ is identical to the tower — that is a 3.5GHz 8-core Intel Xeon W processor, Radeon Pro 580X GPU, 32GB RAM, and 256GB of storage. The highest spec model will cost just over $54,000.
This configuration of the Mac Pro was approved by the FCC at around the same time as the tower version of the new pro product in early December.
The rackable Mac Pro uses a fairly standard 5U enclosure. This makes it a fairly easy fit for those industries that may want to make use of these machines, primarily characterised as audio and video production, but also including use in data centres, AR development, scientific research and other extremely demanding niche sectors.
While it seems true to describe these machines as "More Mac than most people will ever need", it is reassuring to think that some of the technologies used in these Macs will inevitably be made available in other products in the Apple range.
Made for Mac professionals
When developing the Mac Pro Apple worked closely with its Pro Workflow team, who are genuine Mac professionals, including movie makers, photographers, musicians, designers and more.
Their input helped Apple build Macs around real workflow needs, which means the company says its systems deliver not only on specs, but also on what people use these machines for.
This is why these Macs are able to do hitherto impossible tasks, such as handling tracks of Logic Audio or running three streams of uncompressed ProRes 8K video simultaneously.
They can also deliver full-quality 8K performance in real time — with the ability to color-correct and apply effects — using DaVinci Resolve.
This attention to detail and the prioritization of user needs is visible in Apple's decision to park a USB slot inside of these Macs in order to make it possible to plug software authorization dongles directly inside the machines in such a way as to make it hard to remove the dongle by accident.
Please follow me on Twitter, or join me in the AppleHolic's bar & grill and Apple Discussions groups on MeWe.
Dear reader, this is just to let you know that as an Amazon Associate I earn from qualifying purchases.