Apple suffers 'iPhone fatigue'… like it does every single year…
I admit that 2016 is shaping up to be a particularly difficult year for anyone who wants to make a sustainable business from selling smartphones, but I do wonder if anybody actually deals with reality any more?
Look at the latest from Strategy Analytics (verbatim, they put stress into the words in case, you know, I couldn't understand their point).
Worldwide SMARTPHONE shipments grew a sluggish +1% YoY to 340 million units in Q2 2016;
* The smartphone outlook for H2 2016 is improving. H1 2016 looks like the bottom;
* Samsung shipped 78 million smartphones in Q2 2016;
* Apple is facing "iPhone fatigue";
* OPPO was the star performer, surging +137% YoY and outperforming all major rivals like Huawei.
This is an Apple's v Oranges debate. Apple sold its phones at a profit. How much profit does Samsung make selling its phones at subsidy, particularly given some of its devices are pretty low end, cheap affairs? Not much money to be made there, I reckon.
What's really happening?
Yes, consumers aren't buying much. They've been stripped of all their disposable wealth by the failed economic policy of global neoliberalism; they are worried about jobs, pensions and all the other things that matter to them and the chance to buy a new tech toy isn't motivating them. They fear political upheaval, economic collapse, war…
Things really aren't good, but they should improve a little.
Linda Sui, Director at Strategy Analytics, points out: "There are emerging signs that the global smartphone market has reached a bottom in the first half of 2016, and the growth outlook for the second half of this year is improving due to multiple big new product launches from Samsung, Apple and others."
Apple has a big job to do, that's true.
"Apple fell 15 percent annually and shipped a disappointing 40.4 million smartphones worldwide in Q2 2016. Apple's global smartphone marketshare has softened from 14 percent to 12 percent in the past year. Apple continues to face iPhone fatigue among consumers and the new iPhone SE model has not been able to stem that trend," said Neil Mawston, Executive Director at Strategy Analytics.
What I think the analysis misses is that at this stage of the game Apple is already making a transition. There's a billion active iOS devices out there and the move to offer services to those devices — to exploit the platform — is precisely appropriate in a market in which consumers aren't consuming… but will still buy an app, game, book or piece of music to calm their nerves while this universe implodes.
In any case, this happens every year — Apple sales fall in the quarter before the new big launch. This has happened every year since 2007, and while it is different these years because of the wide socio-economic disaster our politicians are doing an incredibly poor job of protecting us from, the same thing is still going to happen in Q4.
When Apple will sell lots of iPhones.
I think what I'm saying is that in the current context/climate analysts need to stop looking at the numbers of smartphones sold and start looking at more important stuff:
How much profit stakeholders make on each device sale?
How much attached income each device creates through services etc income?
Because I think in this context even though Samsung et al are selling more units, they aren't making money on those sales — and in the current environment this means for many in the game, mobile is a loss making business.
But not for Apple.
What does this mean? It means we can expect some of mobile device manufacturers to go to the wall over the next twelve months, assuming our despicable political classes don't take us all to hell first, in which case nothing much will matter anyway.
Have a chart at the end of the story. I hear people like these things.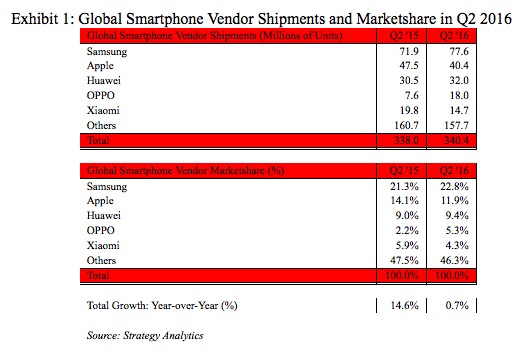 Dear reader, this is just to let you know that as an Amazon Associate I earn from qualifying purchases.