Apple marks World Aids Day with (RED) new struggle against COVID-19
As the COVID-19 pandemic continues, Apple is offering more ways to support (RED)'s fight against HIV/AIDS in Africa while simultaneously protecting those communities from COVID-19. The company is also marking World Aids Day with fundraising opportunities, and access to a rich seam of TV shows, films and music to show the human impact of AIDS.
To the shame of all
History repeats itself.
Just as the HIV/AIDS pandemic disproportionately continues to damage the most marginalized communities in every society, so too does COVID-19.
These pandemics leave the world's poorest – including poorly paid essential workers in economically advanced societies – most exposed to the disease. But the impact on the same communities still ravaged by AIDS is immense.
For me, this is a personal matter.
My cousin was just 10-years old when he passed away through AIDs. He was infected by a blood transfusion he received as a haemophiliac. Knowledge, understanding and ARV treatment would have saved his life. It shames the entire human race that charity is still required to address this pandemic and suggests further collective shame in future when it comes to any kind of global solution to COVID-19. The latter pandemic took the life of my father earlier this year.
Something must be done. Apple and (RED) are trying to find some way private business can do a little public good. This is why Apple's (RED) contributions were redirected toward COVID-19 relief work by the (RED) group earlier this year.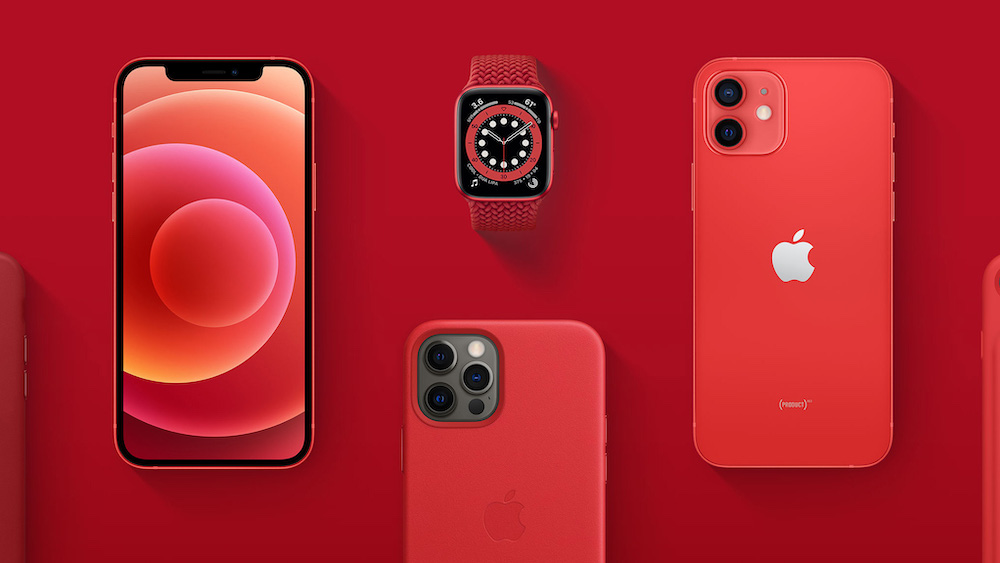 Power in the darkness
Across 14-years, Apple's partnership with (RED) has raised almost $250 million to fund HIV/AIDS programs, such as prevention, testing and counselling schemes, via the Global Fund.
These Apple-supported grants have provided over 10.8 million people with care and support services, helped with distribution of more than 167 million HIV tests, and provided 13.8 million people with ongoing access to life-saving antiretroviral (ARV) treatment.
This year, those funds have delivered tangible and important results in the struggle against COVID:
Enabling additional contact tracing in South Africa
Purchasing PPE and medical equipment for emergency workers in Ghana.
Enabled the delivery of HIV to communities unable to seek in-person health services as a result of COVID-19.
Apple also donated millions of units of PPE to the Ministry of Health in Zambia, including both surgical masks sourced from its supply chain as well as face shields designed and produced by Apple.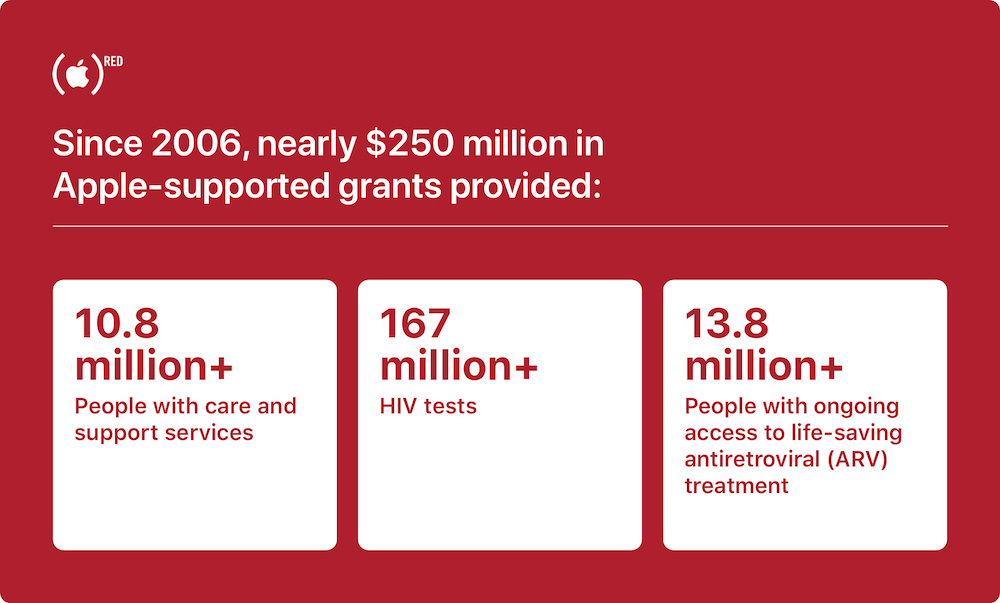 How you can help
Apple's 2020 range of Product (RED) devices include the (RED) iPhone 12, iPhone 12 mini and Apple Watch Series 6. If you buy one of these then you automatically contribute to the fund.
Through June 30, 2021, Apple will direct 100 percent of eligible proceeds from (PRODUCT)RED purchases to the Global Fund's COVID-19 Response to help provide services and treatment to some of the world's most vulnerable communities.
Through December 7, Apple is donating $1 for every purchase made with Apple Pay on apple.com, in the Apple Store app, or at an Apple Store to the Global Fund's COVID-19 Response.
Today is World AIDS Day
To raise visibility for World AIDS Day and the ongoing effort to eradicate HIV/AIDS, hundreds of Apple stores are marking the day with red logos or window displays.
In the App Store, customers can learn more about Apple's (PRODUCT)RED products and the challenges of fighting HIV/AIDS and COVID-19 concurrently. The App Store is also highlighting Medisafe (MediSafe), an app that helps users manage their medications, and OkaySo (Tincan Labs), which provides an anonymous place for people to ask sensitive health questions and get expert answers.
In the Apple TV app, customers will find a World AIDS Day collection in the Watch Now tab that explores stories that reveal the human cost of the HIV/AIDS epidemic.
On Apple Music, listeners can tune into the debut of "Jaiye" ("Time of Our Lives") by Nigerian musician LADIPOE, remixed by DJ Sigag and Aluna — the first single off "DANCE (RED) SAVE LIVES Vol. III." Users can also listen to the interview with LADIPOE, Aluna, and Don Jazzy on The Ebro Show on Apple Music 1, or check out curated music and more in a special Apple Music feature.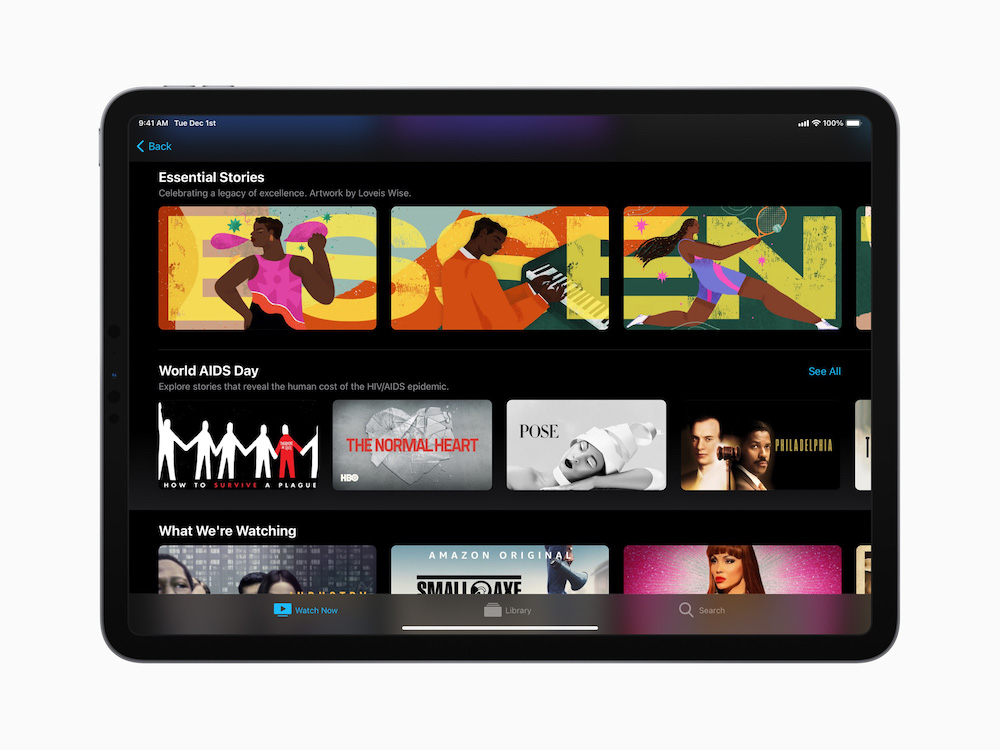 The human consequences
Apple has published an extensive report exploring work taking place in Zambia, where it has donated huge quantities of PPE to help in the struggle against both AIDS/HIV and COVID-19.
It details the impact of one truckload of these supplies at a small health center in Mwembeshi run by Prosperina Mwanza.
"This provision of PPE will go a long way in cutting the transmission of infections," says Mwanza, who has seen COVID-19 severely impact her clinic, especially for the HIV patients receiving antiretroviral treatment. "The biggest challenge right now is that people stopped coming for follow-ups because they felt they would interact with people that had COVID-19."
Keeping people safe
We know that people everywhere are avoiding visiting health centers in fear of becoming exposed to COVID-19, and this is of particular significance to those suffering from pre-existing conditions, including AIDS.
Wilson Kalunga, who tested positive for HIV five years ago, is one of the million Zambians who receive daily antiretrovirals (ARVs) through the Global Fund to manage the virus and prevent it from developing into AIDS. "I would be worried if I stopped the medication," says Kalunga. "That is my reason for coming, because I know I have to take the ARVs forever — if I stop, I might contract other diseases."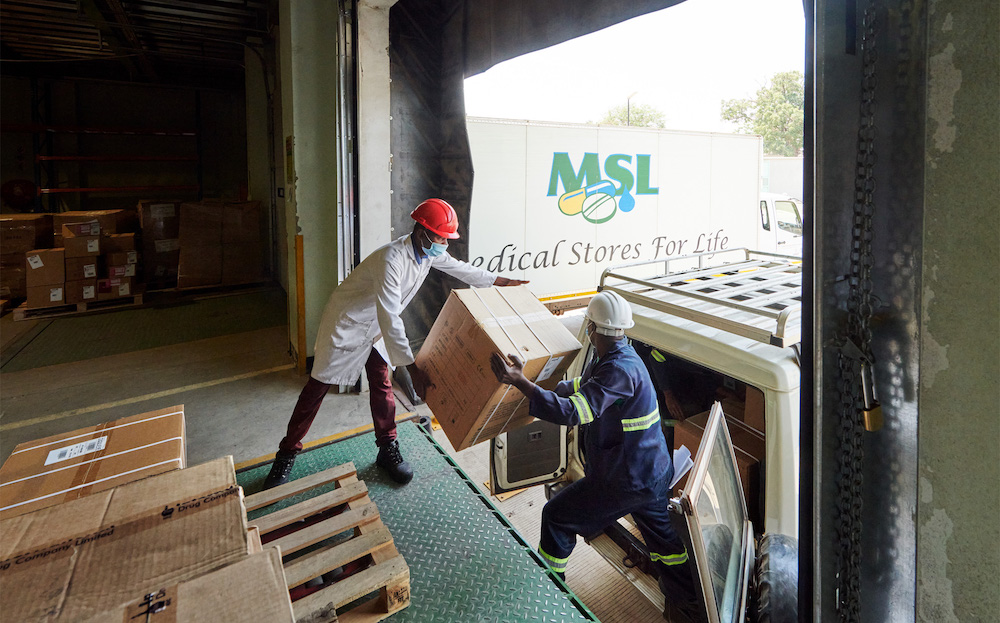 We can make a difference
Zambia has seen significant progress in the fight against HIV/AIDS over the last two decades. In 2003, 61,000 Zambians were dying from AIDS-related illnesses every year. Because of the work of the Global Fund, in partnership with the government of Zambia and healthcare providers, AIDS-related deaths have declined by over 70 percent and new infections have been cut in half since their peak. The Global Fund also supports a larger goal that's spearheaded by the United Nations: End the AIDS epidemic by 2030.
Please follow me on Twitter, or join me in the AppleHolic's bar & grill and Apple Discussions groups on MeWe.
Dear reader, this is just to let you know that as an Amazon Associate I earn from qualifying purchases.