Apple is world's second-biggest PC vendor – Canalys
Apple has become the world's second-largest PC maker on strength of strong Mac and iPad sales, according to Canalys.
The world's second-biggest PC maker
When you combine both Mac and iPad sales, Apple is just a few hundred thousand units behind the world's biggest PC maker, Lenovo, the data reveals.
Apple is far ahead of HP, Dell and Samsung across the top five PC vendors, the report reveals.
That's interesting, given that most analysts don't include iPad sales within general PC market calculations, but this just isn't the right approach anymore, argues Canalys Analyst Ishan Dutt, who observes:
"For users with greater productivity needs, the proliferation of detachable tablets has been a boon. These devices have gained traction as primary devices for work and it is vital to include them when evaluating the PC market as a whole. Apple and Lenovo's recent success shows that having a tablet offering as a mainstream PC vendor is invaluable."
The world's biggest tablet vendor
Apple confirmed strong iPad and Mac sales during its recent fiscal call, which saw the company generate record results despite COVID-19 as people across the planet equipped themselves to work from home.
Apple remains the world's biggest tablet vendor, though it is remarkable that its rate of growth lagged behind competitors, the data claims.
All the same, its 14.3 million iPad sales were up 19.8% y-o-y, while competitors had a lot more ground to catch up. Apple's own data shows iPads raised around $6.5 billion in revenue in the quarter – Macs generated $7 billion.
"Tablets enjoyed a renaissance in Q2 2020 because the devices tick so many boxes for remote work and education use," said Canalys Analyst Ishan Dutt.
"The ability to collaborate virtually as well as view and interact with digital content has become paramount, especially in the education space. The coronavirus pandemic has increased competition for communal screen access between household members forced to stay indoors. Tablets help overcome this problem by allowing each family member to have their own device. And they are more budget-friendly than desktops and notebooks."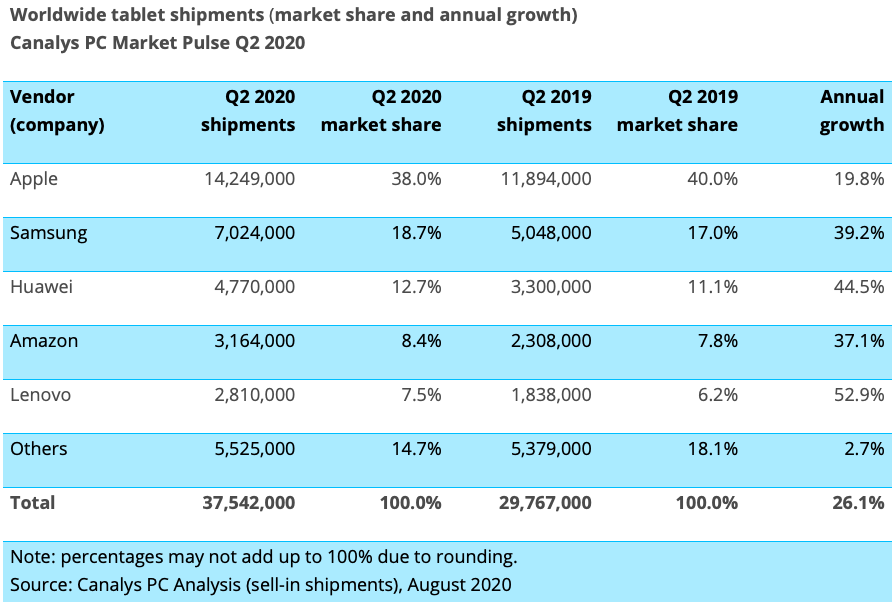 Canalys data highlights:
Apple grew iPad shipments by 20%.
Samsung shipped 7 million units (up 39%).
Huawei was up 45% year on year.
Amazon tablet sales up 37%.
Lenovo tablet sales climbed 53%.
In part, some of the larger spikes may be attributable to targeted product promotions. Canalys Senior Analyst Ben Stanton notes:
"Vendors and retailers in mature markets have offered massive discounts as part of their back-to-school promotions."
The message is pretty clear: Apple is rapidly winning hearts and minds as its systems see use across multiple industries. This is a trend, not a blip.
Please follow me on Twitter, or join me in the AppleHolic's bar & grill and Apple Discussions groups on MeWe.
Dear reader, this is just to let you know that as an Amazon Associate I earn from qualifying purchases.