VIDEO: Apple CEO Tim Cook Speaks at Cisco Live, Confirms Enterprise Focus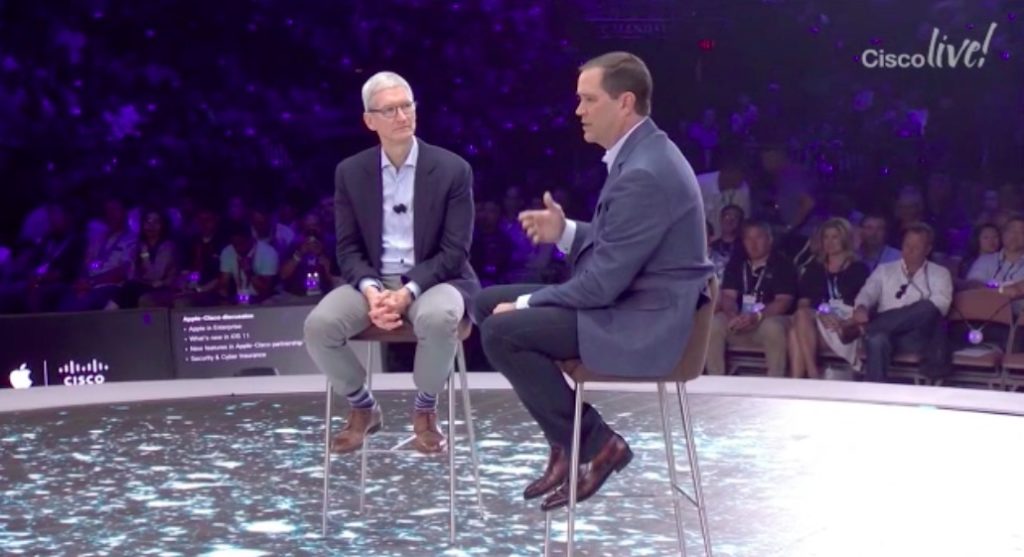 Apple CEO Tim Cook was the special guest at Cisco Live today, where he confirmed the two firms are engaged in building a "deeper partnership", including development of deep visibility, control, and privacy for iOS devices in use in enterprises and a promise of even deeper cybersecurity cooperation in future.
He talked about how when the BYOD wave hit enterprise users, Apple saw a "confluence that meant we could make a difference in the enterprise."
"People were spending tons of money but when you looked at the user experience it wasn't very good," he said. "We thought we cold bring Apple ease-of-use to the enterprise and change the way people work," said Cook.
In a webcast interview with Chuck Robbins, Cook confirmed Apple has been working very hard with Cisco and the company's joint plans to provide the most secure mobile enterprise solutions.
He even promised that in future enterprises wishing to take cybersecurity insurance will get much better deals if they choose Apple/Cisco kit, and encouraged enterprise IT developers to take a look at ARKit to consider its potential for their enterprise.
"I always get excited when I come to Cisco. One of the things that came up [during a previous meeting]. the cybersecurity threat is growing exponentially.. every day your read the news and its another one and its massive…"
In a clear dig at Android's shoddy security model, he said:
"The thinking we share here is that if your enterprise and company is using Cisco and Apple the combination should make the insurance cost significantly less for you than it would if you were using some other personal network side and the other operating system in the mobile area."
The partners also published updated information about their joint offer to enterprise users, offering up more details about the Cisco Security Connector:
"While iOS devices are incredibly secure, organizations still need an increased level of visibility and control across all enterprise devices. Whether they're investigating a security incident or trying to increase protection for users on the internet, visibility and control are fundamental requirements.

"Expected to be released in the fall of 2017, the Cisco Security Connector is designed to deliver the deepest visibility, control, and privacy for iOS devices. The Cisco Security Connector offers organizations the most granular view of what is happening on enterprise-owned mobile devices and provides the best protection for users, anywhere they travel. With the Cisco Security Connector, businesses will now have the ability to meet risk and compliance requirements from auditors and ultimately expand iOS adoption in new ways."
Cook discussed Apple and Cisco's joint work to create advanced MDM and privacy solutions for enterprise deployments of iOS.
"Apple and Cisco are partnering to deliver the deepest level of visibility, control, and privacy for iOS devices. This enables organizations to rapidly adopt iOS for their work force, eliminates roadblocks due to audit concerns, and provides ubiquitous control in case of a security incident," a note on the Cisco website states.
When we innovate together, we can bring greater innovation to you. @ChuckRobbins says of the @Apple and @cisco partnership. #CLUS @tim_cook pic.twitter.com/Bp205bJJEC

— Larry Payne (@lpaynecisco) June 26, 2017
Cisco + Apple, redefining how we connect everyone and everything. @tim_cook @CiscoLive #makeadifference #CLUS pic.twitter.com/y9SmVGY4pT

— Sajith Kaimal (@sajithkaimal) June 26, 2017
Wow! @tim_cook and @ChuckRobbins announcing our IOS security partnership at #CLUS! https://t.co/izPv9neWvZ pic.twitter.com/AD1LUjhwBa

— ☁ David Ulevitch ☁ (@davidu) June 26, 2017
Dear reader, this is just to let you know that as an Amazon Associate I earn from qualifying purchases.