Angela Ahrendts talks about Apple's new retail strategy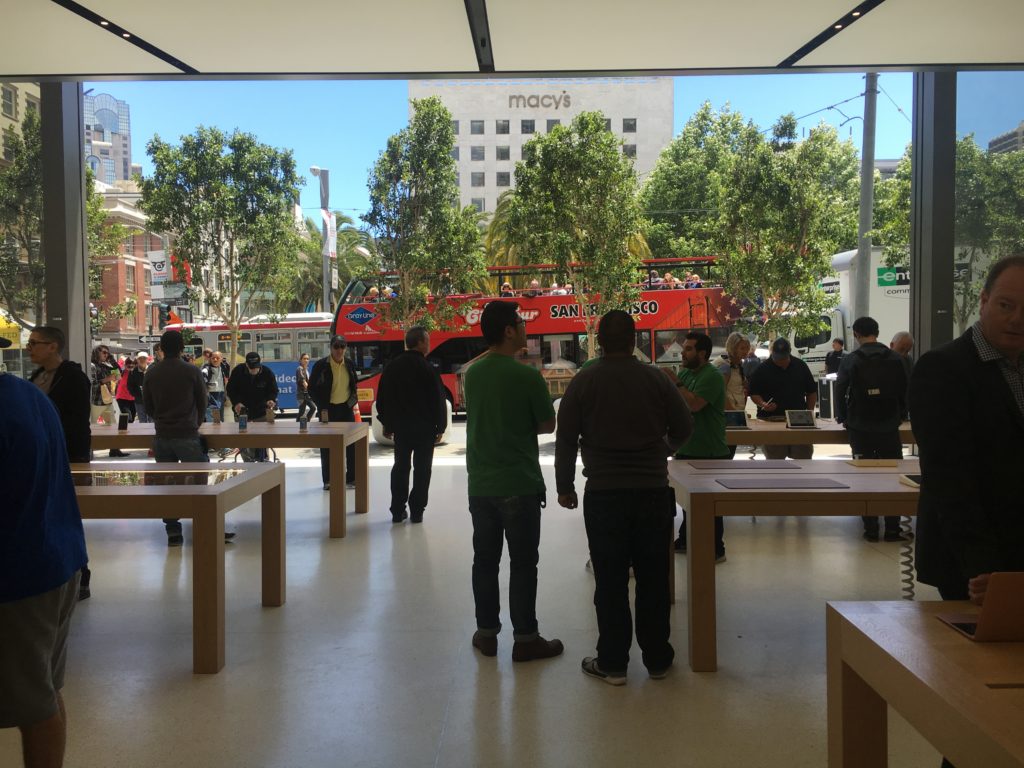 With the 40-foot doors open this is how it feels when you look out at Union Square from the lower floor.
Angela Ahrendts, senior vice president of Retail and Online Stores took a few moments to explain the new World Trade Center store's place in the company's retail store strategy. "We look forward to serving all who visit, live and work in this remarkable community," she said.
Apple in the community
Apple wants to make its retail stores the community-focused hub wherever it puts them, offering tools, resources, training and entertainment to fill the gap on increasingly homogenized high streets with little cultural identity. I think.
It also wants to use its stores to showcase local talent, provide a forum for local entrepreneurs to share ideas, and to create the kind of open communication you might find in an arts center more than the formal feeling you get inside the stores of most big brands. Apple Stores are not just shops, they are places where you can find some of the resources you need to make ideas happen – you can even use Apple's equipment to do so.
Ahrendts is pretty clear what she thinks. Pointing to the new World Trade Centre store she points out how it seems to be part of the place — how when you stand at the other side of the centre the Apple retail store looks like part of the place. That's important as place and community are part of the focus on retail now, particularly as the company has many stores open in some places, meaning it can't open too many more.
In that context, Apple wants to: "Open incredible places that almost behave like a town square," Ahrendts said. "When all the events start coming on we want you to meet people at Apple," she added. Take a look at what she says in this video here, but first here's a few images to help illustrate these themes.
The five key themes
I've been meaning to publish this short collection of pictures I took on my visit to Apple's new Union Square store last June. They illustrate the five key themes Ahrendts refers to in the video above. You can expect versions of at least some of these themes to appear across every Apple retail store in future, as the company seeks to create even closer relationships with all its customers.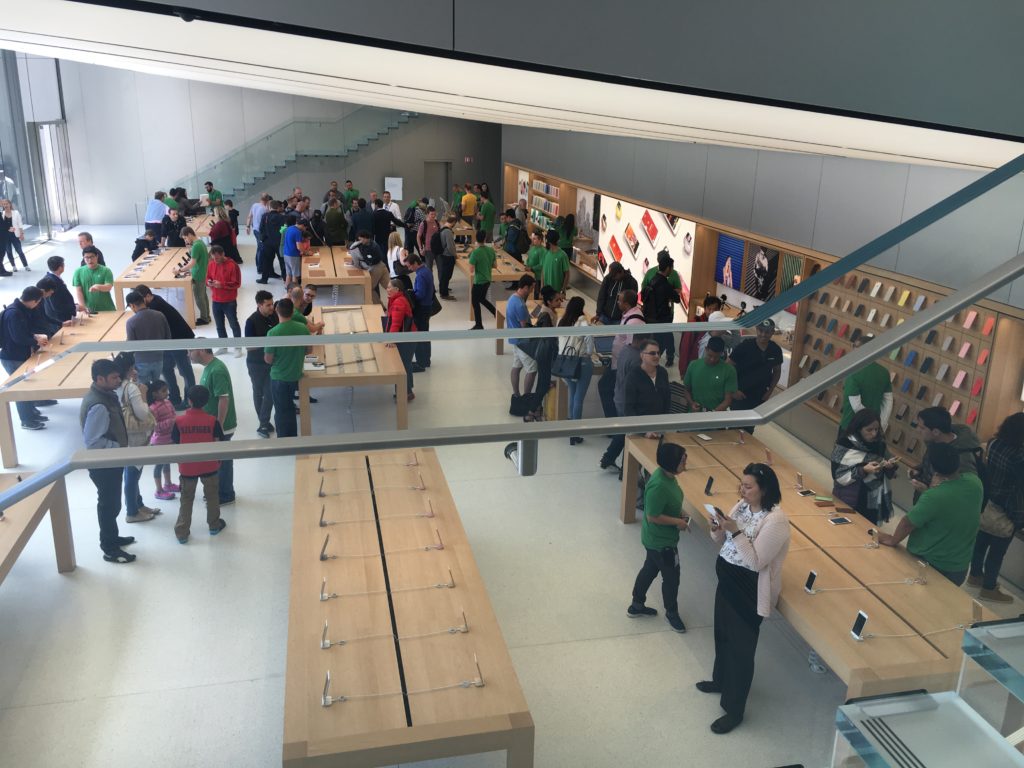 The Avenue
These displays show how you can use Apple's products and services, with Creative Pro advisors on hand to help you learn it to.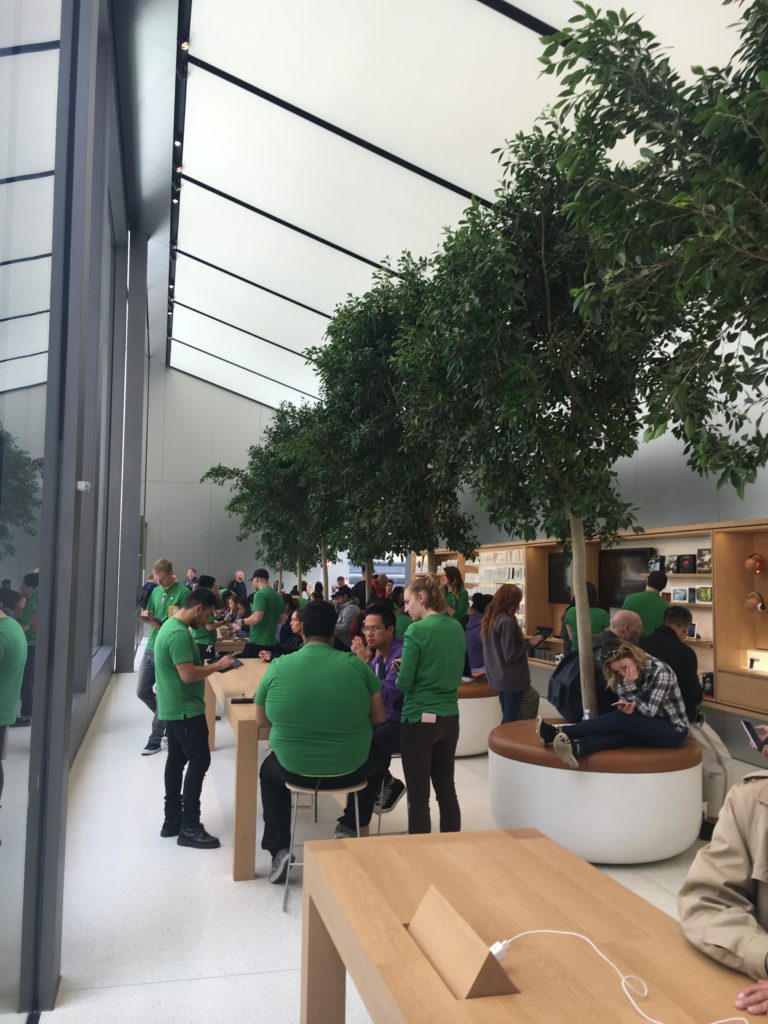 Genius Grove
A laid back informal space where you can get help from resident Geniuses.
The Forum
The main arena really – a huge 6K video screen and work tables are scattered around the space. Here you can join all kinds training sessions, seminars, talks and live music performances.
The Plaza
Open to the public 24-hours a day with free Wi-Fi and seating, you'll find arts and acoustic performances here.
The Boardroom
Where enterprise pros go to learn to do more. And I didn't go!
Many of these ideas aren't so new, but the execution has been refined for a new generation. In the background throughout everything Apple does now is a focus not just on the company's products, but also on what they can do for customers, and for the global community.
This reflects a sea change in how people think. We're sick of cold cynicism, and while we understand self interest we also value collective interest and internationalism. "As we enter the Age of Ideals, people will expect brands to go further. Not just to make idealistic gestures, but to act on them," says Gareth Ellis, Planning Partner at Ogilvy & Mather. "The brands that will thrive in coming years are the ones that have a purpose beyond profit," said Virgin (shame about the trains) boss, Richard Branson. The world is transforming and Apple wants to be a positive element in that change. The rest is up to us.
Dear reader, this is just to let you know that as an Amazon Associate I earn from qualifying purchases.