AirPods Pro gain triple press gesture controls (updated)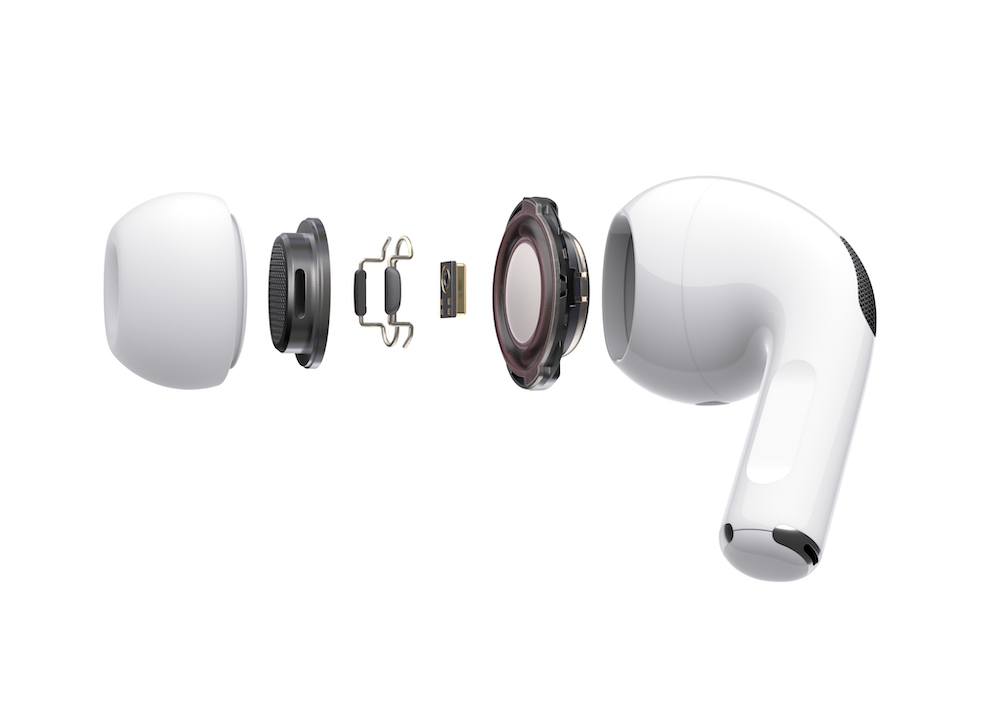 Apple's all new AirPods Pro introduce a slightly more complex control interface in that you can now tap them three times to make things happen. iOS 14 adds a range of new improvements, while a recently discovered Apple patent suggests even more user interface improvements to come.
Something, or nothing
Hidden in among Apple's recently published AirPods Pro website we've spotted a new user interface iteration.
You see, while you can double-tap second-generation AirPods to play audio or to skip a track, or first generation AirPods to summon Siri, AirPods Pro let you tap three times to make them do something.
How to use AirPods Pro
Apple's pages reveal:
Press once to play, pause, or answer a phone call
Press twice to skip forward
Press three times to skip back
Press and hold to switch between Active Noise Cancellation and Transparency mode
Say "Hey Siri" to do things like play a song, make a call, or get directions.

What's interesting about this is to what extent users can customize these controls.
Existing AirPods users can change some of the controls in Settings>Bluetooth>tap the info button, where it is possible to change what different tapping rhythms do – albeit from a very limited set of options.
New in iOS 14
Apple's iOS 14 adds a bunch of useful things for AirPods Pro, not least the ability to manage Battery Health on the devices. When you first start charging your 'Pods after installing the new OS you'll be told it's working.
"To reduce battery aging, AirPods learn from your daily charging routine so they can wait to finish charging past 80% until you need to use them," an alert says. It will also warn you if it thinks your batteries may need charging soon.
You will also need to read: 14+ essential skills AirPod Pro owners need to use (updated)
Intelligent sound
Sensors inside AirPods Pro will monitor your head movement. They then use built-in AI to manage the sound so that it sounds like it's coming from one place.
What does that mean?
Think about it this way: If you move your head when you are sat down in front of your quadrophonic stereo system, the sound doesn't move – your awareness of it does.
But, when wearing headphones – the sound moves with you. The new feature means it doesn't.
That's great for music purists, but also rather spiffing if you happen to use your 'Pods while watching a movie. That Dolby sound sounds like it wants to sound. (Oh, and if you move the device playing the sound, the sound moves too.
Headphone Accommodations
These can be set up to provide a more balanced tone, to increase vocal clarity or to make audio clearer. More on how this works right here.
Auto device switching
Start listening to a podcast on your Mac and then switch to your iPad to watch a film? Don't worry, so long as your AirPods Pro are recognied by both devices, the sound moves with you.
Control Center improvements
The new features also get new Control Center controls. Use them like this:
On iPhone, open Settings>Control Center.
Tap More Controls and add Hearing.
You'll see control for Announce Messages with Siri.
What gestures will the next models use?
 Apple was originally expected to introduce new models of AirPod in 2020, but it's possible the release was delayed by the COVID-19 pandemic.
We've seen claims to expect new models later this year, or perhaps in 2022. So, where is Apple going in terms of controls for these devices?
I think one big clue is in a patent filing that was spotted recently. This describes a user interface for these AirPods based not just on touch, but also on air gesture recognition.
Air gestures?
Yes, the patent seems to describe systems that understand hand movement near the 'Pods. That means new sensors, potentially based on some of the UI tech Apple has invested in across the last few years.
"The earbud may be configured to detect gestures, physical manipulations, and so forth performed along or on the earbud," the patent reads. "In response to the detected inputs, the earbud may be configured to change various outputs, such as an audio output or a haptic output of the device."
The patent describes a few ways these new gestures might work:
Tap the step of an AirPod to tell it an Air Gesture instruction is coming.
The hand may then move near the 'Pod to make an instruction.
The solution as described also lets you use multiple gestures for more complex tasks.
This makes sense for play, pause and fast forward operations, but it seems clear has usage models way more advanced than that.
I can imagine a gesture that instructs your AirPods Pro to begin to translate a conversation near you, for example. Another set of gestures might conceivably tell them to listen out for spoken word instructions for use with your iPhone.
Finally, it's not at all uncertain that you might use similar sets of gestures to control other devices, using a combination of Air Gesture, Voice and touch on the stem of these things. Not to mention that Apple's patent mentions the system might be used with other devices.
Of course, a patent doesn't mean anything is going to happen, but I'm feeling this one and am very interested in the next set of announcements as a result.
Story updated August 27 2020 with enhancements from iOS 14 for AirPods Pro and upcoming patent-related claims.
Please follow me on Twitter, or join me in the AppleHolic's bar & grill and Apple Discussions groups on MeWe.
Dear reader, this is just to let you know that as an Amazon Associate I earn from qualifying purchases.