68 things Apple just told us about its business
Apple's recently published Q318 results confirm the company's biggest June quarter ever, with over $53 billion revenues. In conversation after the announcement, the company revealed a bunch of additional insights, summarized here:
On iPhones
Over 100 billion Siri requests so far this year
The iPhone user base grew "double digits".
iPhone sales grew faster than the market in the U.S., greater China, Canada, Germany, Australia, Russia, Mexico, and the Middle East and Africa
iPhone revenue grew 20% year-over-year with iPhone ASP increasing to $724 from $606
Double-digit unit growth in several markets including the US, Canada, Germany, Switzerland, Mexico, Hong Kong, Russia, the Middle East, and Africa.
Reduced iPhone channel inventory by 3.5 million units during the quarter.
iPhones make up three of the top five smartphones in the US, UK, and Japan
On iPads
More active iPad users than ever
Pad is a 60% share of the US tablet market in the June quarter up from 51% share a year ago
Almost half of iPad purchases in the quarter were by customers new to IPad
5 consecutive quarters of growth
Gained bigger share of market
Double-digit iPad unit growth in greater China and Asia- Pacific with a new June quarter record for iPad sales in Mainland China.
451 research user satisfaction data
iPhone X, 8 and 8 Plus got 98 percent satisfaction
Across all iPhone models, customer satisfaction was 96%
Among business buyers who plan to purchase iPhones in the September quarter, 81% plan to purchase iPhones up 3 points from the last survey.
iPad customer satisfaction ratings of 94
75% of business customers who plan to purchase tablets in the September quarter plan to purchase iPad
Macs
Mac sales declined slightly, which Apple attributed to a different launch schedule
60 percent of purchases to customers new to the Mac
New June quarter records for Mac sales in India, Turkey, Chile, and Central and Eastern Europe.
Majority of Salesforce's 35,000 employees use Macs.
"Companies tell us that Mac has been instrumental in helping them attract and retain talent while providing strong security, streamlined deployment workflow, and significantly lower total cost of ownership," said Mistri.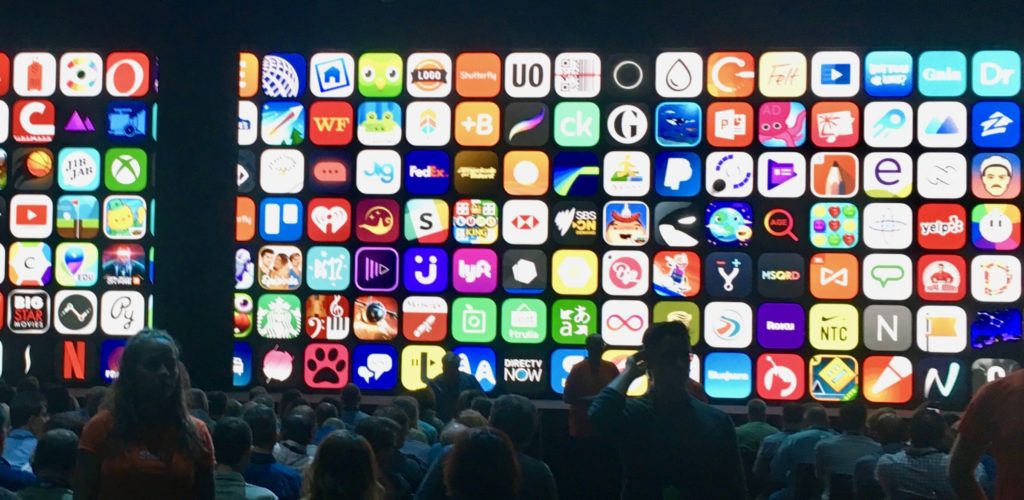 Wearables
Wearables up 60 percent
Revenue over $10 billion across last four quarters
(Other category, which includes other segments, hit $3.7b in the quarter)
Apple Watch saw growth in the "mid-40 percent range" for record June
AirPods are the new iPod "we're selling them as fast as we can make them"
On services and the App Store
App Store, Apple Care, Apple Music, Cloud services, and Apple Pay, all set new June quarter records.
Services generated $9.5 billion, up 28 percent
Double-digit services growth in all geographic segments
There are now over 300,000 paid subscriptions from Apple and others contributing to services income, up 60 percent y-o-y.
Over 30,000 apps now include subscription-based services
100 percent growth in third-party video services subscriptions
Now ten years old, the App Store is attracting more customers who are downloading more apps, generating twice as much revenue as nearest competitor, Google Play.
Developers have earned $100 billion since the App Store launched
App Store ads now in Japan, South Korea, France, Germany, Italy, and Spain
Cloud services revenue up 50 percent
"Our communication services are experiencing record usage"
Articles read on Apple News doubled
iTunes will offer the world's largest collection of Dolby Atmos movies from fall
"We're also thrilled about our pipeline that have some new services in it as well," said Cook.
The Growth of $AAPL Services vs. iPad and Mac. pic.twitter.com/92gqtdJIKe

— Horace Dediu (@asymco) August 1, 2018
All about Apple Music
Revenues up 50 percent year-on-year
Over 50 million users (paid and trial)
Leads in the U.S. and Japan "we've been told", said Cook.
On Apple Pay
Now in 24 markets
In Germany later this year
Over 4,900 banking partners worldwide
Over a billion transactions last quarter (more than Square or PayPal)
That's three times the year ago quarter
Growth accelerated since the March 2018 quarter.
Apple Pay Cash "already serves millions in the U.S."
eBay, CSV and 7-11 will introduce Apple Pay support this fall
Apple Pay now available at 12 U.S. mass transit services
On Retail
Over 250,000 Today at Apple sessions
Now 50 retail stores in China
46 percent of retail is now outside the U.S.
Everything else
Over 4 million people are currently beta testing Apple's Mojave, iOS and other software
Apple TV units and revenue grew by very strong double-digits in Q3.
10 suppliers in China are taking part in the Clean Energy Fund
The fund will develop clean energy projects totaling more than 1 gigawatt of renewable energy in China
That's the equivalent of a million homes
Over 5,000 schools and community colleges now teach Everyone Can Code
Over 350 schools willn offer Apple's Everyone Can Create in the upcoming school year.
Looking forward — guidance
Predict year-over-year growth of about 16% to 19%.
Gross margin between 38% and 38.5%.
OpEx to be between $7.15 billion and $8.5 billion.
Please let me know if I missed anything you need to know.
Dear reader, this is just to let you know that as an Amazon Associate I earn from qualifying purchases.