WWDC: These smart CCTV systems will support HomeKit Secure Video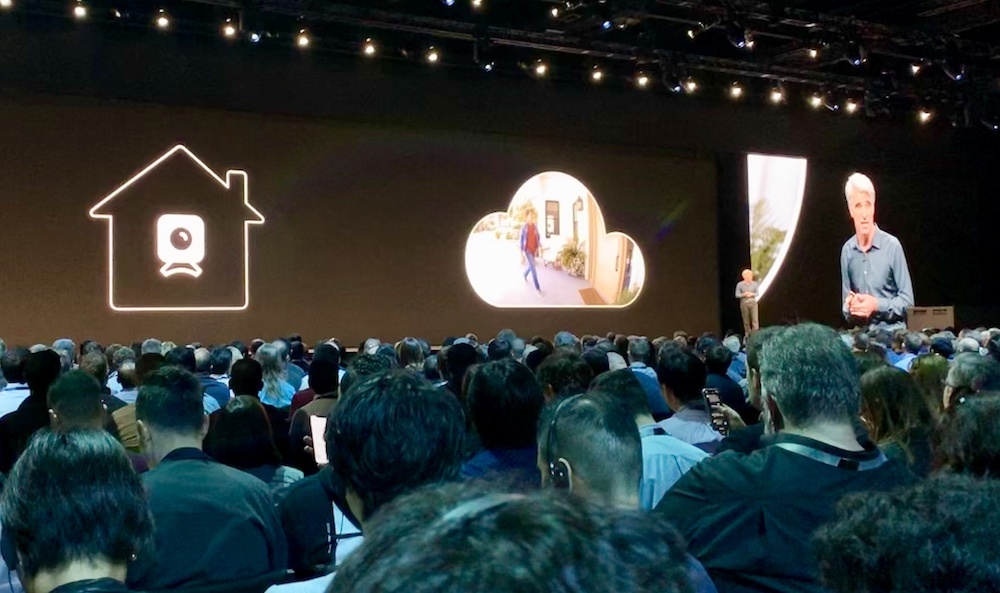 Apple announced HomeKit Secure Video at WWDC. The system adds a new layer of security, ensuring that people you do not know have no access to images of video from your connected home.
What is HomeKit Secure Video?
HomeKit Secure Video solves a problem.
Most connected CCTV systems upload video that they capture to the cloud.
The problem with this is that once video from your home is uploaded to the cloud it becomes a target for hackers, and not every company is particularly open concerning what happens to that video once they have it in their possession.
That's what Apple's new Secure Video system solves.
How it works
Video and images are uploaded to Apple's cloud and encrypted in such a way that only you (using an approved device) can access that footage. It does this by scrambling the video in transit, so all that's stored on iCloud is utterly garbled unless used with an approved device and its cryptographic key.
The effect is that you get to see all the footage whenever you like in just the same way you always have, but no one else can unless they get hold of an iOS device approved by you.
"The video is analyzed in your home, on your resident iPad, HomePod or Apple TV, and then it's encrypted and securely sent to iCloud where no one — not even Apple — can see it," said Apple's Senior Vice President of Software Engineering, Craig Federighi when he announced the feature.
What else do I need to know?
Apple also announced a new HomeKit for routers system, which will add yet more protection to routers used to power smart homes.
When it comes to HomeKit Secure Video, Apple will keep video on iCloud for ten days.
The company says this won't count against your iCloud storage allocation, but Apple has also indicated you will need to have a 200GB iCloud storage account to use its system with one camera, or a 1TB account if you want to use up to five camera.
It is also necessary to be using a connected CCTV camera that supports Homekit Secure Video. Manufacturers Netatmo, Eufy, Robin and Logitech have all confirmed such support. The following systems are those you can purchase that seem most likely to support HomeKit Secure Video, according to manufacturers.
Netatmo Smart Video Doorbell
Netatmo's $300 system will be compatible with HomeKit Secure Video at its launch.
It offers a 2 megapixel camera that's equipped with 5x digital zoom and a 160-degree diagonal field of view. It has infrared LED night vision and captures video in full HD 1,080p. This product isn't available yet but is expected to ship later this year.
Netatmo Smart Indoor Cameras and Smart Outdoor Cameras
Netatmo has promised to update its existing smart cameras so they become compatible with HomeKit Secure Videovia a free, automatic firmware update it plans to ship later in the year.
The $189 Netatmo Smart Indoor Camera has facial recognition, 130-degree field of view and records in 1,080p. It also has 8x digital zoom and infrared night vision. More information.
The $294 Smart Outdoor Cameras have a 100-degree field of view, 4x digital zoom and also records in 1,080p.
Robin ProLine Video Doorbell
I've a feeling this system will need to see some reduction from its current $600+ price tag – it seems pretty high. The system offers a wide angle, 130-degree camera, a built in mic so you can speak with the caller, and films in full HD. More information.
Both Eufy and Logitech have said they will support HomeKit Secure Video and will update existing systems with a firmware update to add support. However, neither firm has yet named which existing systems will be supported, so I can't recommend one.
Logitech has also said it is working with Apple on a camera offering.
Please follow me on Twitter, or join me in the AppleHolic's bar & grill and Apple Discussions groups on MeWe.
Dear reader, this is just to let you know that as an Amazon Associate I earn from qualifying purchases.