The new iPad is great, but similar iPad Pro has the edge
The addition of Apple Pencil support to the new entry-level iPad makes the new Apple tablet a close competitor to the original iPad Pro, what you need to know.
The iPad is cheaper…
When it comes to base price there's no contest – the new iPad is far more affordable than a Pro. It costs from $329 (Wi-Fi) or $459 (Wi-Fi + Cellular). It costs from $299 if you're in school. In contrast, the current 10-inch iPad Pro costs from $649, or $779 (Wi-Fi + Cellular).
It's not as powerful (though there's not much in it)
The new iPad uses an A10 Fusion chip, the same processor as that used in the iPhone 7. It' not as speedy as the A10X chip inside the iPad Pro, though it's only when using the most graphics-heavy apps and games that you will feel too much difference.
There's also an embedded M10 processor, which you'll find on both tablets.
And iPad is a little smaller
The existing 9.8-inch-x-6.8-inch iPad Pro boasts a 10.5-inch screen, while the new iPad offers you a slightly smaller (9.7-inch) display in a smaller (9.4-inch-x-6.6-inch) chassis.
But also has a Retina display
iPad provides. 2,048-x-1,536-pixel resolution at 264ppi. That compares with iPad Pro, which provides 2,224-x-1,668-pixel resolution at 264ppi.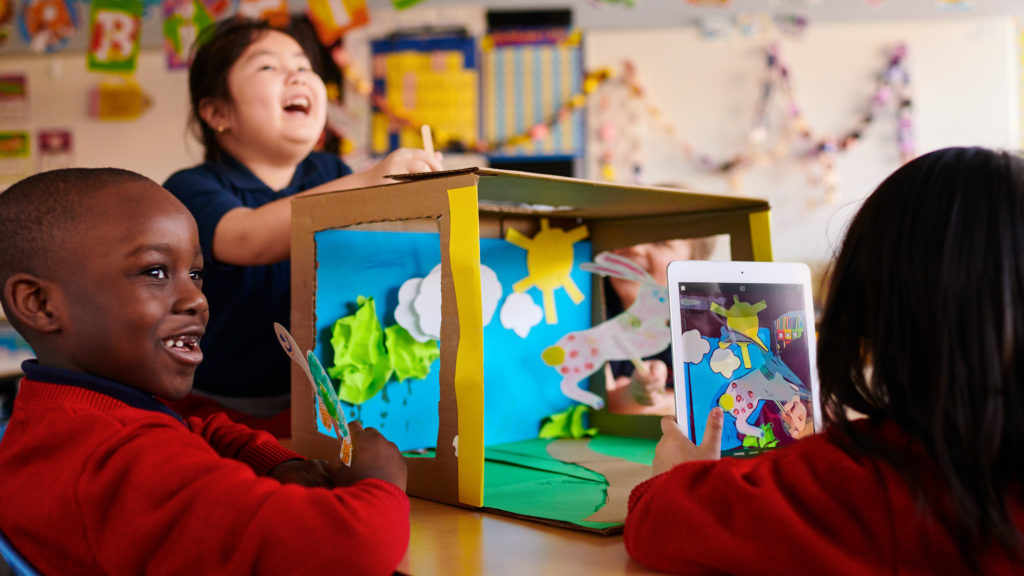 Though iPad Pro has much more storage
The entry level iPad offers 32GB or 128GB storage. In contrast, the iPad Pro ships with 64GB storage as base with 256GB and 512GB options also available (the high-end iPad Pro with Wi-Fi costs $999).
iPad Pro also boasts more memory
Where the iPad Pro holds 4GB of RAM, the new entry-level brings just 2GB. This means you will see differences when you're doing graphics intensive tasks — when running Split Screen mode and Slide Over simultaneously you may find the Split Screen window dimmed.
iPad Pro also has a far better camera
The iPad offers an 8MP camera with f/2.4 aperture and a five-element lens is capable of capturing HD video at 1,080p. There's also a 1.2-megapixel FaceTime camera.
In contrast, the iPad Pro is much higher spec with a 12-megapixel camera equipped with an f/1.8 aperture and a six-element lens. Video quality matches, though the FaceTime camera is far superior at 7-megapixels.
iPad Pro sounds better, too
iPad Pro provides a punchy four-speaker audio system and dual microphones. The new iPad only provides stereo speakers.
You can get a Rose Gold iPad Pro
The entry-level iPad ships in silver, gold and space gray, while the iPad Pro is also available in rose gold.
They weigh exactly the same
Both the entry-level iPad and the iPad Pro weigh 1.03 pounds, or 1.05 pounds if you include Cellular.
Both have the same sensors
Both iPads include a three-axis gyroscopic sensor, accelerometer, barometer and ambient light sensor.
You get the same battery life
The iPad brings a 32.4-watt battery Apple claims will deliver up to 10-hours surfing the web (9 hours over a cellular network). You'll get 10-hours out of an iPad Pro, also, thought he battery (at 30.4-watts) is slightly larger to make up for the punchier audio, faster processor and larger display.
You can't use a Smart Keyboard with new iPad
One difference between the two models: The iPad Pro boasts a Smart Connector to which you can attach an Apple Smart Keyboard. You don't get that on the new iPad, but there are a range of third-party keyboards you can use instead.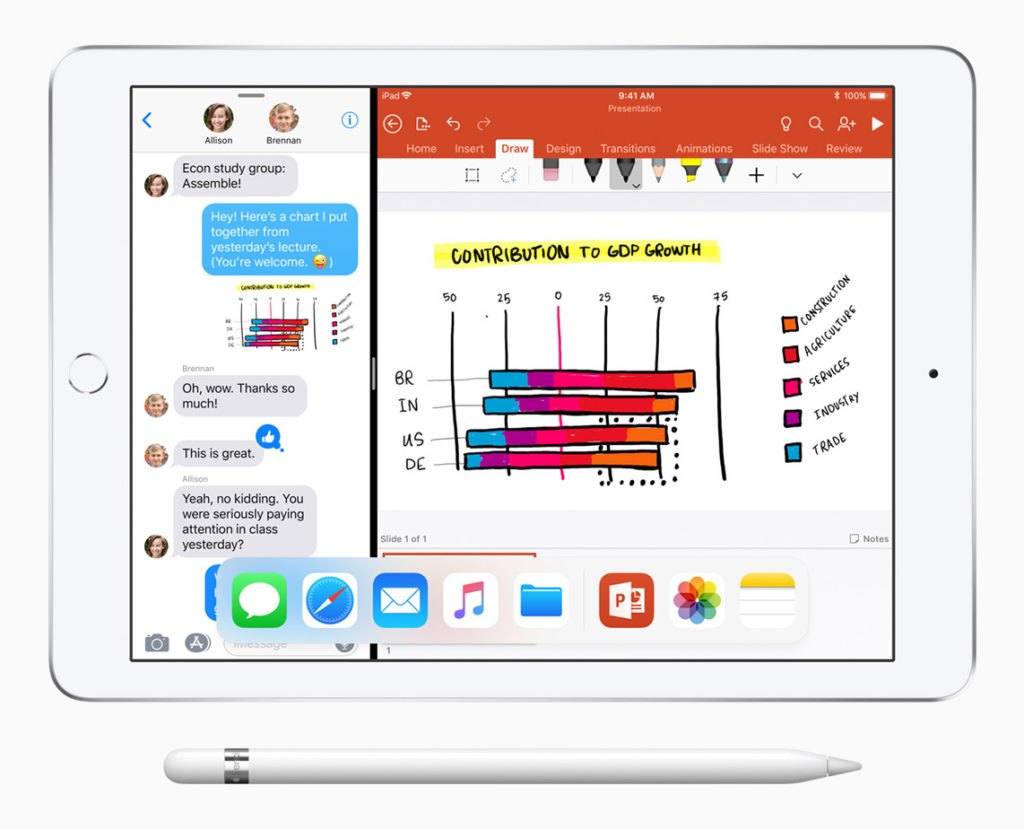 But iOS 11 multitasking's still cool
iOS 11 made iPad Pro much better at multitasking, introducing Slide Over, Split View, Picture-in-Picture, Drag and Drop and a better Dock. You get all these features with your new entry-level iPad, making the device an even more effective computer replacement.
The verdict?
If price is your only concern, it's a no-brainer: the new entry-level iPad is a compelling purchase, particularly as you can buy one of these, an Apple Pencil and an Apple TV4K and still have enough change to buy a great lunch, in comparison to the cost of an iPad Pro. If cost is just one consideration, and you want a fast iPad with a nice display that you can use to get things done (including with an Apple Pencil), then the new entry-level tablet also meets your needs.
The exception is if you need higher built-in storage (as most pro users will demand), or if your tasks demand the use of a high-quality camera (or better audio), then you'll be looking at an iPad Pro. Having said that, with Apple expected to upgrade the iPad Pro range at some time this year, the differences between the two models will grow in the next few months.
Dear reader, this is just to let you know that as an Amazon Associate I earn from qualifying purchases.