Meet the first Apple Silicon Macs
Apple's first to market Apple Silicon M1-series Macs include a new MacBook Air, 13-inch MacBook Pro and a Mac mini.
Apple's Macs have become speed demons
So the news is that Apple's M1 Apple Silicon processor now used in Macs is delivering superb performance, graphics, usability and machine learning improvements in systems that use so little power one of them doesn't even need a fan! It's time to meet the new Macs.
You can read more about the processor here.
What Apple said
"The introduction of three new Macs featuring Apple's breakthrough M1 chip represents a bold change that was years in the making, and marks a truly historic day for the Mac and for Apple," said Tim Cook, Apple's CEO.

"M1 is by far the most powerful chip we've ever created, and combined with Big Sur, delivers mind-blowing performance, extraordinary battery life, and access to more software and apps than ever before. We can't wait for our customers to experience this new generation of Mac, and we have no doubt it will help them continue to change the world."

Let's meet the Macs:

Meet the MacBook Air: Thin, light and fan-free
Apple's most popular Mac and the world's best-selling 13-inch notebook, the MacBook Air now gets a new M1 chip.
The chip delivers significant enhancements:
The 8-core CPU performs up to 3.5x faster than the previous generation.
Graphics are up to 5x faster, the biggest leap ever for MacBook Air.
ML workloads are up to 9x faster, so apps that use ML-based features like face recognition or object detection can do so in a fraction of the time.
Export a project for the web with iMovie up to 3x faster and integrate 3D effects into video in Final Cut Pro up to 5x faster.
The M1 chip's storage controller and latest flash technology deliver up to 2x faster SSD performance, so previewing massive images or importing large files is faster than ever.
And in MacBook Air, M1 is faster than the chips in 98 per cent of PC laptops sold in the past year, Apple eplained
The power efficiency of the M1 means the MacBook Air is fan-free which means it is silent as shadow. It also provides up to 15 hours of wireless web browsing and up to 18 hours of video playback — the longest battery life ever on MacBook Air. You also get TouchID.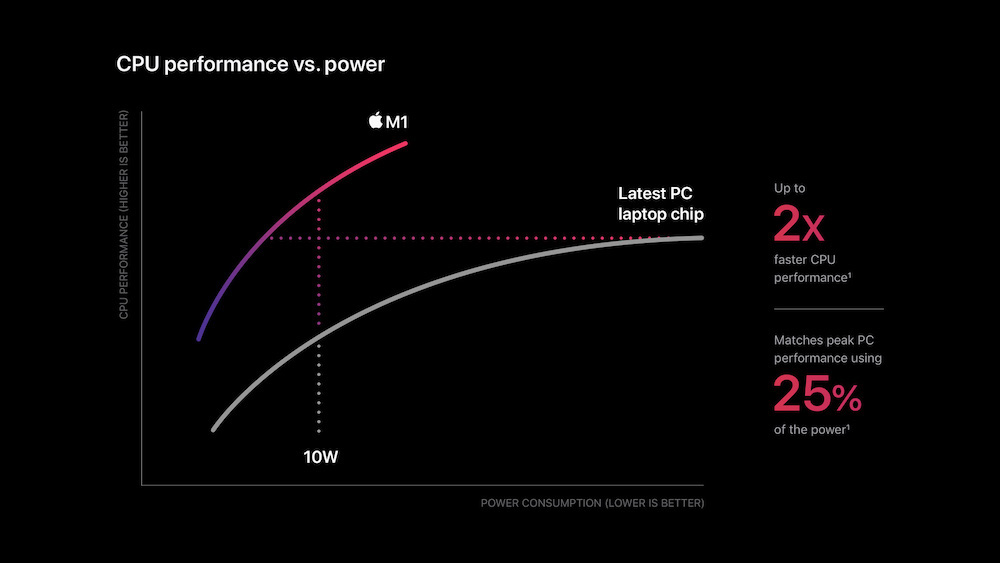 There are a range of other improvements in comparison to the previous 'Air as a result of the move to the M1. You get better camera image quality with better noise reduction, greater dynamic range, and improved auto white balance and ML-enhanced face detection, while support for P3 wide colour is really visible on the Retina display.
Hardware includes Wi-Fi 6 and two Thunderbolt ports with USB 4 support.
The MacBook Air costs $999.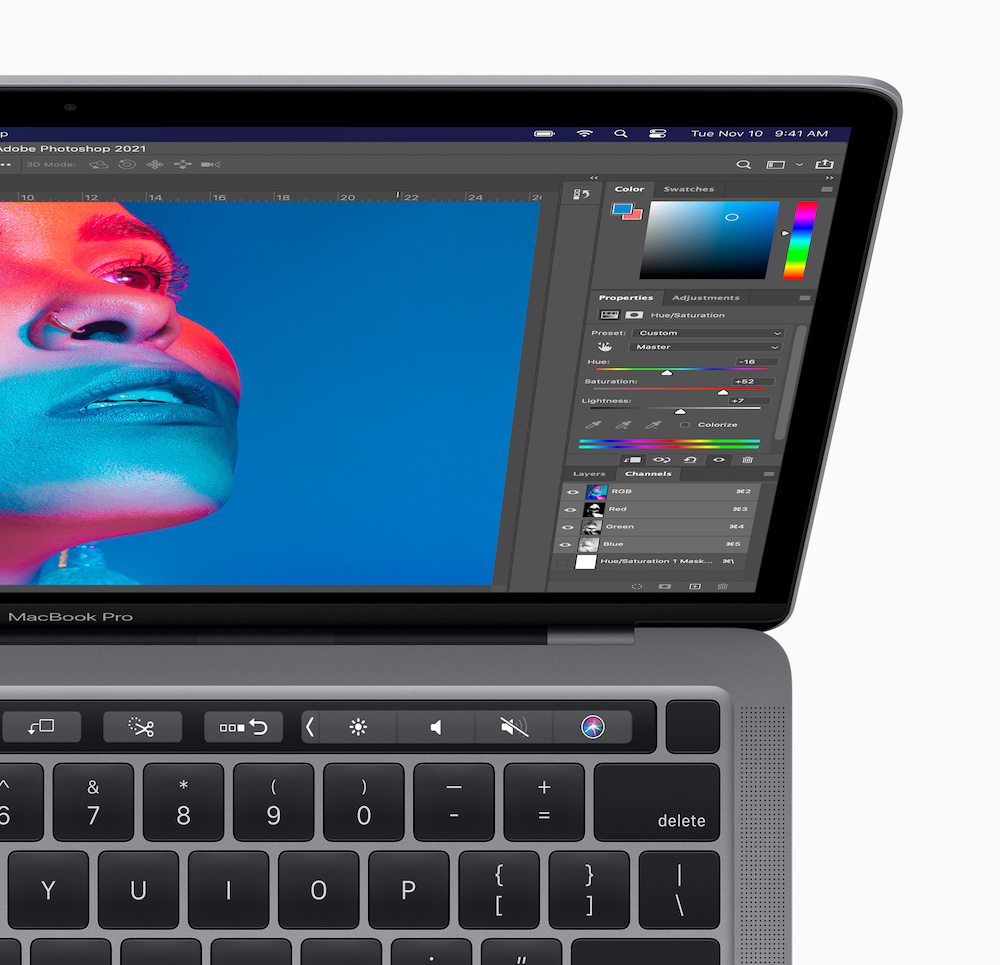 Meet the powerful 13-inch MacBook Pro
The new MacBook Pro's 8-core M1 CPU, when paired with the MacBook Pro's active cooling system, is up to 2.8x faster than the previous generation. That means significant performance gains when you are doing just about any of the tasks you use your Mac for, from coding to editing, photography, gaming, surfing and beyond.
The 8-core GPU is up to 5x faster, allowing users to enjoy super-smooth graphics performance whether they are designing a graphics-intensive game or a new product.
The result, as Apple sees it, is that its new M1 13-inch MacBook Pro is up to 3x faster than the bestselling Windows laptop in its class. It also provides up to 17 hours of wireless web browsing and up to 20 hours of video playback.
When compared with the previous generation, the M1-powered 13-inch MacBook Pro can:
Build code in Xcode up to 2.8x faster.
Render a complex 3D title in Final Cut Pro up to 5.9x faster.
Fluidly design intricate game scenes in Unity Editor up to 3.5x faster.
Perform ML tasks in Create ML up to 11x faster.
Separate out beats, instrumentals and vocal tracks from a recording in real time in djay Pro AI, thanks to the amazing performance of the Neural Engine.
Play back full-quality, 8K ProRes video in DaVinci Resolve without dropping a single frame.
Compile four times as much code on a single charge, thanks to the game-changing performance per watt of the M1 chip.
Other new features in the new 13-inch MacBook Pro include studio-quality mics for super-clear recordings and calls, and Apple's latest camera ISP in the M1 chip enables sharper images and more detail in shadows and highlights on video calls.
The new MacBook Pro also delivers best-in-class security with the Secure Enclave in M1 and Touch ID. Connectivity consists of two (?) Thunderbolt ports with USB 4 support.
The cost? From $1,299 and even lower for education customers.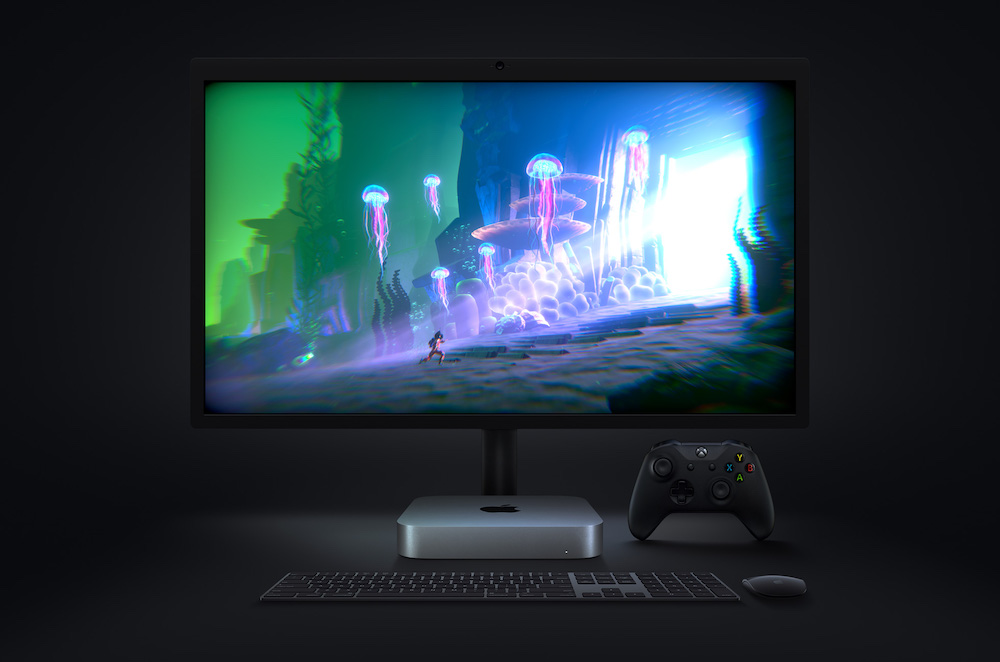 Meet the Mac mini
The M1 powered Mac mini is a great desktop system that's plenty powerful enough to do the tasks so many Mac mini users do, particularly things like image rendering.
The 8-core CPU provides the Mac with up to 3x faster performance than the previous generation. The 8-core GPU delivers up to a massive 6x increase in graphics performance, allowing Mac mini to tackle performance-intensive tasks like complex 3D rendering with ease. You also get up to 15x faster ML performance.
Apple also claims that when compared when compared with the bestselling Windows desktop in its price range, the Mac mini delivers up to 5x faster performance.
Real world meanings? Use three times as many plugins in Logic Pro, play Shadow of the Tomb Raider or render timelines in FCP up to 6x faster – or increase the resolution of a photo in Pixelmator Pro up to 15x faster.
While Mac mini does have a fan, it also features an advanced thermal design to sustain its breakthrough performance while staying cool and quiet, support for up to two displays including Apple's Pro Display XDR in full 6K resolution, Wi-Fi 6 for faster wireless performance, and the Secure Enclave in M1 for best-in-class security.
The cost? $699.
Where do I sign?
The new MacBook Air, 13-inch MacBook Pro and Mac mini with M1 are available to order today on apple.com and in the Apple Store app. They will begin arriving to customers and will be in selected Apple Store locations and Apple Authorised Resellers from next week.
Please follow me on Twitter, or join me in the AppleHolic's bar & grill and Apple Discussions groups on MeWe.
Dear reader, this is just to let you know that as an Amazon Associate I earn from qualifying purchases.