Linksys Velop Tri-band mesh routers at last get HomeKit secured, update them now
Linksys has at last kept its promise to introduce support for HomeKit-enabled routers, joining Amazon's eero brand in the move. It has released a software update that enables this support in its excellent Velop Tri-band mesh routers.
What is a HomeKit-enabled router?
Apple announced HomeKit-enabled routers at WWDC in June 2019.
These routers are encrypted systems that add an Apple firewall between smart home accessories and your network. This is controlled by HomeKit and effectively places a firewall between all your smart devices and the Internet, if properly configured. It also adds protection to your router.
Linksys was named as a launch partner for these systems in June 2019. Now that support has finally arrived. The software update is available in the Velop app for iOS and iPadOS.
What the Linksys Velop systems do
The Linksys routers are easy to set up and designed to fit anywhere. When put in place, they help you set up a full-strength mesh Wi-Fi network across your home without any areas of poor coverage.
The system works with HomeKit and offers a range of useful tools, including the capacity to control these routers with your voice.
It also works with the Home app, so you can manage secure access to your HomeKit-enabled accessories and define how each accessory is allowed to communicate inside the home and through the internet.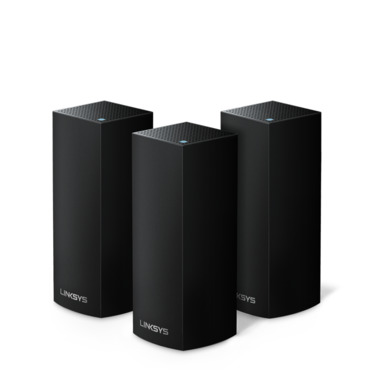 What LinkSys said
"At a time where much of the world continues to work, live and learn from home, we're excited to offer our customers in the region a simple way to enhance the security of their Linksys Velop Tri-Band routers with HomeKit to offer even more robust privacy features within the home," said Amanulla Khan, Managing Director, Linksys MEA.

"These routers are powered by our Intelligent Mesh Technology so we can continue to additionally serve users with value-adds such as software security, health and wellness services like Linksys Shield, Linksys Aware, and more to come over time."
Selected tech specs
Wi-Fi Technology:
Dual-Band AC1300 (867 + 400 Mbps)‡ with MU-MIMO and 256 QAM
Network Standards:

802.11a
802.11g
802.11n
802.11ac
802.11b

Wi-Fi Speed:
AC1300 (867 + 400 Mbps)
Wi-Fi Bands:
2.4Ghz + 5GHz
Number of Ethernet Ports:
2x WAN/LAN auto-sensing Gigabit Ethernet ports
Other Ports:

power jack
power switch
reset button

Antennas:
3x internal antennas and high powered amplifiers
Processor:
716 MHz Quad Core
Memory:
256 MB NAND Flash and 256 MB DDR3
Please follow me on Twitter, or join me in the AppleHolic's bar & grill and Apple Discussions groups on MeWe.
Dear reader, this is just to let you know that as an Amazon Associate I earn from qualifying purchases.