Is this the future Apple TV?
Apple has been working in TV for long enough that we know the company is planning, or has considered multiple strategies to transform television, including creating its own Apple TV-technology-equipped television set. But is this really something it needs to do?
Think about it:
We don't purchase televisions with anything like as much frequency as we purchase other consumer electronic products. When we buy a TV we expect to be using it for many years. We get used to its looming presence. We replace the boxes beside our televisions far more frequently. But what if we could replace the television with a box?
Perhaps one day we will be able to do just that, reading between the lines of the new  Aiptek i70 MobileCinema micro-projector.  This is a tiny Wi-Fi-enabled projector that will stream films, videos, images, presentations and more from iOS and even Android devices. It weighs 132 g and its dimensions are 85 mm x 85 mm x 17 mm (L x W x H). What's important is that it projects 70 lumens in sharp, high-contrast images to up to 80 inches. The resolution of 854 x 480 pixels at 80″. You focus the image using a small dial on the side of the device.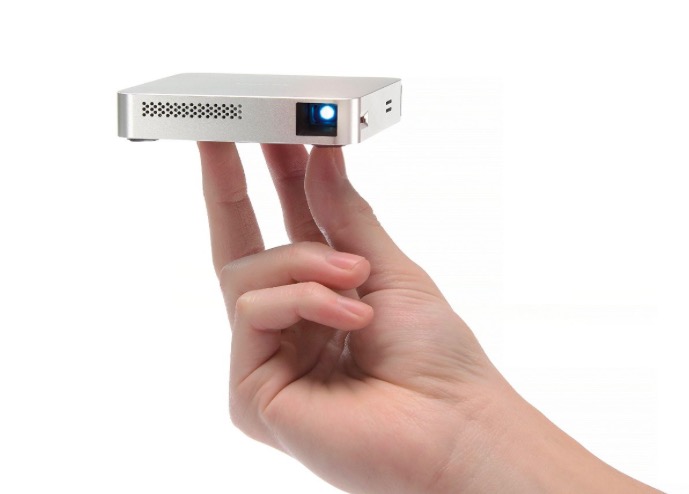 Now, there has been talk for years that Apple may one day slot pico projectors like this one inside of iPhones, and it would be a nice thing to have. However, doesn't it make more sense for Apple to put one of these inside a future Apple TV? This could conceivably become a great replacement television for a small flat, for travel, mobile living, boaters, and more. It would replace television for many people, and may help liberate living space — all you would need is a surface to project on. It would come into its own as a TV replacement if made available in conjunction with Apple's oft-rumored "skinny channel" bundles….
It's not really viable, of course — we all love really high-res TV these days and things like this can't match that. But it amused me to think about it as part of an Apple TV set-up. Even as it is this is perhaps the kind of gadget that would appeal to canal boat dwellers. (More info here.)
And who knows, as the technology improves perhaps something like this truly could be the future of Apple TV.
More Apple TV ideas here.
Dear reader, this is just to let you know that as an Amazon Associate I earn from qualifying purchases.